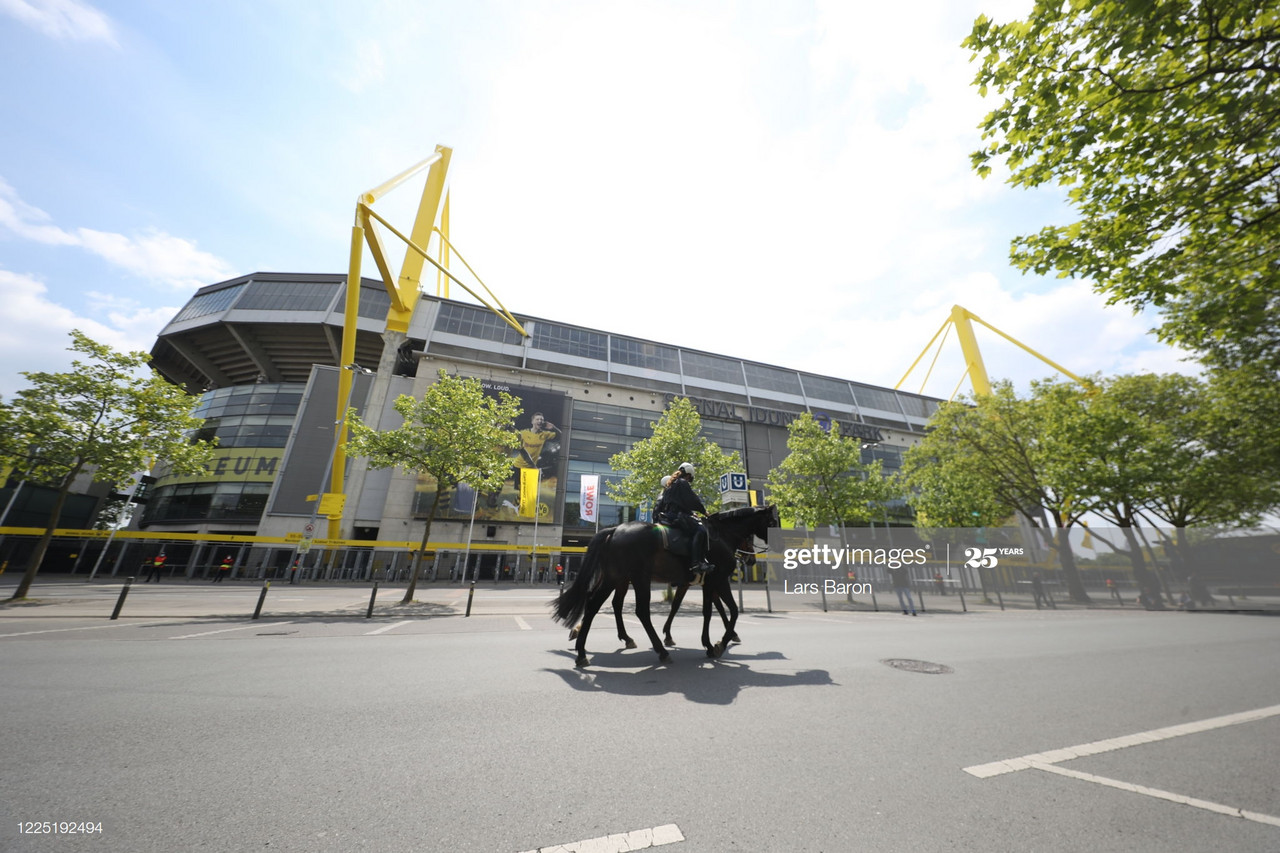 When the Premier League returns on June 17, it will aim to follow the successful lead of the Bundesliga.
But there may be one important difference in the details of Project Restart and Projekt Neustart.
The Press Association has been told that up to six high-stakes Premier League matches could be played at neutral venues.
There are fears that fans may gather outside stadiums in celebration following season-defining victories, contravening social distancing rules.
But is this an issue of safety or an issue of trust? VAVEL spoke to Matt Ford, a journalist with expertise in German football and fan culture, about the perception of supporters in both countries.
Der Klassiker concerns were always unfounded
Last Tuesday, Bayern Munich travelled to Signal Iduna Park to meet Borussia Dortmund in the biggest game of the season so far.
Victory in this almighty clash would have taken the hosts within a point of the summit and set-up a spectacular run-in.
Were there fears that fans would descend on the stadium for a fixture of such magnitude? It depends who you ask.
"In a lot of the general news coverage, there seems to be concerns that fans will gather outside stadiums," Ford says.
"However, if you actually spoke to anybody who was involved in football or has anything to do with German fan culture, there were no concerns whatsoever."
"It was actually quite clear from the start that this wasn't going to happen.
"The fans made that clear. I think they were scapegoated quite a bit."
Perhaps, instead of being scapegoated, many fans deserve praise for their work in the local community to alleviate the strain of the virus.
"As soon as the league was suspended, it was football fans and ultras who were among the first in Germany to start organising themselves and helping out more vulnerable members of society," Ford recalls.
To paint football's resumption as an answer to supporters' collective, irresistible demands is also unfair.
Ford, for instance, pointed out that they were initially a step ahead of clubs in calling for the season to be halted amid the virus' growing threat.
"Back on the final matchday before the interruption, it was German fans themselves, the fan groups – particularly Borussia Dortmund and Bayern Munich – who were publicly calling for the league to be suspended and for that matchday in the Bundesliga not to go ahead.
"On the other hand, it was the league themselves and the club themselves who were trying to do all they could to squeeze out one more matchday before the suspension took hold."
German 'solidarity' manifesting itself in fanbases
The expectation in some quarters that the most passionate fans would defy orders to turn out and support their teams has been turned on its head.
The ultras - a 'highly organised, vocal' minority - issued statements urging fans to stay away, and it would appear that they have led by example.
Ford says the prevailing obedience can be partially credited to the unity across club support bases.
"When fan groups and fanbases do put out these messages, and they're shared by the ultras, they do have an effect on the wider support. People do listen to them, because there's generally quite a lot of solidarity in German football. Fans do stick together.
"In fact, the whole response in Germany as a country has been one of solidarity throughout this whole process."
He did, though, accept the suggestion that English fans may be more inclined to look to high-profile figures within the club for definitive direction.
"I do get that impression that English fans are more likely to be looking out for some sort of plea from the manager or the captain to stay away.
"German football fans tend to listen to each other, and English fans tend to wait for a comment from the manager."
'Football fans seem to be the enemy'
If the German authorities did not deem neutral venues necessary, does that mean they place much greater faith in football fans than their English counterparts?
"The perception's not been that different unfortunately," Ford informs us. "In a lot of the mainstream press, German football fans have been scapegoated as well.
"[There have been] all sorts of completely unfounded fears of football supporters gathering outside stadiums.
"It must be said that, unfortunately, in both countries, a lot of it is driven by the police, or the police unions. It's in their interest to have enough man-hours to fill so that their budgets get maintained, year upon year."
An image of football fans as recalcitrant threats may have taken hold at the highest levels, and it is detached from immediate realities.
"I think that does a massive, massive disservice to football fans, both in Germany and in England. I've talked about the charitable work that German football fans have been doing. I know it's the same in England as well, with a lot of fans in Manchester and Liverpool in particular getting involved with local foodbanks.
"After all, it wasn't necessarily football fans doing conga lines down the street on VE Day when they should have been social distancing."
Should stadiums be the focus?
Ford is certainly right to stress that 'it's impossible to legislate for absolutely everybody'.
He points to recent examples of a Bayern Munich fan vowing to travel to the capital as his team took on Union Berlin in order to continue tradition, and of a solitary Hamburg supporter whose presence was noted at Stuttgart's Mercedes-Benz Arena.
But could the real danger be far less visible? There is a possibility that there will be home-based gatherings for matches which require a subscription.
"That was actually something that occurred to the authorities in Germany. It was something that occurred to the football league, and it occurred to Sky, who are the main broadcaster.
"For the first two weekends of games, they actually made a lot of the games live on free-to-air terrestrial television, precisely to avoid a situation where people would gather at a friend or family member's house if they happen to have a Sky subscription."
The Premier League, in part to engineer national uplift but also to diminish the likelihood of any such viewing parties, has already moved to make nearly a third of the remaining 92 games freely accessible.
Liverpool could bear a needless burden
It should be said that the league formally expressed on Friday its 'ambition' to 'complete all of our remaining fixtures this season home and away, where possible'.
But with the staging of games contingent on police approval, it is unclear at this stage whether that 'ambition' will progress to a reality.
Three Liverpool away games, and any home match which might see them seal the title, could all be played at neutral venues.
The city's mayor Joe Anderson fuelled existing fears that there could be celebratory masses outside Anfield.
But, just as the Spirit of Shankly group said in response, such warnings are delivered without evidence, and they neglect to mention "the work being done by those same people in easing pressures on the city's old and vulnerable".
The fixture list has teed-up a Merseyside Derby on the league's resumption, and the reported keenness of both clubs to see it played at Goodison Park shows they are in no doubt as to their supporters' discipline and their profound sense of awareness.