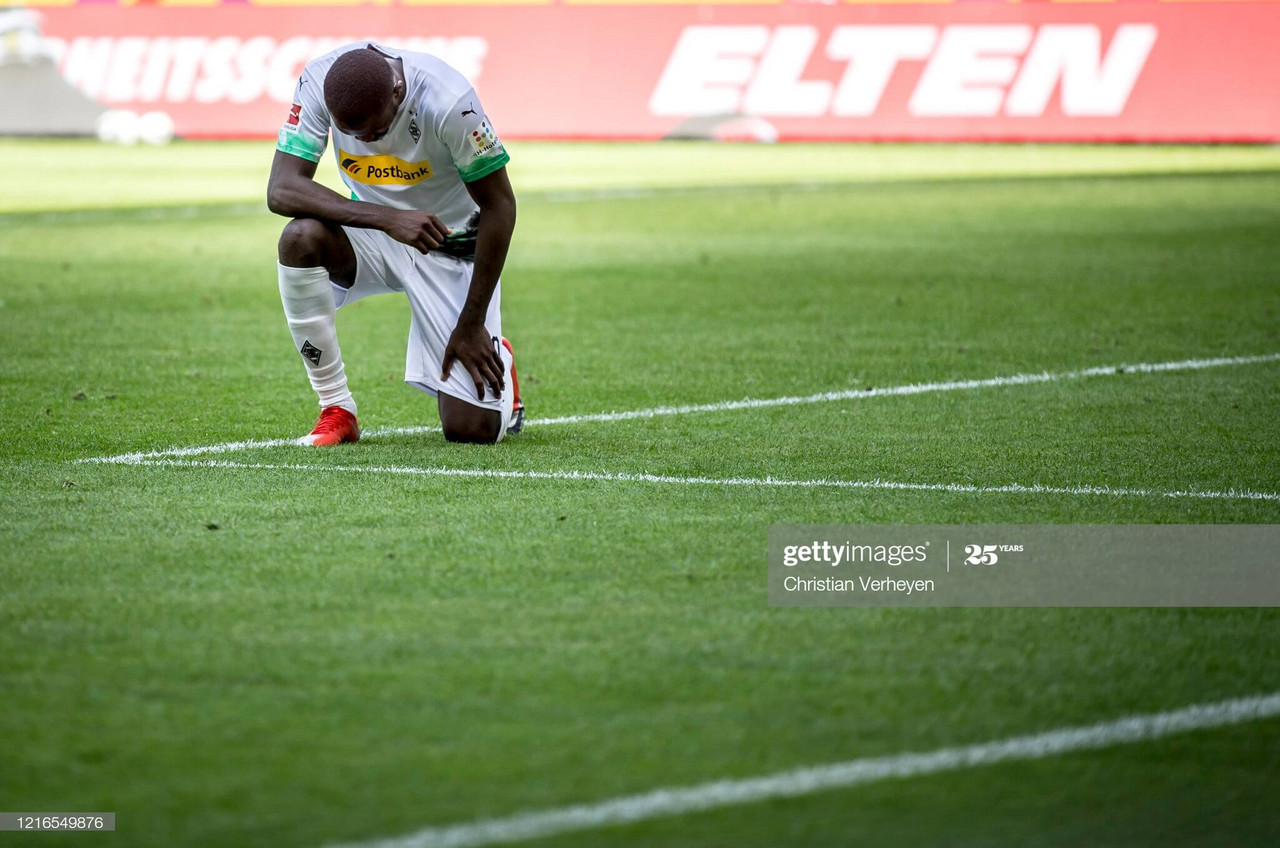 The global campaign to end racial injustice has reached a new crescendo, and across the footballing world, clubs and players have affirmed their commitment to the fight against hatred.
On Monday, European champions Liverpool assembled their squad around the Anfield centre circle and captured them 'taking a knee' to promote the message that 'unity is strength'.
Only hours earlier, Marcus Rashford had taken to Twitter to make it plain that 'black lives matter, black culture matters and black communities matter'.
These are merely two examples within what is a truly global sporting trend.
But what happens when teams or players attempt to convey these messages on a matchday, with hundreds of millions watching events unfold live?
The footballing authorities in Germany have given us an indication.
At the weekend, Jadon Sancho lifted his Borussia Dortmund shirt to reveal the phrase 'Justice for George Floyd'. Team-mate Achraf Hakimi, also a scorer, followed suit.
Marcus Thuram of Borussia Monchengladbach knelt and bowed his head after he found the net, while Schalke's Weston McKennie could be seen sporting a 'Justice for George' armband.
All four players could now face sanctions from the DFB.
But why?
The laws of the game set out by the International Football Association Board (IFAB) forbid 'undergarments that show political, religious, personal slogans, statements or images, or advertising other than the manufacturer's logo'.
The players would have been aware of this regulation, and may consider their punishment automatic and obligatory rather than necessarily condemnatory.
But DFB vice-president Rainer Koch set out a more striking, and more significant element of their rationale.
"As is the case internationally," he said, "the game itself should remain free of political statements or messages of any kind."
"The fair and competitive action on the pitch should be the focus."
What Koch states as a unanimous absolute is actually deeply controversial. Sport is not an apolitical domain. It is nothing without its athletes, and many of those athletes will feel that they must use their uniquely expansive platform to promote campaigns for social justice.
Perhaps the underlying concern is that, without IFAB restrictions, that platform could be used to further divisive, even potentially harmful causes. Could opening sport up to politicisation carry grave consequences?
This debate, though certainly worthwhile, is not our focus.
This is different
The vital point is that racism and injustice are not political. Racism is evil. Justice is a right, to which we are all entitled.
These are not policy statements. These are human truths.
Understanding racism and injustice as partisan issues only empowers those who seek to preserve these appalling inequalities. It fosters division, and division means inaction.
And willful ignorance, which denies us an overpowering consensus, is protected by attempting to silence players when they are most visible.
The footballing authorities might end up setting back this struggle when they have tried to present themselves as bastions of tolerance.
The Premier League, for instance, has truly launched its 'No Room for Racism' campaign this season. Follow Germany's lead, and it might soon imply that there is no room for anti-racism.
Football's responsibility
One of the things characterising this almighty protest is a collective sense that 'enough is enough'. This time, the prevalence of racism will not simply ebb out of mainstream discussion until the next galling incident.
We need to push for the total depoliticisation of racism and injustice. For an issue to be political, there must be room for reasonable disagreement. Here there is not.
We must universally grasp this to bring about lasting, tangible change.
The world's game, regardless of any unsettling objections, has an important part to play. Acceptance of that fact cannot be dodged.
June will see the return of La Liga, Serie A and the Premier League alongside the already up-and-running Bundesliga. In each division, players will follow the lead of Sancho, Hakimi, Thuram and McKennie.
You fear that league bosses will present fines or reprimands as an unfortunate necessity. And so it will fall to the clubs.
If they are committed to saying 'No To Racism', then they must also say 'no' when they are punished for combatting it.