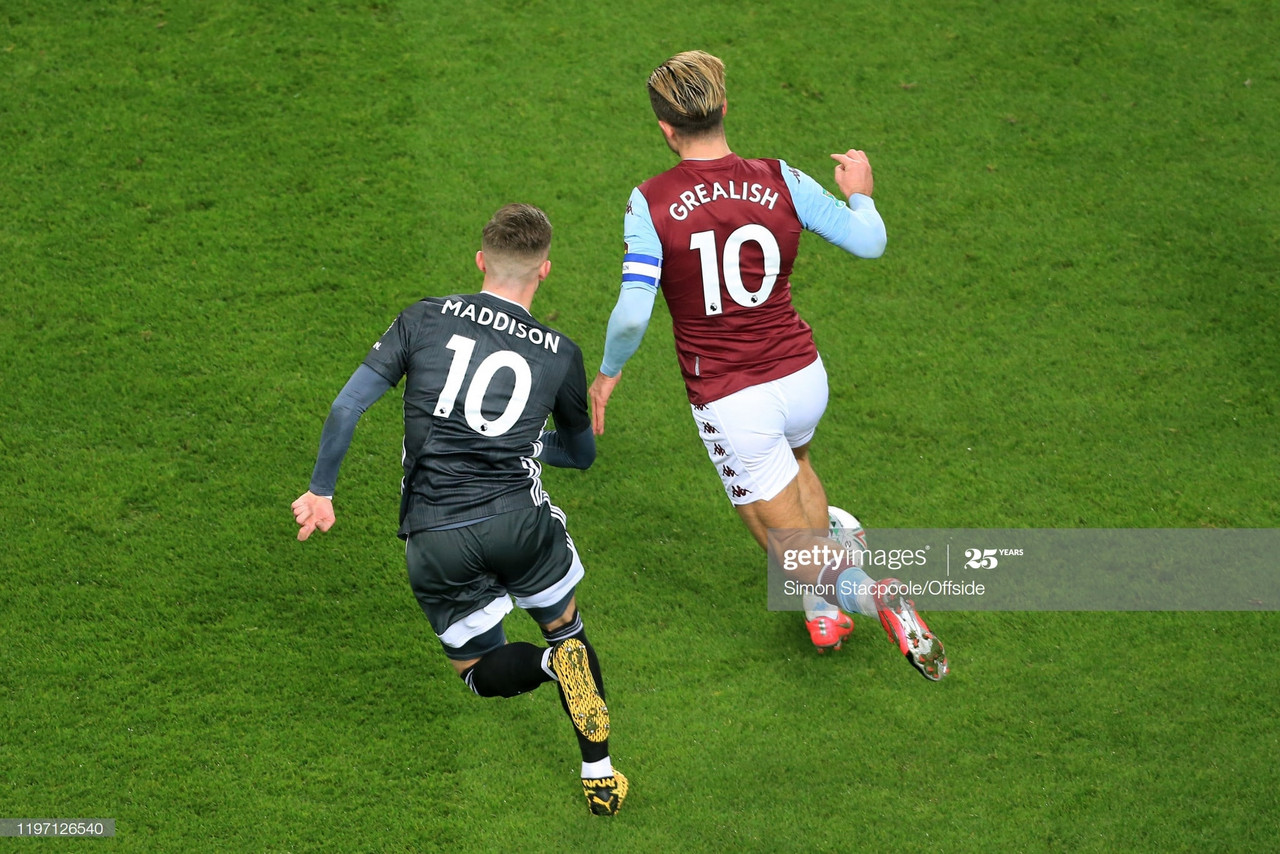 Manchester United are facing one of the most important transfer windows in club history this upcoming summer.
In the midst of a full blown rebuild, the Red Devils have done well in terms of bringing in new players during the last few months. January saw dynamic midfielder Bruno Fernandes come to Old Trafford, with experienced striker Odion Ighalo joining him on loan soon after.
It was a winter window that built upon the good work done during the previous summer. Aaron Wan-Bissaka solidified the right back spot, and Daniel James became a reliable option to turn to off the bench. Sure, the club vastly overpaid for Harry Maguire, but he still has helped to improve the backline.
There's still a lot left to do, however. To become true contenders, United need to improve in a number of areas, like left back, and on the right wing. The position most in need of reinforcements might be in the middle of the park, where the club is lacking a true number 10.
That's where the likes of Jack Grealish and James Maddison come into play. Two of the best attacking midfielders in the Premier League, both players have been linked with the Red Devils since the start of the campaign.
They've got plenty in common. Both are young Englishmen who shone in the Championship before making a mark at the highest level. As a result, both will be quite pricey, so United realize they'll only be able to sign one in the summer.
But which player should they prioritize?
The remarkable rise of Grealish
People have been keeping an eye out on Grealish ever since he made his professional debut all the way back in 2014.
Struggling early on as an 18-year-old, he couldn't do much in an Aston Villa team that was truly dreadful. As a result, the player ended up on the losing side of 20 straight Premier League appearances at one point, and only broke that streak at the start of this season.
It's no surprise that Villa were relegated during that time, which ended up being a blessing in disguise for Grealish. He got to develop away from the bright lights of the first division, which meant there was less pressure put on him every single game.
The Championship also made him a much tougher player, as he was dealing with very physical defences on a weekly basis. Grealish grew into a quality midfielder and a real leader on the field, deservedly being named club captain last year.
That all led to him becoming the player he is today. Grealish is an absolute superstar, and is the main reason why Villa have any hope of staying up this season, as he's the club's top scorer and top assists this campaign. He's got 13 goal contributions in total, which is especially impressive considering he's not got much help going forward.
Grealish drifts a little to the left on the field, which gives him more room to operate and create chances. His quick feet allows him to cut inside or go out wide when dribbling on the ball, so he's a real nightmare for defensive opposition. When the Englishman gets into that space, his ability with both feet, combined with his shooting and passing talents, means anything can happen whenever Grealish is on the ball.
He's battle-tested, so there's no need to worry about how he'd cope with the pressure of being a United player. Grealish believes in himself and has a certain swagger. It's confidence, not cockiness. He knows it'll be tough, but the Englishmen has risen to the occasion plenty of times before, and he's ready to do it again.
Magical Maddison
There's a certain elegance that Maddison brings to the field every time he steps on it.
Possessing loads of natural talent, he's got everything you need in a central midfielder. He's best when going forward, able to score from almost any angle and distance. With six goals on the season, Maddison has proven he can chip in when need be. He grabs a few after making late runs into the area, but he's mainly known for his long-range screamers.
He's not too shabby when it comes to passing the ball either. The Leicester City midfielder does only have three assists to his name, which is admittedly low, but his playmaking ability goes beyond the scoresheet.
Maddison is a very smart player to have in the centre of the park, as he knows when to push forward and when to stay cautious. That prevents him from overdoing things and giving the ball away in dangerous areas, limiting his mistakes in the process.
Maddison is also lethal on set pieces, which is a nice added bonus. An expert crosser of the ball, he can pick out almost any teammate in a crowded penalty area. He's even scarier on direct free kicks. The Englishman has talked about how much he works on them in practice, and it's paid off, as he's already converted a number of them in his young career.
He prefers to play higher up the field, but Maddison could also drop into a deeper midfield role if need be. He knows how to adapt and change his game to suit his team, which is a crucial trait to have at a club the size of United.
However, he likely will cost a lot more than Grealish. Leicester know how to sell players for what they're worth, and for even more than that in some cases. They definitely got a fair sum for N'Golo Kante and Riyad Mahrez, and even made United overpay for Maguire over the summer.
The Foxes have no need to sell Maddison, so even if they do let him go, then they'll make sure to get as much money as possible from the deal.
Convincing the player won't be any issue, luckily, as it's well known Maddison is a boyhood United fan. He grew up idolizing Cristiano Ronaldo, and has always talked about how much he enjoys playing at Old Trafford. He would be leaving a quality team in Leicester, but it would all be worth it to represent the Red Devils.
Wait and see
All things considered, it's still unclear who United will end up signing. The coronavirus pandemic has delayed the end of this current season, so everything's kind of on pause as fans wait for the Premier League to be restarted. That'll happen on June 17th, and Grealish will be in action on that first day, as Villa take on Sheffield United.
For the Red Devils, they just have to wait and see how this campaign ends before they start looking towards the offseason. Will they qualify for the Champions League, or will they be doomed to yet another year of Europa League football? That could end up being crucial, as the tournament they're in could heavily impact what kind of players come to Old Trafford.
Only time will tell, but at the very least, signing either player will be a huge step in the right direction for the Red Devils rebuild.