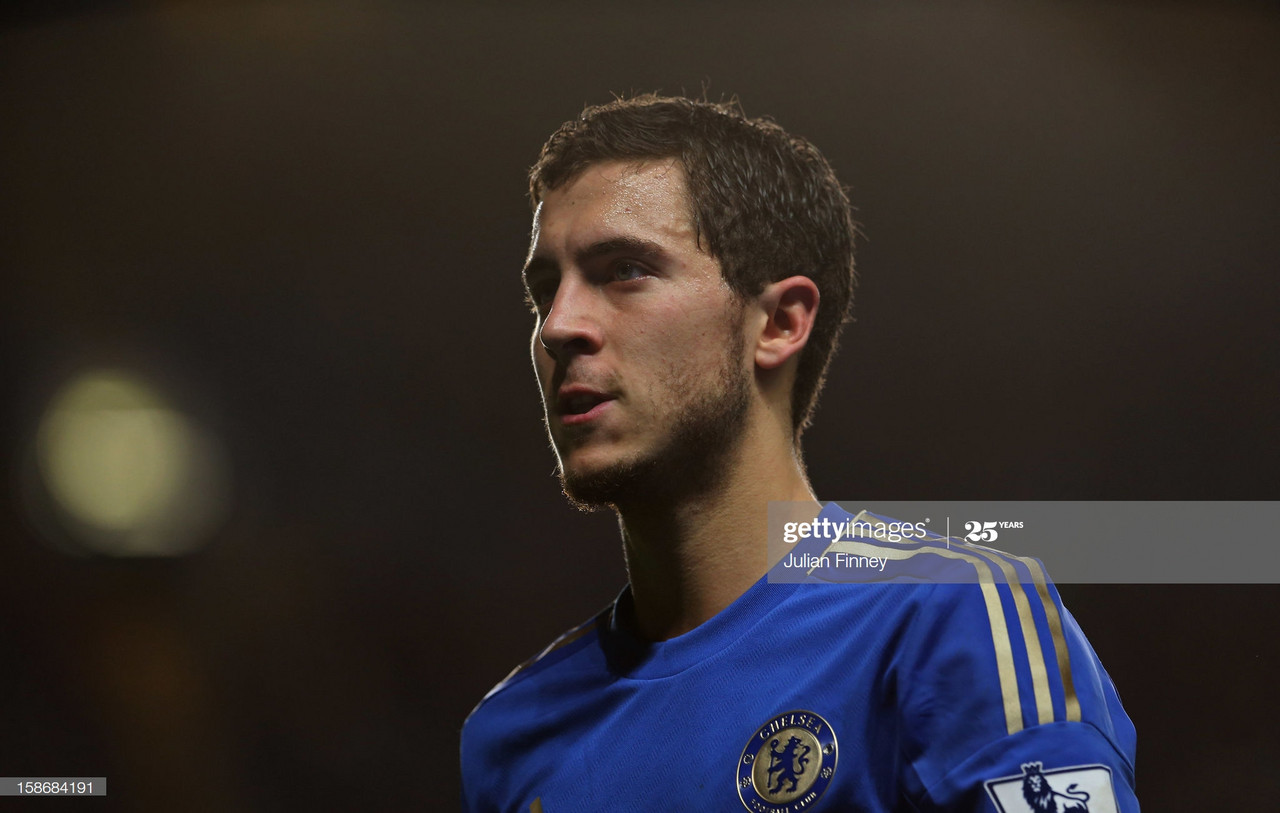 On this day in 2012, Chelsea signed young Belgian winger Eden Hazard from Lille and the rest, as they say, is history.
Scoring 110 goals for the Blues, including some outstanding goals that will live long in the memory of Chelsea fans, Hazard went on to become one of the best players to have ever played for the club.
Cesc Fabregas, a Chelsea legend himself, lauded Hazard as "the most talented player Chelsea have ever had".
When he arrived at Chelsea as a 21-year-old, Hazard already had a big reputation to uphold, having won Ligue 1 Player of the year in his final two seasons in France.
His first season in England was always going to be tough, especially with the £32 million price tag that followed him to Stamford Bridge adding more pressure to perform.
We look at back at five key moments from his first season at the bridge that helped to mould him as a player and allowed him to go on to have a remarkable career at Chelsea.
Eden Hazard's Chelsea career got off to a flier in terms of his performances.
On his Premier League debut against Wigan Athletic, he set up Branislav Ivanovic's goal just two minutes into the match.
Five minutes later, he won a penalty that was calmly dispatched by Frank Lampard.
In his second game, he won another penalty for Chelsea in their 4-2 victory against Reading.
He had adapted well to life in England but there was one thing still missing, a goal.
Three days later, he put that right, scoring his first Chelsea goal from the penalty spot as Chelsea brushed aside Newcastle United.
So far, so good.
First Champions League Appearance as a Chelsea player
Chelsea into the 2012/13 season as European Champions of course, having won the Champions League final against Bayern Munich just months before.
Hazard stated this as one of the reasons why he joined Chelsea.
Plenty of clubs had shown interest in signing Hazard, including Manchester United.
But the Belgian chose Chelsea, stating "when they won the Champions League I told myself, "why not Chelsea?"
Hazard already had Champions League experience from his time with Lille, but now he was playing for the European Champions.
He made his first Champions League appearance for Chelsea against Juventus in a 2-2 draw at Stamford Bridge.
Unfortunately, Chelsea didn't get out of the group that season and instead dropped into the Europa League.
Despite all his success domestically, Hazard didn't have the best of luck in the Champions League during his Chelsea career.
He club's best performance in the competition whilst he was there was when they reached the semi-final in 2014.
Some spectacular goals in January
Stunning goals is something that Hazard will always be remembered for by Chelsea fans.
Who can forget his unbelievable strike against Liverpool in the League Cup?
Or his spectacular solo goal against London rivals Arsenal?
In early 2013, we were given glimpses of what was to come.
He scored from 25 yards in a 4-0 win against Stoke City in January 2013 and followed it up in the next with a stunning strike from the edge of the area in a 2-2 draw with Southampton.
In March 2013, Eden Hazard produced a man of the match performance against West Ham, guiding Chelsea to a 2-0 win.
In the same match, he assisted Frank Lampard's 200th goal for Chelsea.
His performance was so good that it led to some pretty high praise from the now Chelsea manager:
"I've said to him he has got absolutely everything. He's only 22, he has the world at his feet and with the way he's playing and the ability he has on the ball, he is scaring the life out of people."
Lampard could see what was to come.
Overall, Eden Hazard won six major trophies at Chelsea, but he and his club didn't have the best of luck in his first season.
They lost in the League Cup semi-finals to Swansea City as well as finishing runners up in the Club World Cup that year.
An FA Cup semi final defeat to Manchester City meant that, despite being involved in 7 competitons throughout the season, there was only one trophy left for Chelsea to win, the Europa League.
Hazard was instrumental in earlier rounds of the competition, including when he scored a brilliant individual goal in stoppage time against Sparta Prague to send the Blues into the last 16 of the competition.
However, an injury ruled him out of the final against Benfica.
Thankfully, his teammates got the job done without him as they won 2-1.