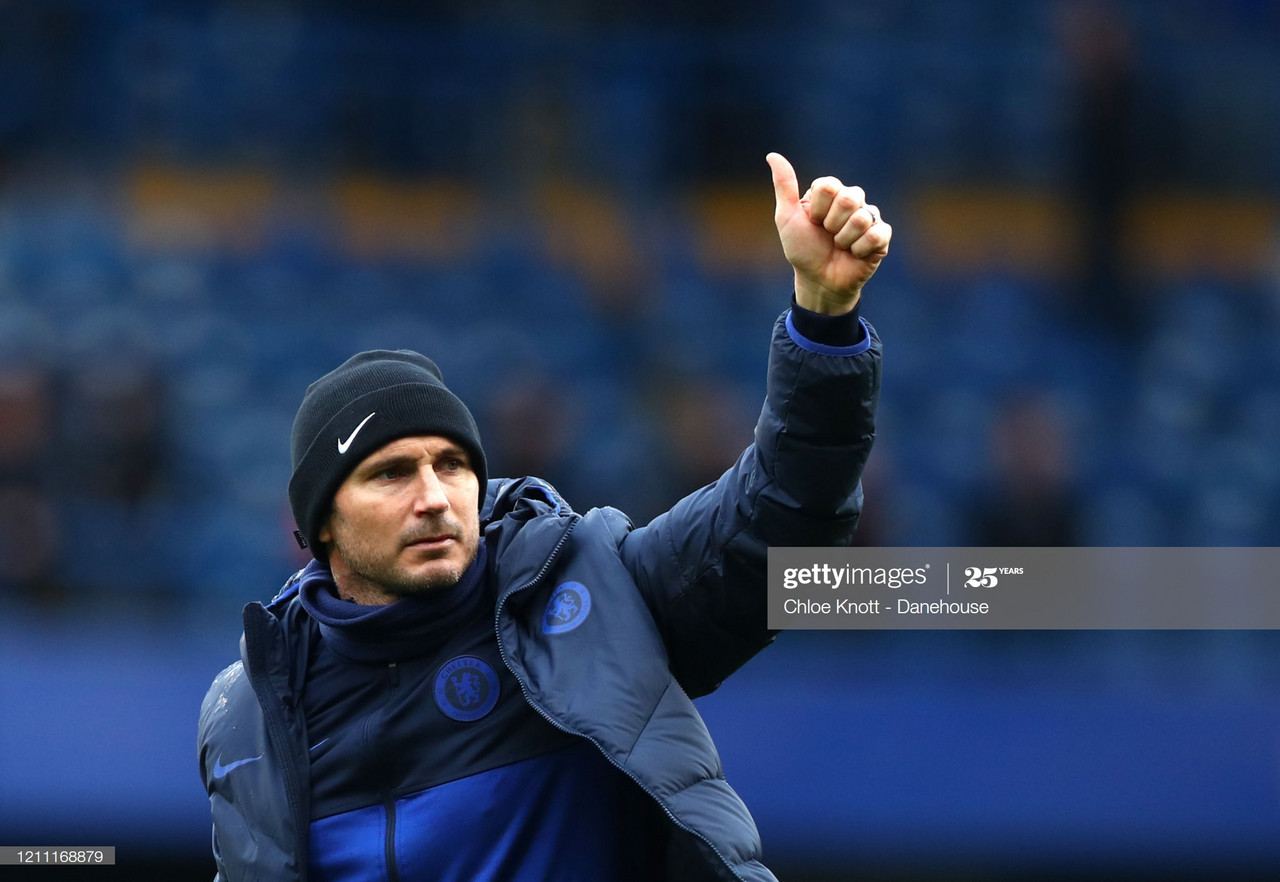 Frank Lampard revealed how he has dealt with the step up in pressure taking the Chelsea job and what he has learnt from the side-lines.
In an interview with the Official Chelsea Website, the Blues' all-time top goal scorer commented on the struggles and pressures he faced leaping from the Championship to the Premier League before explaining how he manages himself.
The 41-year-old continued by disclosing what he has learnt since the dawn of his tenure, claiming 'togetherness and family' is integral. Simple but important values to hold. Especially, amid the Coronavirus lockdown and rightfully ongoing #BlackLivesMatter campaign and protests.
Lampard concluded by hailing the experienced players in his side that have performed exemplary this season, outside of the spotlight, rather than under it.
'Chelsea was a level up'
On July 4th 2019, Lampard was appointed Chelsea manager replacing Italian and Juventus-bound Maurizio Sarri.
The former Chelsea captain, once leading from the heart of midfield, was now leading from the touchline with Blues compatriot Jody Morris alongside him.
With a looming transfer ban, partnered with the club's infamous and ruthless managerial history, the pressure was on.
Lampard claimed he had to deal with the pressure in his own way – an open-minded approach. He said:
"You have to handle it in your own way. There's no other way to do it, because you can't try to be something you're not, or think that nothing will affect you. It does.
"There are huge pressures in the job, and I understood that very quickly, firstly at Derby, and when I came to Chelsea, I saw it was a level up at a club that is fighting towards the top of the Premier League.
"It is much bigger, and things get consumed by it – your home life gets consumed, and you just have to handle it as well as you can, and not let it affect you in a negative way.
"I don't think you should be absolutely closed to it, because sometimes you can pick out good things from scrutiny, whether you agree with it or not. So, I don't completely close my ears to it, but what I've really noticed is that the fall-out from games is so much driven by the result.
"So, I generally go on how I feel about the game and make that the important thing. I feel better about some of the games that we've lost or drawn than I do about some of the ones that we've won.
"I try not to be led too much by the scrutiny from the outside – you have to respect it for what it is, because you can't manage a club the size of Chelsea and think you're going to make every Chelsea fan, every outside fan and every pundit happy.
"I listen to it a bit, but the main thing is to stay focused on the job you're doing, and after every game, you analyse it, then look to the next one – simple as that."
'I came to give it my best shot'
Upon Lampard's arrival, he was very much aware of the overhanging transfer ban that had prevented the Englishman from making any signings.
It proved to be a real test of his managerial qualities to use the players he had at his disposal to the best of their abilities.
Lampard opted to delve into the academy, a page from his philosophy and a page more than any other of the previous manager's at Stamford Bridge.
He insisted he was confident arriving at Chelsea and wanted to prove people wrong.
"I knew people would say that I'd got a job because I played here, that I'd only had one year at Derby, and it's a big job, and because of the ban it was easy to give it to me. I knew all that, and it didn't bother me.
"I just saw it as an opportunity to come to a place that I love and give it my best shot. I was confident. I knew that it would be tough to make it into the top four, and we weren't expected to by people on the outside, but I wanted to give it a go and prove some people wrong.
"Along the way, it's been easy to cast your eye at the younger players coming into the team, but I also think some of the performances by the more experienced players in the team – the likes of [Mateo] Kovacic, Jorginho, Willian – I don't have to name them all, but you can go through the squad and there's been some real big plusses out of it. I don't want to dwell on it, though, because my next job is to look ahead.
"I don't want us to be a development team, where people talk about our Academy players coming through. I want us to be a team that's looking to bridge the gap going upwards."
'I have learned so much'
The season has seen its peaks and its troughs. The elation and deflation.
"I've learned so much this year," The 2012 Champions League winner said. "The pandemic is obviously a crazy situation and the biggest thing it's taught us is perspective – the fact that, actually, what's really important is togetherness and family.
"I think that's been a good thing for me to be reminded of because I get so invested in the job."