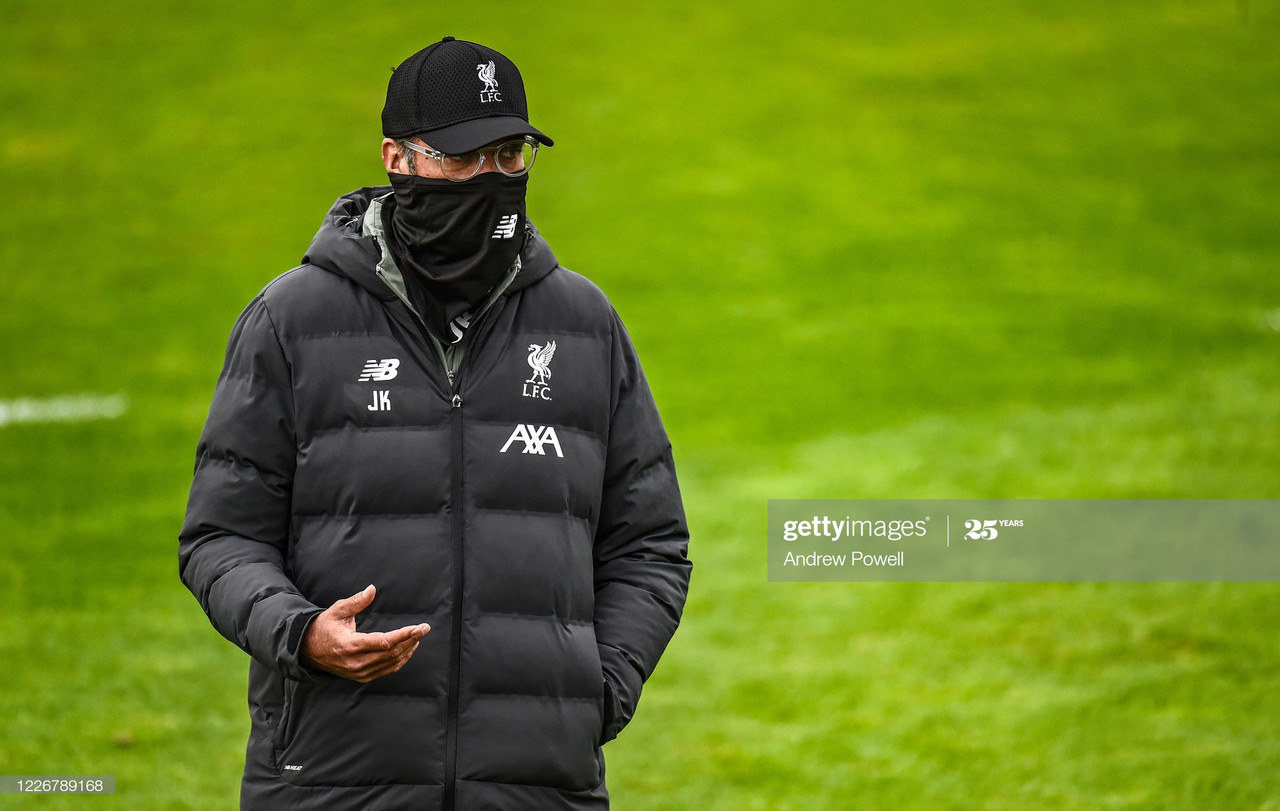 In a series of WhatsApp exchanges, Jurgen Klopp was able to convince Timo Werner that Liverpool was the right club for him.
But in the last of those chats, as Friday's Athletic report reveals, he was forced to admit that the Reds no longer thought the £50million move feasible.
And now Chelsea have seized their opportunity, activating the striker's release clause (according to a multitude of reports) and persuading him to drop his Anfield dream.
For the champions-elect, does this abandoned move herald a summer of inactivity in a critically weakened market?
'Liverpool could have overcome cashflow issues'
According to football finance expert Mo Chatra, signing Werner was 'absolutely possible' if he truly was Liverpool's absolute, top priority.
The workaround, he explains, may have involved using a third party to pay the release clause or negotiating a favourable instalment package.
But Liverpool are renowned for being the smartest-run club in the world, and perhaps they believe that they simply cannot proceed with plan A in these extraordinary circumstances.
(You can read Mo Chatra's full Twitter thread here).
So it looks to be a matter of prudence rather than finances alone. "Liverpool are not ready to commit to spending €60million on one player," Fabrizio Romano wrote last month.
Alternative approaches to the market
Liverpool have in the past excelled at securing lofty fees for peripheral players - look no further than the duo of Dominic Solanke and Jordon Ibe, shipped to Bournemouth for a combined £34million.
And Sporting Director Michael Edwards will look to demonstrate his negotiating power once again to recover the value of those on the fringes.
It is not inconceivable, even in this market, that the departure of loanees Marko Grujic (24) and Harry Wilson (23) and attacking deputy Xherdan Shaqiri (28) could drum up somewhere in the region of £35-40million to be redistributed.
Alternatively, the players themselves could become the currency amid an anticipated surge in swap deals.
Liverpool captured Shaqiri for just £13million when his Stoke City side were relegated, and were able to add Takumi Minamino to their ranks in January for only £7.25million.
With similar nuance, they may be keenly on the lookout for proven forwards and full-backs who have modest values or release clauses in an effort to address shortcomings in squad depth.
Fundraising sales, ambitious swaps and slept-on bargains are three viable options, but there is a fourth that may already be under consideration: loans with an option to buy.
Italian journalist Gianluca di Marzio claimed this week that the Reds had sounded out the prospect of such a move for Barcelona's Ousmane Dembele.
Dembele is thought to be keen to remain at the Nou Camp, but the report could indicate that Liverpool are pursuing effective 'free trials' with high calibre players.
Will they remain on the sidelines?
Of course, the underlying question here is: should Liverpool really feel the need to spend?
They are the best team in the world at the moment, and are on course to win the Premier League title by around 30 points.
With EURO 2020 postponed until next summer and the Africa Cup of Nations, originally set for an extremely disruptive January slot, also likely to be rescheduled, concerns over fatigue and freshness have been largely assuaged.
Moreover, caution this summer could leave the Reds in a position of real strength in 2021, particularly if their rivals limit their long-term capacity in a short-term attempt to close the gap.
Indeed, there are already suggestions from Miguel Delaney in the Independent that the Reds may be lining-up a delayed move for Jadon Sancho.
Whatever policy he chooses, Jurgen Klopp has earned fans' trust. Those who are frustrated now ought to recall their similar reaction to Liverpool's 2019 inactivity, or to the breakdown of the Nabil Fekir transfer a year earlier.
But let's stress that Klopp pursued Werner for a reason. He knows that, if he is to build a dynasty, Liverpool cannot afford to rest on their laurels.
Their rivals, domestic and continental, are improving all the time.