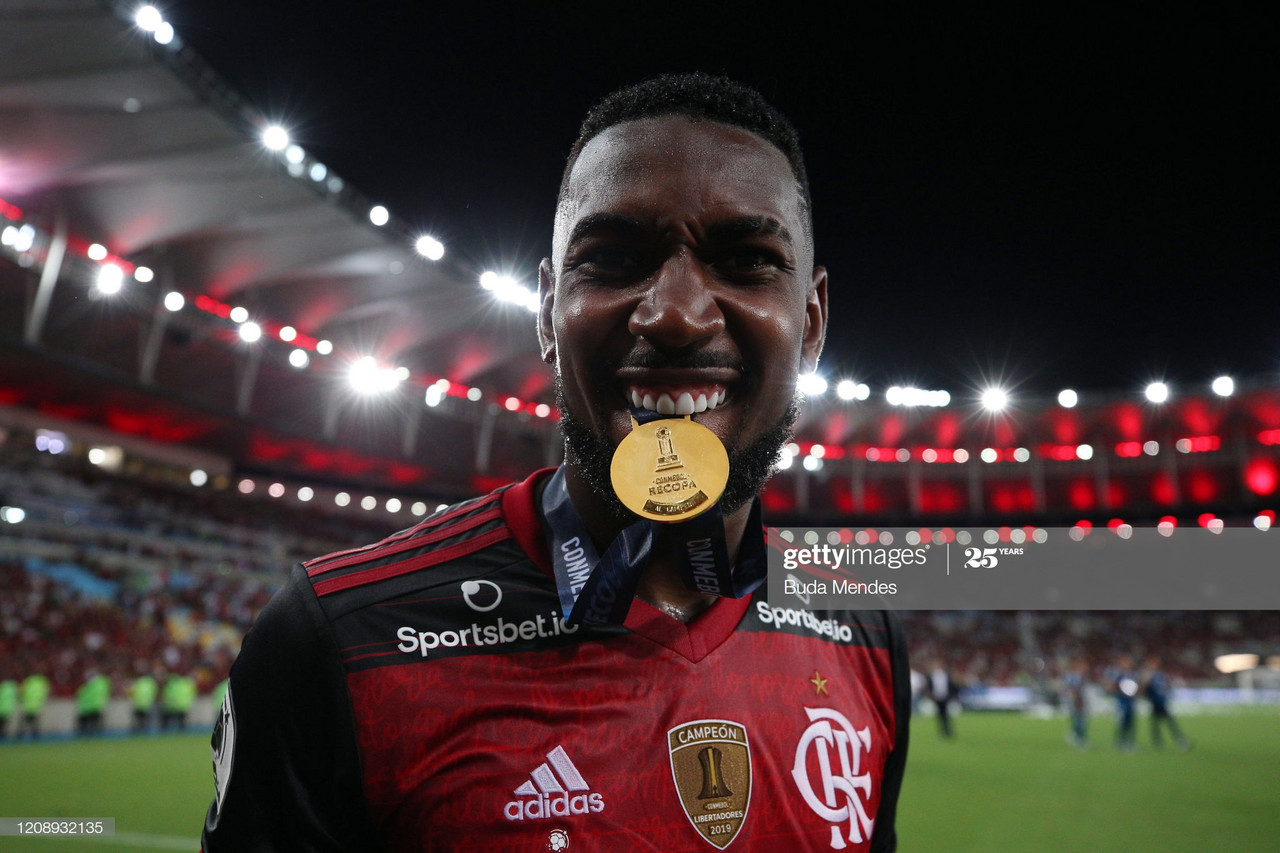 Flamengo box-to-box midfielder Gerson is the subject of a failed £16m from Tottenham Hotspur, according to Goal.
Spurs are known to have been long-term admirers in the 23-year-old, and reportedly viewed him last summer as an alternative to record signing Tanguy Ndombele.
However, shortly after the Ndombele deal was completed, Gerson escaped his nightmare spell at AS Roma in a deal worth €11.8m - making him the most expensive Brazilian player to be signed by a Brazilian club.
Reigniting his career at Flamengo, Gerson has recaptured the form that once made him one of the world's most exciting prospects and he once again is the centre of scouting assignments for some of Europe's biggest clubs.
The former Fiorentina loanee has shown tremendous loyalty in his career so far, choosing to sign for Roma over Barcelona purely because Roma were offering his club at the time Fluminense more money - money that the club desperately needed.
On top of that, despite his nightmare spell at Roma, he worked hard to force his way into their plans, before being forced out of the club and back to his homeland where he now seems comfortable.
Furthermore, it has been reported that he is set to join Flamengo Head Coach Jorge Jesus in staying at the club for one more season at least and does not have his heart set on a move away from Rio de Janeiro.
What could Gerson offer?
Gerson is a 5'9" left footed attack-minded central midfielder, with the versatility to operate as an inside forward on the right wing.
Providing five goal contributions in 27 matches in the 2019 Campeonato Brasileiro Serie A - two goals and three assists, Gerson has the ability to get involved in the attack with runs from deep, clever tight-threaded through-balls and the ability to strike from long-range effectively.
Comparisons can be drawn between Gerson and Harry Winks in the way they dribble out of trouble, play neat and simple passes but also have the ability to play a crafty long-range over-the-top through ball.
Winks is definitely less attack-minded than Gerson, and Jose Mourinho may in this respect view Gerson as an upgrade on the England international - but even with the potential addition of Gerson, he would still face the fact that there are the likes of Ndombele, Gedson Fernandes as well as Winks and young prospect Harvey White competing for the box-to-box starting spot.
Alternative options similar to Gerson
When researching Gerson, multiple websites including Transfermarkt drew comparisons to Sporting Lisbon midfielder Wendel.
Another young Brazilian midfielder, the 22-year-old is valued by Transfermarkt at just over £7 million, and could be a much cheaper alternative to Gerson.
Wendel, slightly taller than Gerson at 5'11", is another Fluminense graduate who has this season scored twice and assisted one in just 19 appearances.
One alternative option that Spurs fans may be aware of is former Leeds United prospect Ronaldo Vieira, who currently plays at Sampdoria in Italy.
The England U21 international has become a regular at Sampdoria this campaign, making 24 appearances in all competitions this season and assisting three goals in the process.
Vieira could contribute to the homegrown in nation registration rule that Spurs need to comply to, making this alternative a huge plus, but no move for the young star has been rumoured as of yet.
Additional alternative options but less plausible ones at that include FC Nantes starlet Ludovic Blas, Borussia Moenchengladbach and Slovakia creative force Lászlo Bénes, and Brighton and Hove Albion and one time Spurs transfer target Yves Bissouma.