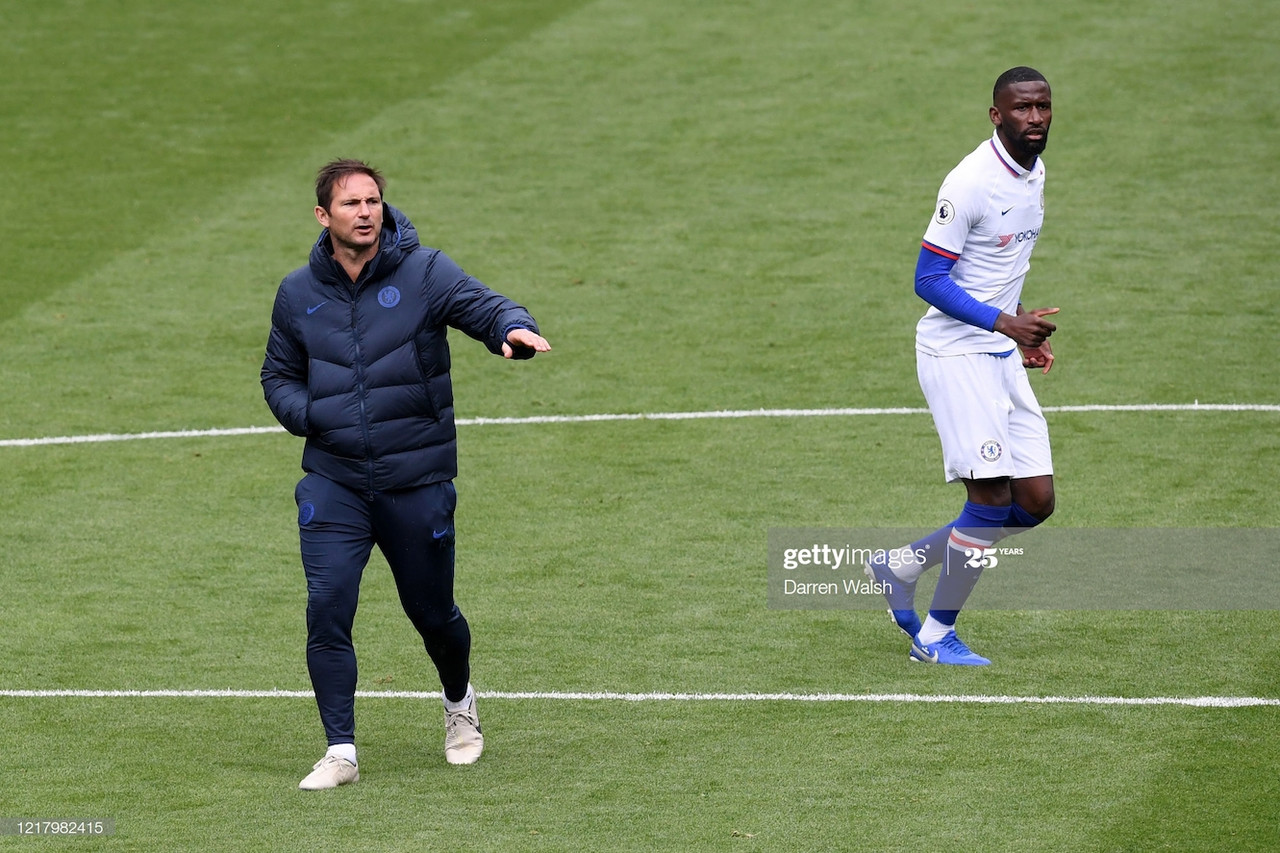 Frank Lampard has presented his thoughts, worries and assurances ahead of a busy upcoming fixture list upon the return of English football, in an interview with the Official Chelsea Website.
The 41-year-old Blues manager revealed how his side have been coping with the resumption of training, phase one and two, in preparation for their first home game back against Manchester City on June 25th.
Chelsea's all-time top goal scorer also commented on playing fixtures behind closed doors and what he has learned from watching the Bundesliga.
'We are all excited'
Lampard has claimed his squad are excited to see the return of football. Even if the first game back at Stamford Bridge is against the Premier League holders, Manchester City.
"We're all excited," began the 2012 Champions League winning captain. "We were waiting to see when the games would be. I had presumed they would be in the same order, but the Manchester City game [which had been postponed due to the FA Cup quarterfinals] was of interest, where that was going to go.
"It's an extra game in week one, but more than anything we're just excited to have confirmation of the dates.
"We've been waiting for a date to work towards in terms of how we're working in pre-season, so we are particularly happy to get the first date of the Aston Villa game.
"Then we know the games are coming pretty quickly after that. It's important we get our preparation right."
Lampard reflects on first fixtures
The Blues' first game back is against Aston Villa, at Villa Park, on June 21st, before Lampard's Blue army travel back home to welcome the Cityzens to the Bridge.
"With so much time off, and so much time to sit and scrutinise the table and your positions, for everyone there is going to be so much spotlight on this," he continued.
"Every game now in the nine league games is going to have something on it for different reasons. The first two games are good examples of that.
"Villa are fighting for their lives, City have huge quality, we know that. It's a difficult start and we'll need to be ready."
Behind closed doors may be a game changer
Since the return of the Bundesliga, Lampard has been observing German football and how the absence of fans could possibly affect the plethora of variables in a game.
"There will definitely be different variables around the game now," insisted Lampard. "We'll have to try to make sure we prepare as well as we can in terms of being ready for the change in atmosphere.
"We've had discussions about that with the players. It will be different for everyone.
"It may change the pace of the game; it might change the slight tone of it. We've seen that slightly in Germany and we need to be ready to adapt to that. All we can do really is get ourselves as fit as possible.
"That's been a difficult task in the short term, to get fit when we're used to longer pre-seasons.
"We have worked hard on that, and when it comes to match days, we'll have to make sure we're very ready for the changes from the norm, and make sure it doesn't affect our performance on the pitch."
Transitioning from phase one to two
Chelsea's three-time Premier League winning midfielder insisted that the progression from phase one to phase two training was good allowing the team to train amongst one another properly.
"The transition from non-contact to contact was good," stated Lampard.
"It had to happen. The players were excited to get in the big groups and train with contact. It has allowed us to work at a level that is much more relevant to match play.
"We are getting there. We have another two weeks to go. Normally we would have more time than that, but we know what it is.
"The players have worked very hard in training when asked to, to try to bridge the gap a bit quicker than we normally would do. As coaching staff and medically we have to have the balance right to make sure we don't push too much.

"There have been challenges along the way, but that's what football is. The players are getting fitter and we hope come Aston Villa we will be ready to go, with the mindset and the physical side of it to take on the games which are going to come thick and fast."