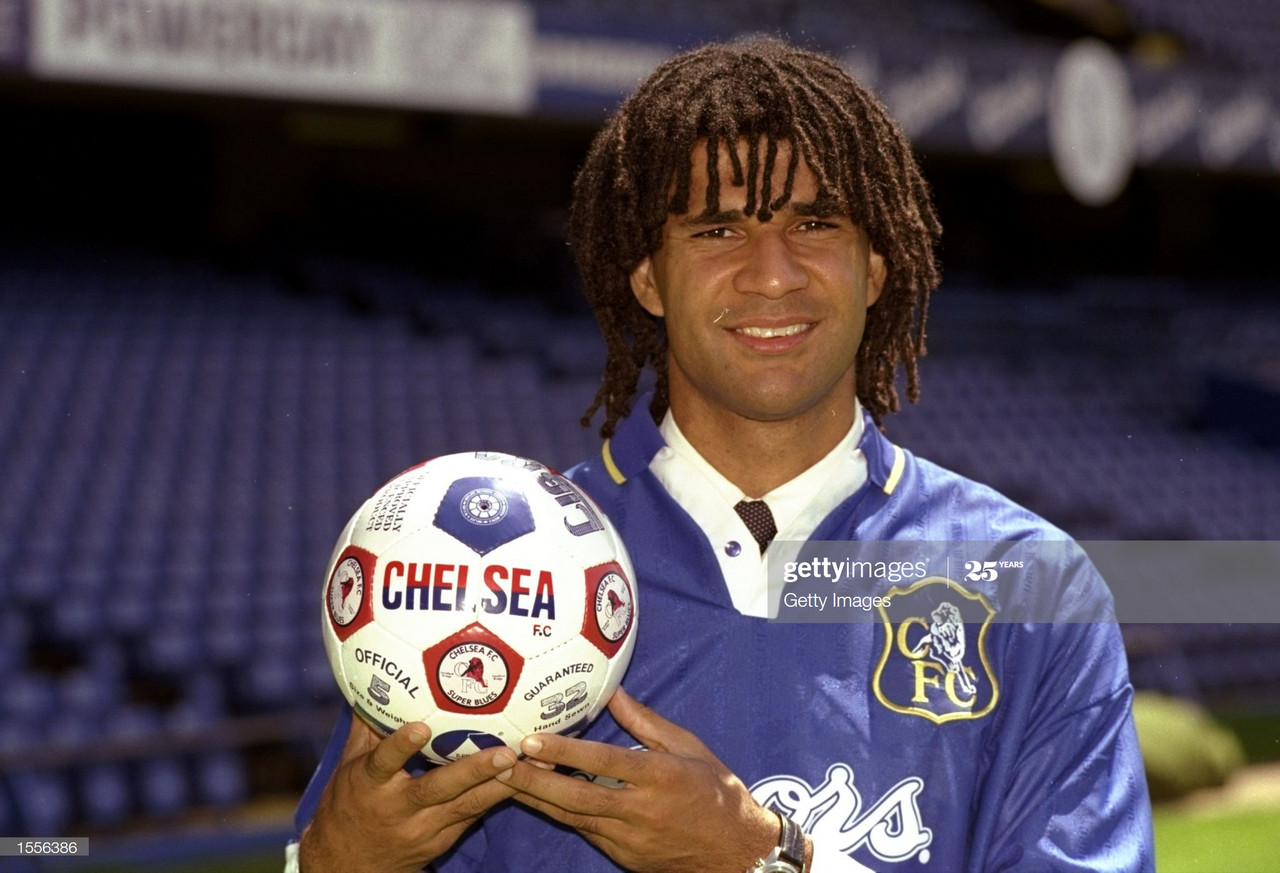 It was the transfer that shocked the world and put English football on the map.
When Ballon D'or winner Ruud Gullit swapped Sampdoria for mid-table Chelsea, the Premier League was only three years old.
The quality of players in the Premier League wasn't what it is today and the majority of the best players wanted to play in Italy for giants such as AC Milan and Juventus.
The summer of 1995 changed that however, with the likes of Dennis Bergkamp, David Ginola and Juninho all making moves to England.
Still, many thought that Ruud Gullit's move to Stamford Bridge was just an opportunity for one last pay packet.
The two-time European Cup winner was 32 by the time he moved to Chelsea on a free transfer, sparking a period of change for the club.
Speaking to BBC Sport, Gullit looks back on the reasons for the move and his first impressions of Stamford Bridge.
Hoddle an important factor in the signing
Gullit's seismic move 25 years ago was a real catalyst for change at Chelsea.
The squad at that time was mainly made up of British players but when Gullit arrived, Chelsea started to look abroad for talent.
Gianfranco Zola, Frank Leboeuf, Gianluca Vialli and Roberto Di Matteo all joined the club in the couple of seasons that followed Gullit's arrival.
Gullit says that it was manager Glenn Hoddle's style of football that attracted him to Chelsea:
"Glenn had to sell Chelsea and their ambition to me - he said they were at the start of a journey too - but what was most important was that it was Glenn.
"In the eyes of the Dutch, he was the best English footballer ever but in England he was not appreciated. In the Netherlands, we said 'oh my god, he was a player meant for us, not for you'.
"He had first phoned me up a few months previously to say he wanted to sign me and because I saw him as a player who played skilful football, I knew for sure he would not be a manager who would want to play the long ball and that was a very important factor in my decision."
Gullit, of course, went on to replace Hoddle as manager and acted as player-manager for Chelsea, famously winning the 1997 FA Cup final.
It wasn't just Chelsea that changed the way they recruited players after 1995.
Gullit's arrival sparked a catalyst of change throughout English football.
It could be said that Gullit shaped the way the Premier League operates today:
"When I joined Chelsea, in June 1995, the Premier League was very different to the way it is now," says Gullit.
"I wasn't the first overseas player to come here, but I was one of the first to arrive with a big name, from a bigger league, such as Serie A.
"Looking back, that summer was probably the time the Premier League really began to change into the competition it is now, and it had to.
"Italy was the king then - all the best players were there. English football was very basic in comparison, and the English wanted to have people from outside so they could try to get their game back again to the highest European level.
"Bergkamp, Ginola, Juninho. They all came at the same time as me. The way I saw it, it was an adventure. Personally and professionally, I needed to leave Italy after eight years with AC Milan and Sampdoria and, with the Premier League taking off, England just seemed the right place for a fresh start, at the right time for me to do something new."
Stamford Bridge was "a total wreck"
The facilities at Chelsea were a bit of a culture shock for a man who had spent his playing days in stadiums such as the San Siro.
Stamford Bridge was a stadium undergoing major redevelopment, as Gullit found out:
"When I came for the first time to see Stamford Bridge, I was like 'what the hell kind of stadium is this?' I was used to playing in the best stadiums in the world, but here there were only two stands. The place wasn't just a building site, it was a total wreck. You had to walk around on planks of wood.
"The training ground too, was very different to what I was used to. Chelsea's facilities now are world class but then they were based at Harlington, which was a school. There was nothing there - just five little locker rooms, and the only thing in any of them was a wooden bench and a hook. That was it.
"But I loved it. It was almost like I was going back to when I had just started playing, when I was nine years old. It was fantastic."