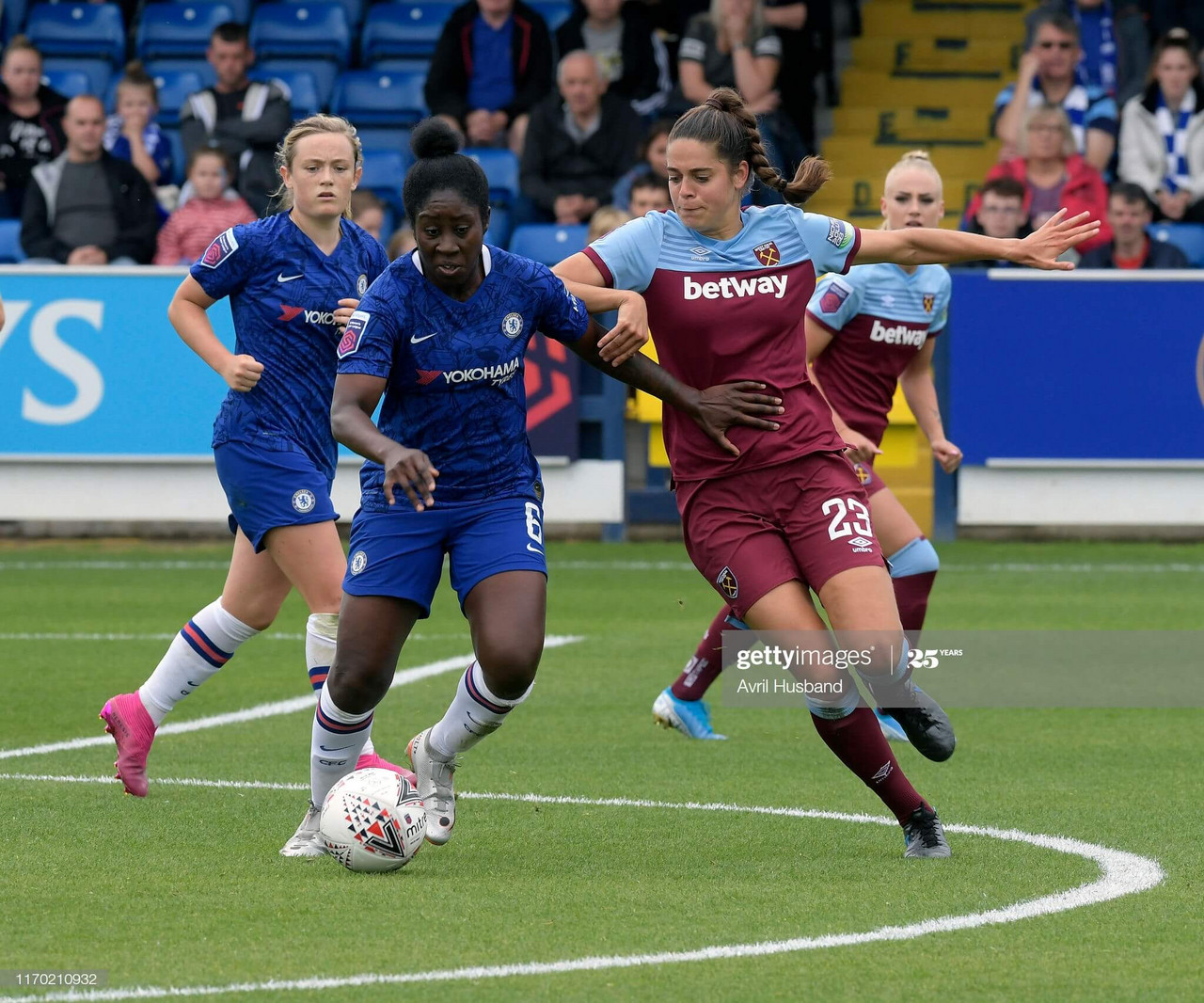 It truly has been a remarkable campaign for Emma Hayes' side despite the WSL campaign been terminated due to the Coronavirus outbreak and we reflect back on Chelsea opening Continental Cup game against West Ham at Kingsmeadow.
The game
Goals from Bethany England and Guro Reiten began Chelsea's Continental League Cup campaign with a 2-0 win.
This was the Blues first game back at Kingsmeadow this season after playing their opening game of the campaign at Stamford Bridge against Tottenham Hotspur.
The home side had their first shot of the game when Erin Cuthbert's effort from the edge of the area was comfortably saved by Hammers keeper Anna Moorhouse, just before the Hammers were close to open the deadlock through Martha Thomas; whose effort was deflected and agonisingly wide of the post.
The visitors grew into the game through a quick counter-attack by Alisha Lehmann, who ran into the Blues territory and her distributed pass found Thomas who cut inside and drilled a left-footed strike which went over the crossbar.
While Cho So-Hyun's effort went just wide of the far post. At the other end, the Blues responded quickly and missed an opportunity on taking the lead when Ramona Bachmann delivered a low ball into the box, finds England who flicks it over the bar.
The visitors remained in contention and controlled the tempo over the first half with Adriana Leon causing problems on the left flank. Matt Beard's side failed to capitalise before half as his side would feel frustrated not to have taken the lead.
Chelsea made a strong start to the second half with great urgency, as England pressured the West Ham defence and forcing a strike directly at Moorhouse within the early stages and subsequently Bachmann low curling effort forced Moorhouse to pull out another terrific save to deny the Chelsea forward.
The opening goal finally arrived in the 50th minute, England once again on the scoresheet as she comfortably finishes in close range past Moorhouse after Blues captain Magdalena Eriksson glided the ball over past the West Ham's defence.
The visitors reacted well after England's opening goal which the Chelsea defence remained focused and resilient, but the Blues made changes and brought on Fran Kirby to bring some attacking threat of their own. While, the Hammers brought on Jacynta Galabadaarachchi for the closing stages.
Additional change was made from the home side followed, as Cuthbert was replaced by Adelina Engman who scored in last weekend's draw at Brighton. Engman made an instant impact as her first touch almost extended Chelsea's touch as she was in the receiving end of a low cross from Reiten in the Blues half but it was magnificently kept out by Moorhouse.
The Blues doubled their advantage as Reiten found the net from a corner. There were some uncertainties whether Moorhouse punched it into her own net or flicked through by Reiten- the goal was announced as hers. If Reiten's goal stands, it would be the Norwegian's first goal for the Blues since signing from LSK Kvinner during the summer.
The Norwegian international ended the game with disappointment as Engman left the field after sustaining an injury, the Blues seen out the remainder of the game to record Chelsea's second victory from three games.
Posh-match reaction
Chelsea manager Emma Hayes told VAVEL UK's Mitul Samji: "It's a competition that we never won. I always commit to producing strong performances in every competition and I thought that was a response I was looking for in my team."
On Chelsea's 1-1 draw at Brighton, she added: "I think we deserve to win the game and when it's quite tight, we talked about West Ham being an upcoming side. It was going to be a close game but we showed our class and quality to win this game."
West Ham manager Matt Beard said: "Chelsea's goals were frustrating, from my point of view. I felt we did okay today, but it was the little details that hurt us. If you look at their first goal, we defended far too deep on the edge of our box, make a ten-yard pass backwards and we don't step into it. We got punished and Beth England scored.
"When we did have chances or we did break, our biggest issue was our choice of pass. Maybe we would go the wrong side or put too much or not enough on the ball. Those little details killed us today. If you switch off like we did at times today, then the top teams will punish us."
"That being said, I don't think Chelsea dominated the second half. They hit us on the break a couple of times. Their first goal was preventable and their second was a set-piece. We can take some positives from today but there's still one or two things we need to tidy."
Taking the positives, he added: "The biggest positives for me were that Leanne Kiernan got back on the pitch and Alisha Lehmann started today. We got minutes into Brooke Hendrix and Anna Moorhouse, and Cecilie came in for her first start too.
"We used this as a chance to look at the players that haven't been playing and build up their minutes. We missed a few key players today like Kenza Dali and Katharina Baunach. We had a centre-back playing left-back.
"I thought Tessel's performance was good. I think that was the best she's played since coming back from her injuries. We created numerous chances and put them on the back foot. We just need to tidy it up."
On the Continential League Cup competition, he said: " It is a good competition and a great opportunity to rotate the squad. It is a squad game and a chance for the players who haven't been playing, have an opportunity to stack a claim to be playing the week after. Going forward, our ambition in this competition is to get out of our group.
"When we played it last year, we had Arsenal and lost the game 3-1. We went on to progress in the group stages so we can take this result on the chain. We have to regroup and refocus again as we got a big game next week to prepare."
Chelsea goalscorer Guro Reiten said: "It was my first game at Kingsmeadow. I never been here before so it was a bit weird since it is our own stadium. I really wanted a goal today- played three games now and having scored today, I felt it was time to do it.
"It was a tough game. I think we showed our quality in the second half. We stand up for each other, challenging for tackles and duels. I think we deserve to win.
"The English league is very physical. I have to get used to it- quality and tempo is higher as it is a better league. Welcome to England everyone."