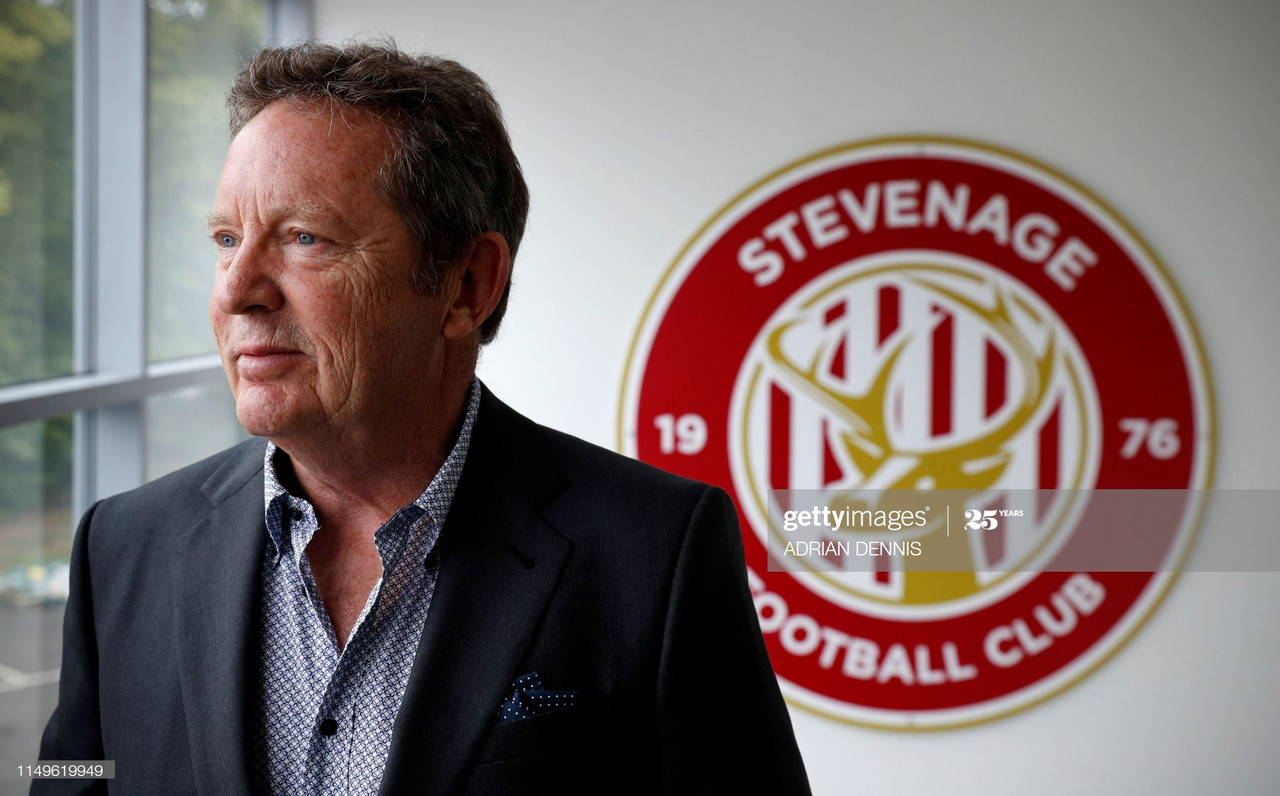 Stevenage chairman Phil Wallace believes his club may be spared relegation despite being bottom of the Skybet League Two table.
Speaking on the same day a vote was taken to end the 2019-20 season immediately, the Boro chairman is hopeful of his team extending their Football League stay to an 11th season with some help.
Wallace hopeful of further punishment for Macclesfield
Macclesfield Town are two points clear of Stevenage in 23rd, but face a new misconduct charge for allegedly failing to pay players in March. Wallace believed a third point deduction for the Silkmen is inevitable.
"It's definitely not the end", he told BBC Radio 5 Live. "It's a process. We are 24th but it is subject to the disciplinary procedures against Macclesfield. They have a charge to answer for not paying players on time.
"That's the sixth time this season. There's a definite competitive advantage gained by doing that. There should be consequences, there always has been in the past so I assume there will be a points deduction."
Boro chairman calls relegation "unfair"
While Wallace is both hopeful and anticipatory of Stevenage avoiding relegation, he feels no team should go down this season considering the circumstances. "The fairer way would have been for one or two clubs to come up from the National League to 25 clubs for one or two seasons," he said.
"Put that right in terms of balancing the numbers next season. I just can't see the downside to that. And I'm disappointed we couldn't see it through the woods to use it as a solution.
"We were keen to put our proposal across. The FA and EFL probably would have approved it so it's disappointing that this hasn't been adopted. But we live in a democratic world and we've all had our say."
"We got ourselves into this", says Wallace
Although he strongly feels as though Boro should remain in the EFL, Wallace knows just three wins in 37 matches have put his side in the position they find themselves in.
"We don't know what league we're going to be in", he said. "We don't even know if we're going to be in existence. But we got ourselves into this. Nobody threw us at the bottom of the league. So we do have an element of culpability."
"No one can't start complaining and whining because we had 36 games to get ourselves out of trouble and we didn't take that. If we do survive we are extremely lucky and we have to make sure we are never in this position ever again."
He also knows the financial impact relegation would have. "The National League do not have streaming in place. They can't go back until the crowds go back. Their fans rely on paying gates, fans coming into the stadium, bars, programmes, etc.
"But, in the EFL, all the games can be streamed. We're quite optimistic with the streaming at three o'clock on a Saturday afternoon. It's never been done before. But, in the National League, it will be a disaster."