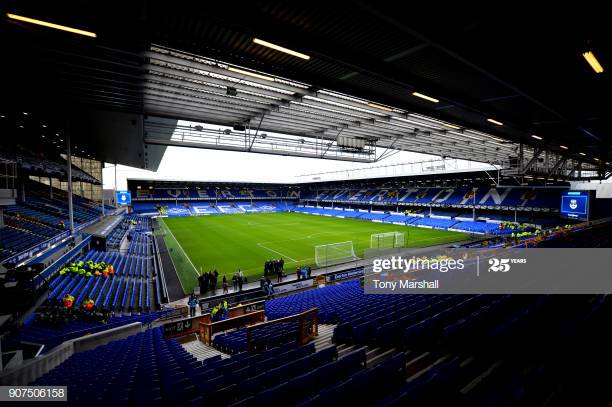 The Merseyside derby between Everton and Liverpool has been given the go ahead to take place at Goodison Park on June 21.
The match looked set to take place on a neutral venue to prevent fans gathering outside the ground on the night the Reds could win their first championship for 30 years.
It had been suggested as recently as yesterday that Southampton's St Mary's Stadium or Newcastle United's St. James' Park would be used as the neutral ground.
Merseyside derby will take place at Goodison
However, after clearance was given from both Merseyside police and Liverpool City Council, both Everton and Liverpool were given the green light to play their remaining games at home.
The Mayor of Liverpool, Joe Anderson, thanked both clubs for their cooperation and reiterated to both sets of fans that they shouldn't gather outside the stadium before, during or after the game.
The last derby at Goodison played a pivotal role in Liverpool's failure to win their first Premier League title last season thanks to a goalless draw.
The last meeting between the sides was the 5-2 thrashing at Anfield for the Reds, which saw the end of Marco Silva's reign. Carlo Ancelotti's side were also knocked out of the FA Cup in January, losing 1-0 to a youthful Liverpool outfit.