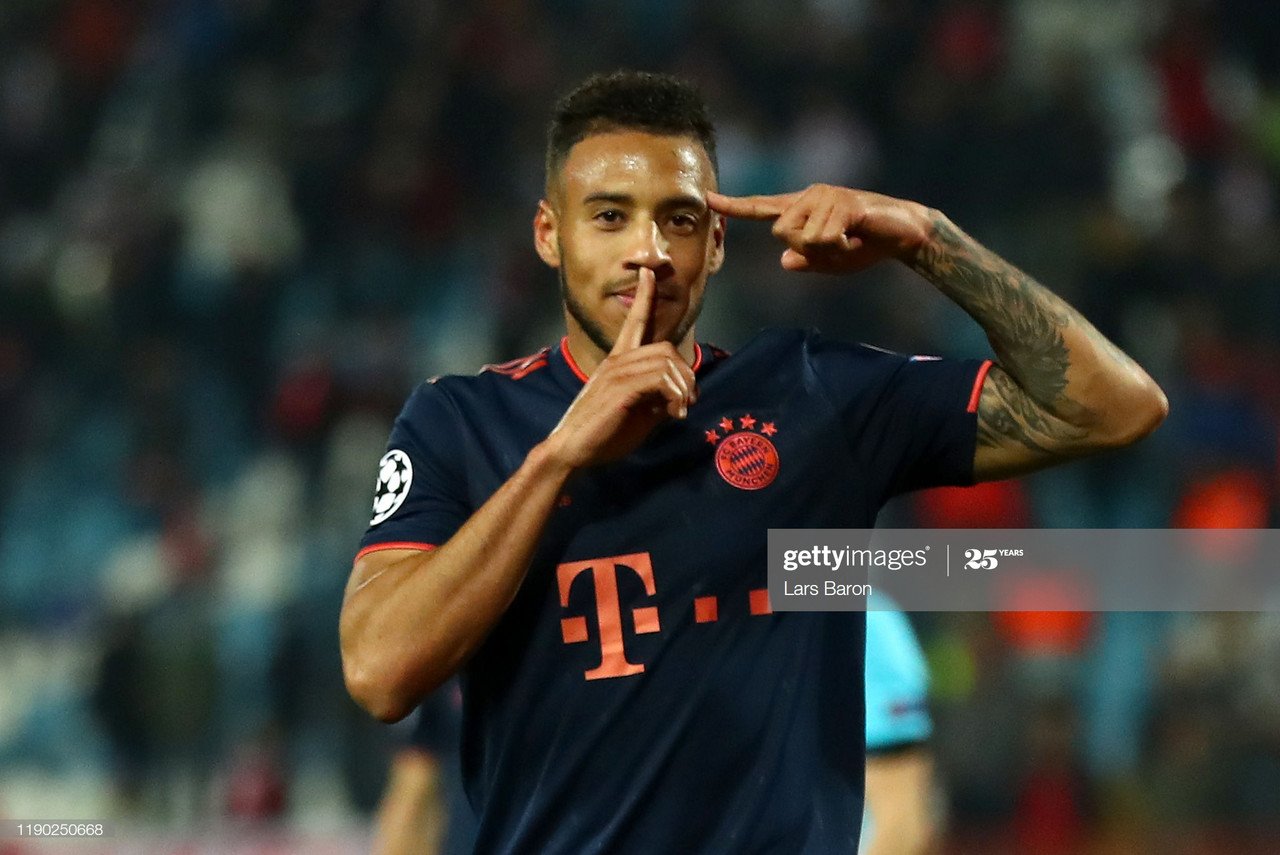 The Premier League restart is still a week away, but that doesn't mean teams in England aren't already looking at potential offseason signings.
Manchester United are no different, as the Red Devils are reportedly going after one of Europe's most talented midfielders.
According to RMC Sport's football chief editor Mohamed Bouhafsi, the Red Devils have started discussions with French midfielder Corentin Tolisso, as his club Bayern Munich are seemingly open to selling the player for around 35 million euros, or 31 million pounds.
There's still a lot of work to be done before a potential deal is made, but this could be the beginning of a shrewd acquisition. However, there's also the chance this transfer could break down, as United have missed out a number of targets in the last few years. Even if the club do pull off the signing, Tolisso could flop upon arriving at Old Trafford.
Time will tell, but before the Red Devils take this deal any further, they have to figure out if it's a risk worth taking.
Exceptional ability
On his day, Tolisso is one of the most exciting midfielders on the planet.
Starting his career at Lyon, he quickly began making waves in Ligue 1. Developing a lethal partnership with fellow youngster Alexandre Lacazette, the pair were elite in the league and in European competition.
Tolisso had become one of Europe's most coveted phenoms, and a big money move to a bigger club was almost guaranteed. That move eventually came in the summer of 2017, as the Frenchman joined Bundesliga powerhouse Bayern Munich.
It was clear to see why the German side paid over 40 million pounds for the player.
Able to control games from midfield, Tolisso is incredibly dynamic. His most well known trait is his shooting ability, as he can score from nearly any distance. He's already managed a number of screamers in his short career, and more are certainly coming.
Tolisso is also a quality passer of the ball. He can either make the short and simple pass, or pick out a teammate from across the pitch. Tolisso can dribble past defenders as well, opening up space for himself or others.
That was all proven in the summer of 2018, as Tolisso became a world champion when France won the World Cup. A key part of the team, he started two games and came off the bench in three others, one of which being the final versus Croatia. He was more than deserving of the winners medal he picked up at the end of the tournament, and his future seemed so very bright.
Effectively the total package going forward, the Frenchman would be a solid acquisition for United. The price Munich put on him is more than fair, especially considering how inflated the modern day transfer market is. The Red Devils need all the midfield depth they can get, and Tolisso is still good enough to be a consistent starter at the highest level when he's at his best.
Reasons to be concerned
However, those days don't come nearly as often as they should, as injuries have threatened to derail his once promising career.
It all began in September of 2018, as Tolisso ruptured his anterior cruciate ligament, aka his ACL. Having to undergo surgery as a result, the midfielder was on the sidelines for over seven months, missing 37 games in that span according to Transfermarkt.
A calf muscle strain took him out for two weeks during the festive period this season, and things only got worse the following April, as Tolisso had to have surgery once again to repair his ankle. He hasn't been on the field since, and won't be back until the end of June at the earliest.
Having these injury issues so early on in his career has really hurt Tolisso. Unable to stay healthy for a consistent basis has prevented him from building up momentum and confidence, stalling his development as a result.
United know stories like his way too well, as the club keeps suffering from injury crises. Paul Pogba is the pristine example, as the Red Devils have missed their star man for months at a time, especially this season. Fans might want a much more dependable player to have in the midfield, and it's not clear if they can rely on Tolisso just yet.
He's also not quite the type of player United really need at the moment. They could use more midfielders, of course, but they require more defensive minded ones. The likes of Pogba and Bruno Fernandes are already providing the team with loads of creativity, so Tolisso might end up wasting away on the bench.
Then there's the impact the coronavirus pandemic could have on the Red Devils transfer budget. Every club on the planet has lost money during these times, as they aren't able to host important games with paying fans in the stands. United is no different, and having less cash to spend will make it tougher to get deals done.
There are other areas on the pitch the team needs to improve first, so Tolisso may not be worth the price considering there are already different options in his position.
A ringing endorsement
While the Red Devils fanbase may be divided when it comes to the player, there is one club cult hero who very much hopes the deal can get done.
Responding to the aforementioned report from RMC Sport, former United fullback Rafael tweeted out very high praise for Tolisso.
The two played together at Lyon a few years ago, so Rafael saw what Tolisso could do on a daily basis, either on the training ground or on matchday. He knows him as well as any scout at United, so maybe the Red Devils would be smart to listen to a former fan favorite.
The waiting game
Ultimately, the way this season ends will be key in deciding if United go after Tolisso.
In a close fight for Champions League qualification, if the Red Devils manage to sneak into Europe's premier competition then they'll have more funds and more drawing power to get deals like this one.
However, if they can't, and are forced to settle for the Europa League once again, they will likely spend very little, and settle for lower level signings.
Only time will tell what actually ends up happening, but this transfer saga will certainly be one to keep an eye on.