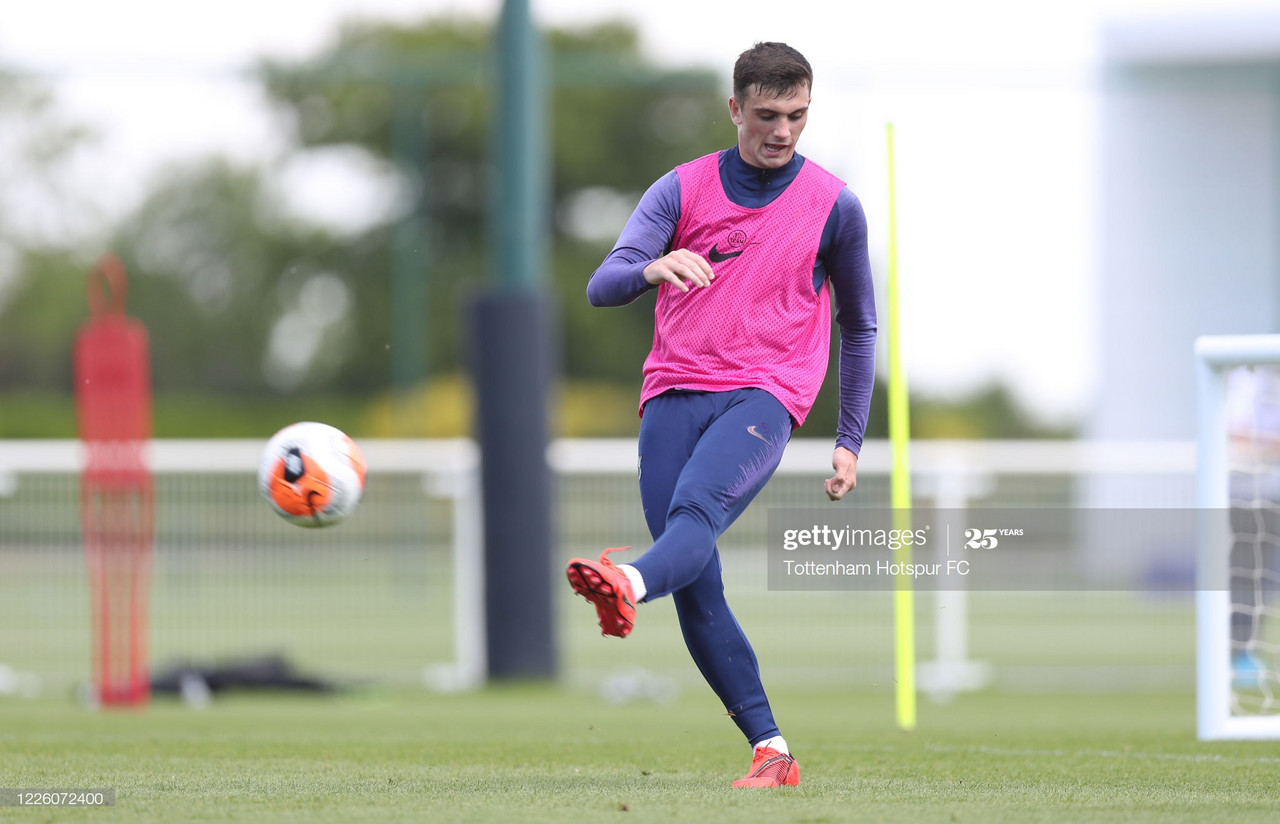 Troy Parrott is seen by many as the future successor to Harry Kane if the England captain leaves Tottenham, or even Kane's striking partner for years to come.
The hot prospect has established himself in the youth levels in England as one of the most clinical young strikers in the country, but why has he not yet been given a proper run of games in the first team, either off the bench or from the start?
This question has been asked repeatedly by Spurs fans, especially since the unlucky injuries to the two stars up front in the shape of Kane and Heung-Min Son, which left a massive void in the attack.
Son hurt his right arm during the early stages of Spurs win against Aston Villa and although the forward completed the game and scored twice, he required surgery which left the club desperately short of options up front.
Made in Dublin
The 18-year-old is not like the likes of Harry Winks or Harry Kane, who joined the Spurs academy very young and rose steadily through every team.
He is less of a product of Tottenham, more of a product of Dublin, where he made his name playing for local club Belvedere FC.
He was still turning out for them in the summer of 2017 and did not formally sign for Spurs until February 2018.
After Son's injury, it felt like the stars aligned for the Irish international and his natural progression into the Spurs XI felt imminent.
Exceptions to the rule?
The situation felt similar to when Marcus Rashford burst on the scene, who as an 18-year-old scored four goals in his first two games for Manchester United in 2016.
There is an important factor though - Rashford was only playing because manager at the time Louis van Gaal was faced with an injury crisis even worse than the one Mourinho is grappling with, having lost 13 senior players.
Mason Greenwood and Gabriel Martinelli are examples of 18-year-olds who have made a positive impact this season, but it usually takes longer for most youth academy prospects.
Chelsea's Tammy Abraham is only this season flourishing in the Premier League as a 22-year-old after full seasons out on loan gaining experience in the Championship.
Arsenal's Eddie Nketiah is finally getting minutes at the age of 20, while Liverpool's Rhian Brewster is on loan at Swansea City in the Championship at 19 years old.
Harry Kane was 20 himself before he started playing with any sort of regularity for Spurs' first team - following numerous loan spells across the Football League.
Stellar first impressions
Statistics are never the sole thing to judge a young player on, but you simply can't ignore that at youth level his returns are very, very impressive.
Parrott has scored 14 goals in nine games for Spurs' U18s last season and has scored six goals in four games in the UEFA Youth League, as well as three goals in two games in the Premier League 2.
His four goals in as many appearances for the Republic of Ireland U21's helped him at 17 years and 283 days, to become the youngest player to play for Ireland since Spurs legend Robbie Keane in 1998.
Parrott's appearance against New Zealand was marked with an assist when he battled with defender Winston Reid before setting up Sean Maguire's stunning goal.
Spurs' striking shortcomings
Given Spurs' injury crisis it is not unreasonable to expect Parrott to at least be making match-day squads, especially after he signed a three-year contract recently.
Lucas Moura and Dele Alli seem to be ahead Parrott in the pecking order playing in the false-nine role.
Both look extremely out of there comfort zone there however, and have struggled to consistently make an impact in that position.
Most teams would struggle without their two best attacking players, and while not an excuse as such, this is context that cannot be ignored and has obviously contributed to Tottenham's form right before the suspension of football.
The Spurs faithful don't just want to see their prized youth product get some minutes; they just want to see a natural striker leading the line.
Before his last appearance against Norwich, he had only started once before - against Colchester earlier in the season in the Carabao Cup, and was given a few minutes against Burnley at home as well as against Wolves in January.
It's fair to say Parrott's night in the FA Cup Fifth Round defeat against Norwich back could have gone better, though.
He was a spectator during the game and also missed his penalty in the shoot-out - taking a very long run-up, before blasting the ball towards the bottom right corner, only for Tim Krul to deny him.
However, taking a spot-kick in those circumstances at his young age is a testament to his strong character.
Parrott's frustrations
Parrott was close to joining Charlton Athletic on loan in the January transfer window in a bid to get some real playing time, but the deal fell through.
A UEFA rule meant Parrott would not have been eligible as a homegrown player if he had completed the move, as players are required to complete two consecutive years at a club to be counted as homegrown.
Since Parrott joined Tottenham on the 4th February 2018, he needed to stay until after the transfer window closed to qualify, otherwise, he would have been classed as a foreign player - ultimately causing the deal to collapse.
Parrott has no doubt been left frustrated, especially as not playing would likely have prevented him from being picked for Ireland's Euro 2020 squad - if Covid-19 had not delayed the tournament by a year.
Observers may attribute Parrott's lack of game time to Jose Mourinho's perceived aversion to playing youngsters.
You could possibly point to Ryan Sessegnon's struggle for minutes since Mourinho took over as evidence of this, coupled with historical examples like Romelu Lukaku at Chelsea.
However, Spurs' 20-year-old defender Japhet Tanganga has broken into the first team over the past couple of months, as well as the addition of Malachi Fagan-Walcott, Dennis Cirkin and Harvey White to first-team squads and training.
It's important not to get bogged down in Mourinho's past though. What matters is that Parrott will eventually get his chance.
This is, after all, a player who multiple Tottenham sources have compared to a young Kane.
Whether Mourinho is the ideal manager to develop him is open to debate, but all he can do is make it impossible for the head coach not to pick him.
In the meantime, Tottenham supporters may be faced with asking why Parrott is not playing for a little while longer, especially considering Covid-19 has allowed Kane and Son to recover from their injuries in time for the restart.
Parrott will also be out for the first few weeks after the restart after having surgery to remove his appendix.