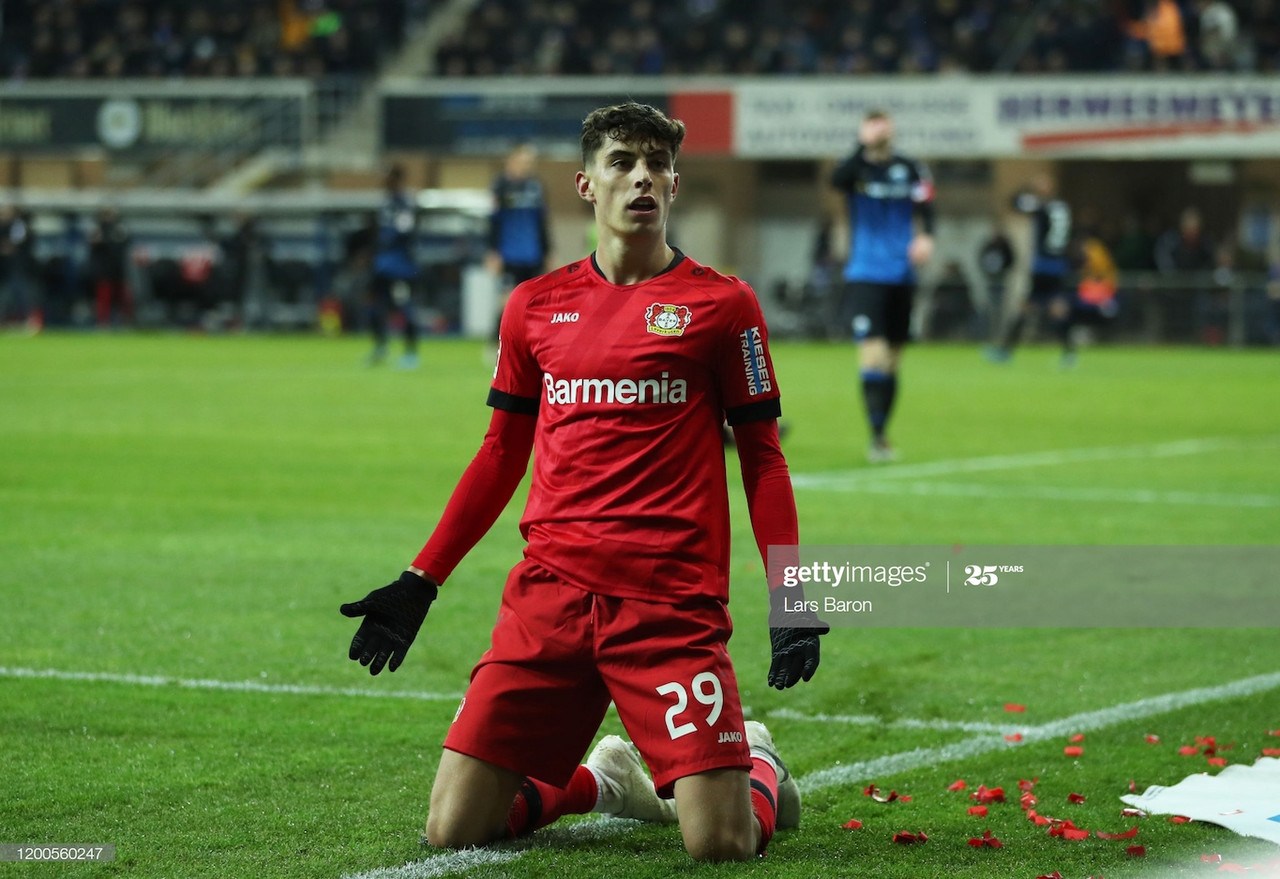 The summer transfer window has not even opened yet but that has not stopped Chelsea from reinforcing their side as the club have already begun their hunt in the market.
After the ever-reliable football journalist Fabrizio Romano confirmed Chelsea's interest in RB Leipzig's Timo Werner and even mentioned that the German international would move to the West London club, he further claimed that Chelsea were one of the several clubs interested in Werner's German teammate Kai Havertz of Bayer Leverkusen.
Havertz has been one of the hot European prospects for the last few seasons and while it is no wonder that several top clubs are interested in him right now, it is interesting that Chelsea is in the mix as well given how stacked they are in the midfield department.
While Chelsea are evidently interested in the German, they have also been long-standing admirers of Jadon Sancho of Borussia Dortmund. The English international, who moved to the German side in 2017 from Manchester City, has thrived in the Bundesliga ever since.
Now it is pretty obvious that Chelsea cannot afford both the stars from Bundesliga given the astronomical fee demanded by the players' respective clubs.
However, if Chelsea are to go all out for one of them, who should they be targeting?
Positional comparison
Now, Jadon Sancho is an out and out winger who can play on either side of the field and constantly keeps the defenders on their toes. He's electric and loves to take on the opposition and is very dangerous in 1v1 situations. His decision making in the final third has improved massively over the last few seasons and that is one of the reasons why the 21-year-old has 17 goals and 16 assists in the league so far this season.
Kai Havertz on the other hand, as fans already know, is an extremely versatile player. Now, there's a lot of talk with regards to his best position but it is interesting to note that the German is comfortable in whichever position he is stationed in. He is extremely good whenever he plays in the left-wing, number 10 role or in the central midfield. However, he is also capable of playing as a centre forward and a defensive midfielder - something that not many fans know about. The exciting thing about Havertz is, regardless of which position he plays, the quality of performance that he puts in is always top-notch and that's one of the reasons why he is highly rated by the fans and managers alike. He has scored 11 goals and registered 5 assists this season.
Formations
Now it is obvious that Sancho will be mostly deployed in the wings regardless of which formation the team plays in. At times, he drifts into the central area, which gives the fans an impression that over the course of time he may even be likely to play in the number 10 role.
Havertz on the other hand, due to his versatility, is capable of playing in multiple formations. There is a huge misconception among fans that he is best suited to 4-2-3-1 formation. However, that is not true. He has had experience playing in a 4-3-3, 4-4-2 and even in a 3-4-3. And the key thing is he has occupied different positions in each formation and despite the constant change he has put in quality performances.
So who fits the bill?
If anything that Frank Lampard's recent pursuit of players has taught the fans, then it is the fact that the Chelsea boss loves players who are pretty versatile. When reports of Chelsea's interest in Napoli's Dries Mertens and Arsenal's Pierre Emerick Aubameyang were doing the rounds, fans had already got a gist of what kind of players he was looking at. With Ajax's Hakim Ziyech already on his way to Stamford Bridge and a deal for RB Leipzig's Timo Werner almost closing in, it further confirms his desire for players who occupy multiple positions.
Now as much of a world-class talent that Sancho is, he is a traditional winger and may not really fit in the bill of versatile players. Now, this might not be a major concern given the impact he can have on any team that he plays for, but what is seemingly another obstacle is the fact that Chelsea already boasts of two of world's exciting young wingers - Callum Hudson Odoi and Christian Pulisic. Now, this brings the question, does a top-class team like Chelsea who are expected to fight for silverwares afford to have three young and relatively inexperienced wingers in their squad?
As much of the abundance of talent, there is to witness, experience is a massive element for this Chelsea side to succeed in its rebuild. And that was one of the reasons why Hakim Ziyech was brought in.
Now Havertz is also young and relatively inexperienced like Sancho, but having said that, his versatility is a major asset not just for himself but for whichever team he plays in the future. He easily slots into multiple positions and the fact that he does it with much ease is pretty impressive. He is another world-class talent and is even claimed to be the next big thing of the German national team.
He's a constant goal threat even when he plays in the midfield, something that the current Chelsea team lacks massively. His ability to press the opposition and even help out his team in defensive duties make him even more valuable. His movements in the opposition box are one of his key strengths and couple that with his pace, physicality and dribbling skills, he becomes the sort of player that opposition defenders always need to worry about. He is also good in the air, again an attribute that is pretty rare with the current Chelsea players.
The 21-year old also tries to drift in the pockets of spaces left behind by the opposition defenders and is often found in dangerous areas in the opposition box. His constant move sometimes disrupts the defensive lines of the opposition, which in turn gives an attacking opportunity for his teammates. While on the wings he is not naturally inclined to cut inside - like a majority of the left-footed wingers, instead, he surprises the defenders by going wide and putting in crosses with his weaker foot.
His greatest strength though, as told by himself is, reading of the game. Speaking to the Bundesliga website he said: "I guess reading the game has always been one of my strengths."
"A certain composure on the ball and the ability to make the right choices quickly," he added.
The fact that Lampard loves to be tactically flexible means that the Havertz deal would make all the more sense as he would give the Blues gaffer a variety of options and freedom. Havertz is also regarded to be tactically intelligent having worked with Germany's elite coaches and this could actually prove to be decisive for Lampard and co.
He does not shy away from his defensive duties as well, as he can always be found helping his teammates clearing corners and even tries to stay in his own half when needed. He is extremely agile for a player of his stature and that is one of the reasons why he easily glides past multiple defenders with ease and precision.
Conclusion
Havertz is a player who possesses incredible footballing skills. His attributes of passing, shooting, dribbling and amazing positioning due to his intelligence are reminiscent of a generational player. Additionally, he has an extremely good stature, standing at 189cm tall, which often helps him, coupled with his fiery pace.
All in all, the 21-year-old is gifted in every aspect of the game. Players like him are pretty rare to find in today's market and the fact that he has caught everyone's eye at such a young age is a testament to the player's talent and hard work.
Although his quoted price is over 100 million, it is relatively less than that of Sancho, for whom Dortmund seem to be asking close to 120 million. One would argue that why would Chelsea pay a greater amount of money to a young traditional winger while they can get an equally good, if not better player in the form of Havertz who can fill in multiple positions for a much lower price?
While the talent is undoubted with regards to both the players, the Chelsea board will be looking at what the current team needs rather than what they want.