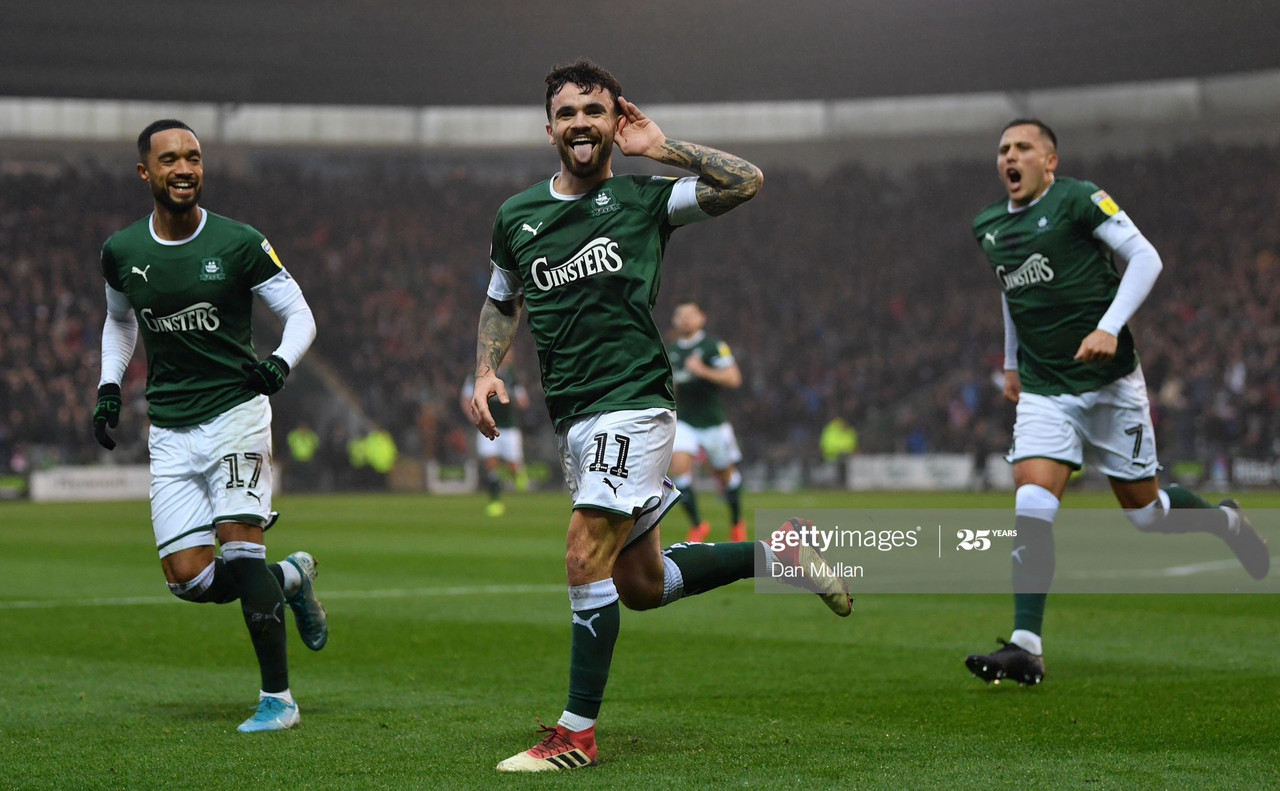 Plymouth Argyle had no chance of playing down expectation on their return to League Two, but delivering on their ambition can often be a very different matter.
The appointment of Ryan Lowe, fresh from leading Bury to promotion from the same division and bringing a portion of his successful squad with him, inevitably lifted them straight to the top of the list of pre-season favourites.
Things weren't always smooth in the early months of the season as Lowe, in only his second managerial role, picked up a team coming down from League One and tried to implement his style of football.
Once things began to click though, Plymouth were a formidable force. Lowe had done it again, refining the swashbuckling style that swept opponents aside at Bury to take another club to promotion.
Statement of intent
Lowe's success in his first full season as a manager at Bury, a club which he had already helped to two promotions as a player earlier in the decade, were impressive for both the style and the circumstances.
While the Shakers had spent well on a squad capable of going straight back up after relegation, Lowe produced an exciting, all-action team. But as finances crippled the club and wages went unpaid, his biggest achievement was keeping the ship steady and continuing to drive a commitment to the cause that saw them finish as runners-up.
Subsequent events at the club are well-known, and no fault is attributed to Lowe for making an escape in June for a job with a little more security.
Plymouth will have taken no joy in Bury's demise but they certainly played it to their advantage. Lowe brought his coaching team, including assistant Steven Schumacher, with him to Home Park, along with five players: Danny Mayor, Will Aimson, Dom Telford, Callum McFadzean and Byron Moore.
It was the strongest possible statement of intent from the Pilgrims, who were relegated from League One on the final day of 2018-19 having sacked manager Derek Adams just a week before the end of the season.
Implementing his way of doing things into the new environment wasn't to be an overnight task for Lowe, and things didn't click in the early weeks. They were as low as 14th following a loss to Cheltenham Town in late September, after which their record from 10 matches stood at won three, drawn three, and lost four.
However, they would only lose five more times in the following 27 games, with successive wins over Grimsby Town and Macclesfield Town putting them in third place at the crucial moment when Covid-19 brought the season to a halt in March.
A refined style
It would be too simple to suggest that Lowe simply copied what brought him success before; more accurately, and impressively, the system and way of playing were adapted and refined.
Three at the back remained the basis of his pressing and possession game after the 3-1-4-2 took Bury up but with half the division now tempted to do the same, Lowe set about tweaks at Plymouth. One of the previous criticisms of his system was its openness with Bury conceding far more goals than their main promotion rivals, and a touch of conservatism was added to their style with the help of a subtle switch to a more sturdy 3-5-2.
This formation relies on the strength of the full-backs, and it is a credit to Lowe's coaching abilities on the training ground that players never previously considered for such a role can be transformed into naturals.
In the early months McFadzean (until injury) and Joe Riley were more predictable fits for the positions, but Lowe's desire for attack took hold. George Cooper, an accomplished attacking midfielder on loan from Peterborough, made the left wing-back spot his own while the right side was taken by either Joe Edwards, a summer signing from Walsall switched from midfield, or one of the old Bury boys in Moore, more typically a striker.
The formation tweak meant only two sides conceded more than Argyle, though credit also goes to the back three of skipper Gary Sawyer, Scott Wootton and Niall Canavan, and particularly to young goalkeeper Alex Palmer who had an exceptional season on loan from West Bromwich Albion.
In midfield Mayor and Antoni Sarcevic provided plenty of thrust, alongside a sitting midfielder in either Edwards or Chelsea loanee Josh Grant.
The most troublesome area of the pitch was up front, where a settled front pair proved elusive. Form or injuries prevented Moore, Telford, Joel Grant or Zak Rudden from establishing themselves, and it was only in January that a solution was found. Ryan Hardie was signed on loan from Blackpool while Luke Jephcott returned from a spell at Truro City, and the duo scored seven goals apiece in the space of just a couple of months to put them behind only Sarcevic in the club scoring charts.
Curtailed ambitions
If Lowe was hoping for a gentle summer after his last, his luck was not in. The coronavirus pandemic meant an almost three-month wait for confirmation of Plymouth's return to League One and, although the situation is certainly no comparison to that of Bury, there are difficulties ahead here too.
Owner Simon Hallett, a lifelong Plymouth fan now based in the US, has pledged one final cash injection to help the club through the immediate challenges posed by the pandemic's impact on football. He wants the club to be self-sufficient, something even less likely after Covid-19 than it was before, with their last accounts showing a loss of £1.4m in the year up to June 2019.
With few players tied down to contracts for next season, their squad may look very different when the lower leagues are able to start the campaign.
Any further ambitions may be curtailed for now at Argyle although that will not be the case for Lowe, whose managerial stock continues to rise.