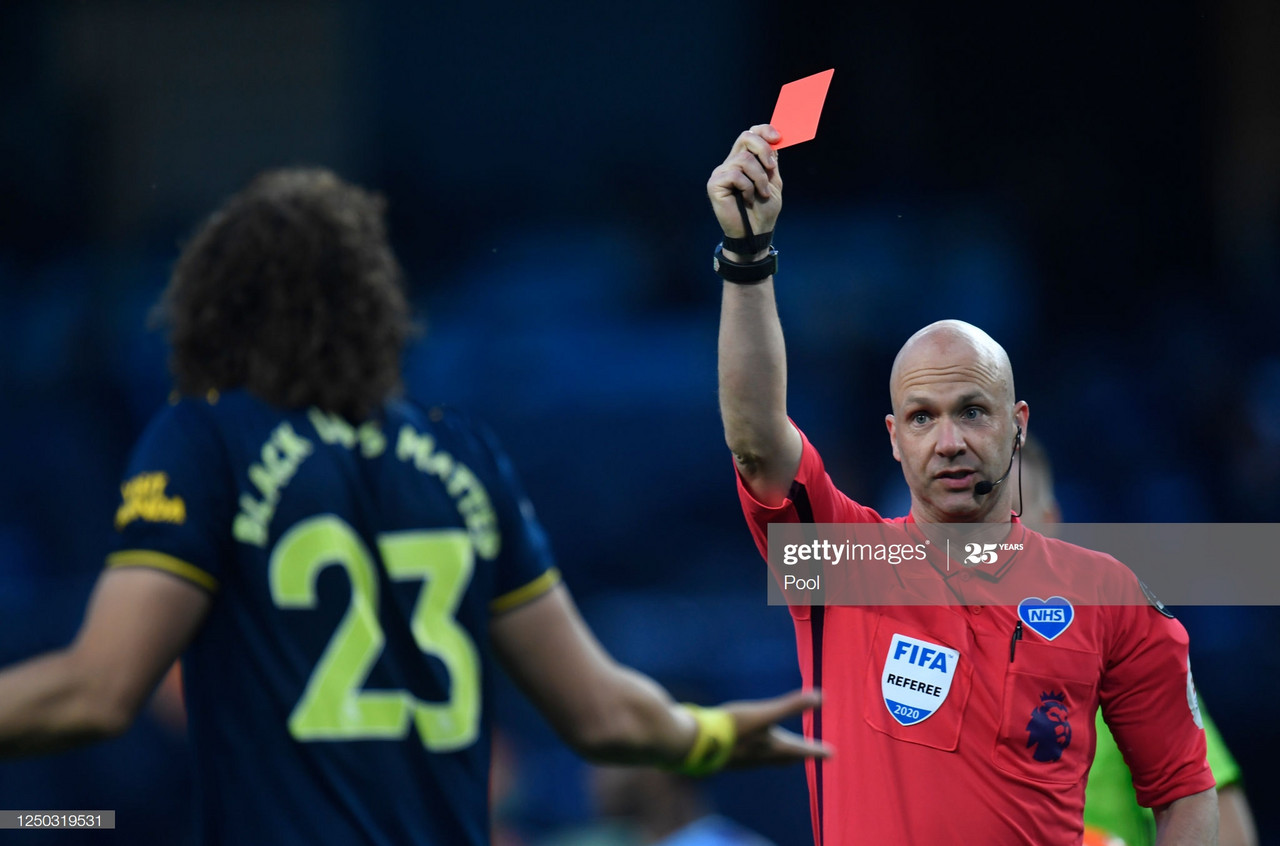 Not for the first time, David Luiz had made the headlines for the wrong reasons.
The frizzy-haired Brazilian had been left out of the team against Manchester City but was summoned early on after an injury to Pablo Mari but had a nightmare.
After making an error for Raheem Sterling's opener, Luiz then gave away a penalty after fouling Riyad Mahrez as he was bearing down on goal. His misery was compounded as the referee gave him his marching orders for that foul on Mahrez. Arsenal went onto lose the match 3-0.
Many people were up in arms after the game, calling for the defender's head, but there could still be life in Luiz's Arsenal career.
After the game, some of Luiz's comments were particularly revealing. "I want to stay", he told Sky Sports. "The coach knows, he wants me to stay, and we are just waiting for the decisions."
Those comments may have surprised many listeners but perhaps they shouldn't have.
Talented
Luiz is a talented footballer. He is comfortable on the ball and is capable of playing excellent passes. Many defenders still struggle with the art of ball-playing. Luiz does not. Few players have Luiz's composure on the ball, or his confidence to play intricate passes under pressure.
Theoretically, he could play in Manchester City's team and Guardiola would be relatively content. He wouldn't compromise the tempo of the football and that is what matters the most to City's manager.
Upon Guardiola's arrival, Claudio Bravo replaced Joe Hart because of his technical qualities with the ball at his feet. While City signed Ederson Moraes just a year later, the prerequisite was the same: can the keeper kick the ball like a midfielder? The overriding philosophy stretched throughout the whole eleven; it isn't broken up for positional specialists who don't suit the style. John Stones is another good example and a very good comparison with Luiz.
The Brazilian Stones
Guardiola has always backed Stones because he plays without fear. The Englishman plays with a swagger and a nonchalance and those traits are needed at City. Defensively, there have always been question marks, though, and Stones has never properly shook those doubts off.
He could look like Franz Beckenbauer for 89 minutes but opponents would be expecting an error of some form and, quite, often, teams have capitalised. Sometimes, he would make multiple mistakes in the same match and those good technical qualities would be completely overshadowed. Stones features less now, especially after the signing of the imperious Aymeric Laporte, but he was an integral part of the narrative for Guardiola early on.
Could Luiz be Arteta's Stones? The Arsenal manager is in the early stages of his Arsenal revolution and he will want good technicians all over the pitch. Luiz is somebody who could guarantee those progressive qualities and all it would take is the tick of a box on his current deal.
Strong character
His post-match interview was also indicative of a humble and emotional character. It would have been easier to bury his head in the sand but Luiz deserves credit for facing the cameras after the match. He wanted to acknowledge his mistakes and apologise for them. This was a man who was genuinely upset for his role in Arsenal's defeat.
It is important to have the right characters in a football team. Seeing a player who is genuinely devastated in his own performance is pleasing to see. Ideally, you would have a whole squad with this level of personality but that isn't always the case. So Luiz is a player who fits the overriding style and also appears to be a good character for the dressing room.
Reality
The 33-year-old is a supremely talented and an incredibly flawed footballer. He suits Arteta's philosophy and, in the early stages of a big footballing project, it's vital that everybody who plays is capable of playing the manager's way. Luiz is Arsenal's most technically gifted defender.
However, the former Chelsea star is a high earner at the Emirates and, judging by the player's post-match comments, it would seem like the club hierarchy would prefer to end his contract in the summer.
Arteta may want to keep Luiz but his performance at the Etihad could well have been the final nail in the coffin. The Arsenal board are different to Man City's board; they are much less flexible with their finances. As Luiz suggested, Arteta may want the Brazilian to stay but he might be fighting a losing battle.