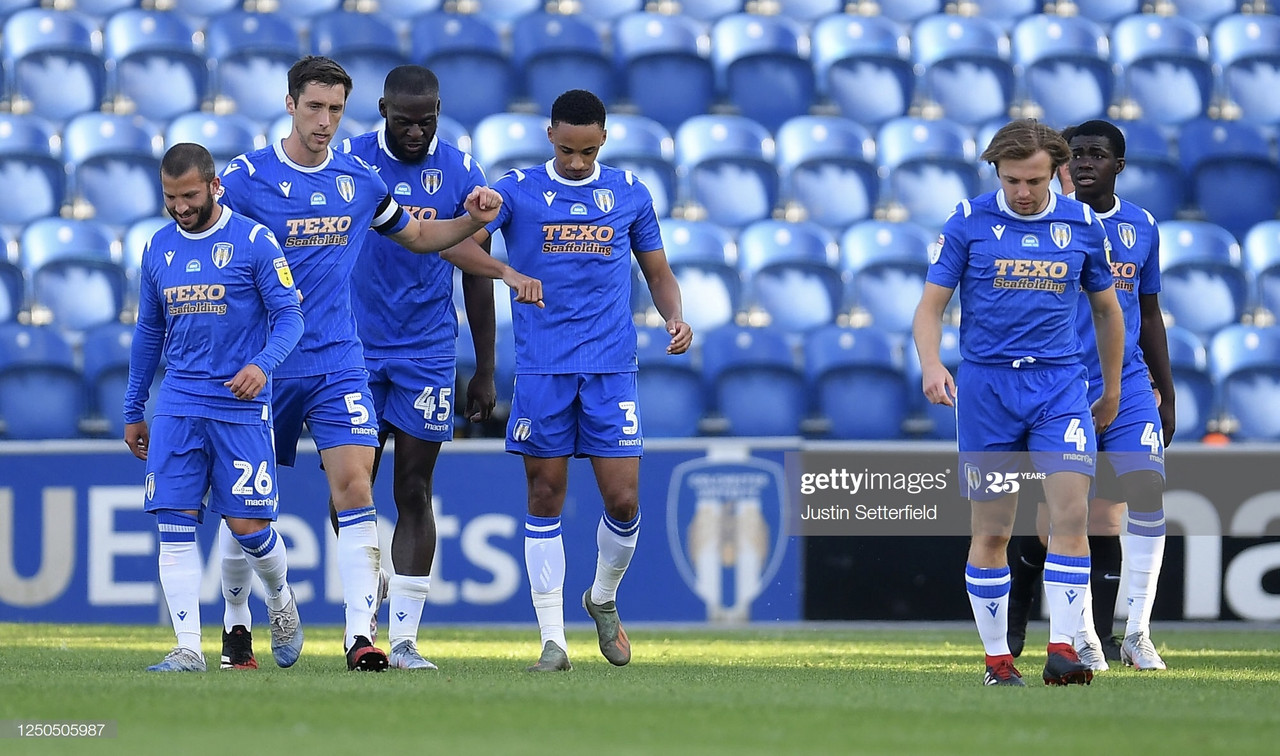 In a game where there was a lack of creativity from both sides, with only a piece of brilliance by Colchester United defender Cohen Bramall being the ultimate difference, it was clear that the fact that neither side had played for 103 days had took its toll.
Former Arsenal youngster Bramall grabbed the only goal of the game with nine minutes remaining when his free kick from the right caught Exeter City goalkeeper Lewis Ward out by surprise, handing the Oysters an advantage when heading down to Devon for the Play-Off semi final on Monday.
However, it was not a particularly entertaining contest with neither goalkeeper being tested out on a regular basis - there were only two shots on target in the entire game - both coming from set pieces by Bramall.
Getting used to playing football again
With both sides not having played football since the 7th March due to League Two being postponed as a result of the COVID-19 crisis, it doesn't come as surprise that the amount of chances created were few and far between.
The reason for this must partly be put down to how defensively organised the visitors were, but also through how little threat that they offered when going forward.
This was shown as the hosts always seemed to be the more dangerous side when on the attack, although they were unable to create many clear cut opportunities against Matt Taylor's side, who were solid in their 3-4-3 formation.
This plan by the away team did seem to be working until a mix of a clever play by Bramall and a mistake by Ward undid their hard work, which in turn gifted Colchester an advantage when they make the journey down to St James Park in four days time.
Furthermore, it can be considered that due to Exeter opting to play no friendlies before this semi- final, arguably it was always going to take them a little while to get themselves going, which was then shown by the lack of attacking threat that they showed throughout the entirety of the game.
Exeter's poor away form continues
Despite form not perhaps meaning too much due to the lack of action for over three months, it is still a worrying sign that Exeter have suffered defeats in five of their last six away games with their only victory in that time coming at a struggling Macclesfield Town.
In addition with there being no crowd to spur them on, home advantage has consequently gone out of the window meaning that the Grecians could find it more difficult to progress through to Wembley in the second leg.
What the second leg could bring
Even though John Mcgreal's Colchester have a one goal advantage going into the second leg on Monday night, both teams will know that the game is far from over and even though there will be no extra boost from the crowd, it will be of comfort to Exeter to know that they have only lost one game at home all season which came against Grimsby Town all the way back in September.
In addition, with both teams now having played a game under their belt, it is to be expected that the game will be played with a higher intensity and it is likely that more chances will be created especially since both sides know that a trip to Wembley and possible promotion to League One is at stake.