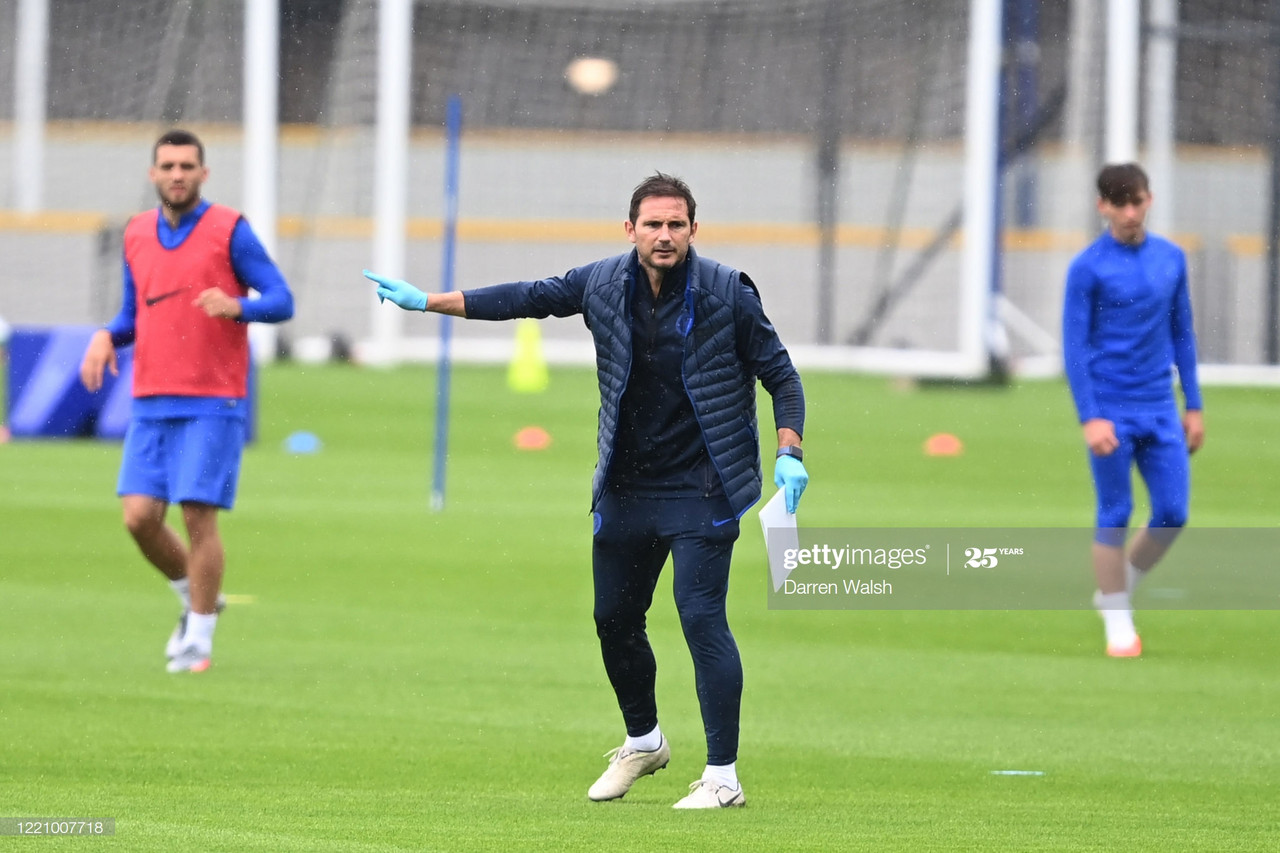 Frank Lampard has claimed his side must 'go full throttle' in their first fixture back against John Terry's Aston Villa amid a merciless race for Champions League football.
Chelsea's all-time top goal scorer insisted an emphasis has been placed on ensuring his side produce a good performance before demanding that the Blues 'have to start well'.
Lampard continued his online press conference as he drew comparisons between the barrage of fixtures with tournament football.
The 41-year-old followed on by hailing the arrival of Timo Werner as a 'huge talent' declaring his excitement in welcoming the German to the club.
Lampard then opened the lid on team news and spoke on his forthcoming reunion with Chelsea's 'Captain, Leader, Legend'.
'We have to start well'
A 'Zoom call'. Something that has become ever apparent in our lives since the devastating emergence of COVID-19. It is 2020, the year where anything could happen, and Lampard addressed the media via Zoom.
The 2012 Champions League winning midfielder began his online press conference demanding a good performance from his side.
"There are a lot of challenges," he began. "The players were out for a long time. Making the players as aware as I can of the challenges are coming up. The focus is just the performance.
"We have trained really well, but nothing is like the Premier League. We are going to have to use all the squad, but it's like tournament football.
"I think we have to go full throttle; we have the ability to use more subs. I mean give the game everything we can. We have to start well."
'Werner is a huge talent'
After all the speculation and hearsay that was circulating, Werner was officially announced as a Chelsea player in a £47.5 million move from RB Leipzig.
Sheer elation filled the Lampard's small allocated rectangle Zoom as he professed his endearment and excitement in regard to the 24-year-old's arrival to Stamford Bridge.
"I think he is clearly a player we liked. As a club we went for him, he has huge talent. We were clear we wanted to improve, and he will do that, I'm excited to have him.
"I had good conversations with him personally. It seemed like an exciting project for him. We were pleased he came to us.
"I spoke to him and he is excited. He is looking to finish his season first, but he is the type of player we are looking at. The talent he has, and work ethic is what shone through."
The former England international also spoke on how Werner's arrival could jeopardise Tammy Abraham's role in SW6.
"I have spoken to Tammy before about competition. I don't have to address every player if another one comes in.
"It's how it has been in the Abramovich era, but Tammy has been very good this season. We have had options and pleased with the idea of that."
Team news
In the twilight moments of Lampard's Zoom press conference, he discussed the team news and his selection troubles.
"It's a nice problem, we have missed big players. Ruben Loftus-Cheek and [N'Golo] Kante at times. We are going to need everyone in the squad.
"The five subs are a good thing and the bigger bench should stay the course. To get the younger players involved, it is a good thing.
"[Fikayo] Tomori has a muscle injury, that will keep him out for 10 days. [Callum] Hudson-Odoi had a small injury and he isn't match fit.
"Loftus-Cheek is looking fit, taking part in the games and working hard. We haven't had enough matches for him so we will have to manage him."
A forthcoming reunion
Sunday will see two legends, each in their own right, of South West London and world football come together – on opposing sides.
Lampard sweet-talked his former captain and Blue counterpart but remained focused on the job in hand:
"[It is] alwaysgood to see him. I have huge respect for him and we're friends. But we have big ambitions for the game.
"There is a lot of work to be done in the top four. The relegation battle is similar, there is always a jeopardy in the Premier League."