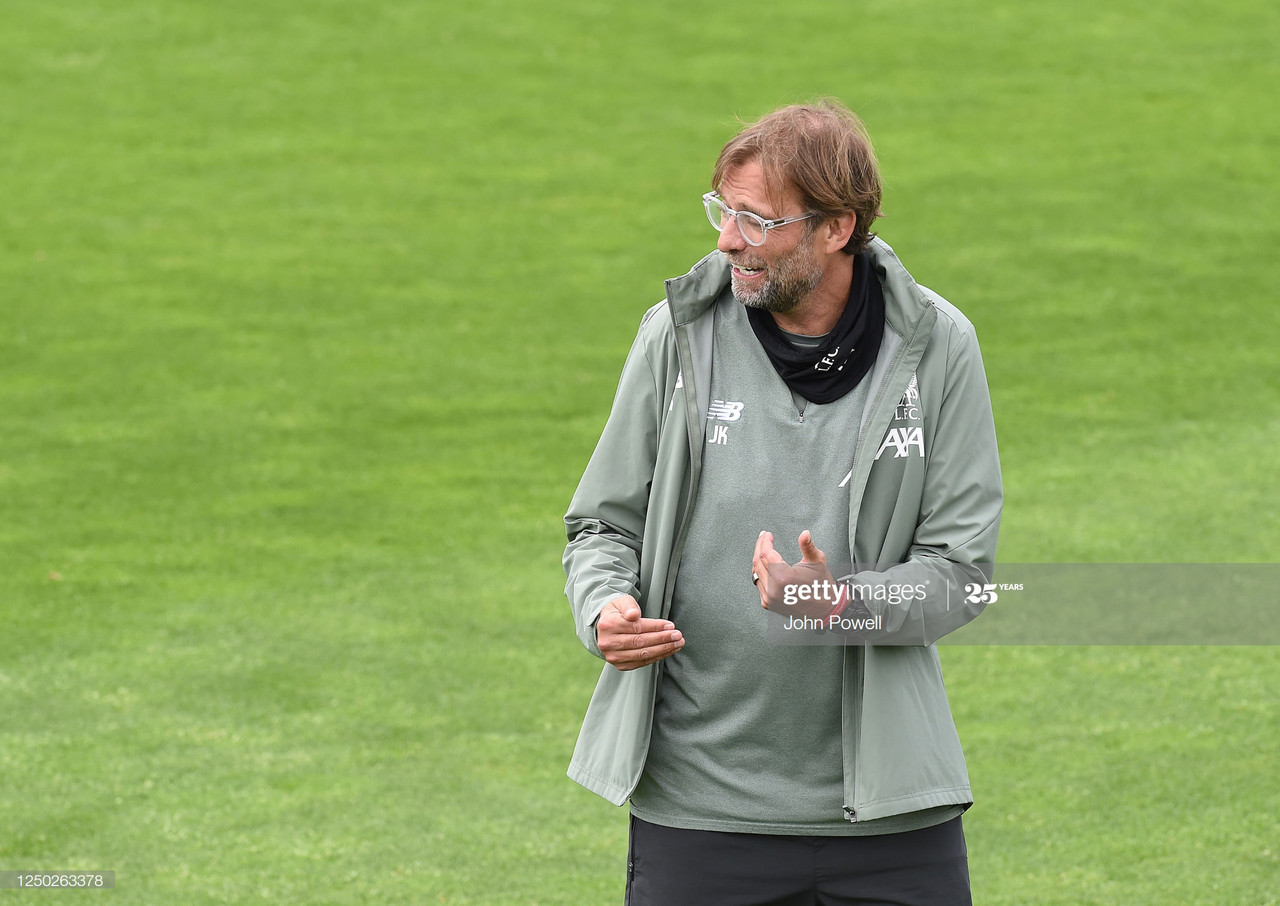 Jurgen Klopp says he considered the possibility that the Premier League season would be declared null and void after it was suspended in March, a move that would have denied champions-elect Liverpool their first title in 30 years.
The Reds are gearing up for the resumption of their remarkable campaign against local rivals Everton on Sunday.
It has been clear for a number of weeks that the league's return was inevitable, but initially its fate was shrouded in uncertainty.
And Klopp feared glory may be snatched from his side, who needed only six more points to guarantee top spot.
"Honestly yes [I was worried that the season would be curtailed]," he said in his pre-match press conference, as quoted by the Echo's Paul Gorst.
"It was not important in that moment but I got worried when people talked about 'null and void'. I thought wow! We didn't expect a present on PPG [Liverpool's title would have been confirmed by a points-per-game solution].
"When null and void was off the table, I was relieved. Not we go for it. We don't think in our minds we are nearly there. We needed a lot of work and luck to get here and that is what we need again.
"I hope I can enjoy it. We need to make sure we play our best football."
Reds 'in the best possible shape' to face 'highly motivated' Toffees
Turning his attention to the Sunday evening clash, Klopp expressed his confidence in his players' physical and footballing level after a three-month absence.
They face an Everton side down in 12th place but determined to avenge January's humbling FA Cup defeat at the hands of Liverpool's youth.
"It is still a derby and important for both teams," Klopp said. "That is what we are looking forward to.
"We have tried to get used to this training period, playing one proper test game v Blackburn. It looked like football.
"It's all about now and the momentum we have. We have made sure we are in the best shape. The boys were rested when they arrived but getting used to football means they had a lot to do. We are in the best possible shape but probably not 100%"
"Everton will be highly motivated. To start with a derby in a normal season would be really interesting but now it is a special game for different reasons."
Klopp also confirmed that he is working on the assumption of a fully-fit squad after earlier setbacks for Andrew Robertson and Mohamed Salah.
'Unbelievable' that 'Black Lives Matter' is disputed
Liverpool and Everton, together with the rest of the Premier League, will replace players' shirt names with 'Black Lives Matter' this weekend.
This comes amidst global protest at persistent racial inequalities.
Asked for his take, Klopp explained that the game can help to promote long-awaited change.
But he also lamented that these issues remain prevalent in 2020.
"Of course, Black Lives Matter but let's hope it is the last time we have to say this.
"If football is a role model for anything in life it is for equality. Wherever you are from, it is not which colour you are. It's just completely natural for us in football.
"It is so dumb not be like this, I cannot understand but we will do what we have to sort this situation. We can change the future so we should all try."
"For me this [BLM] is not a political thing. It is society so we can all have an opinion. This is all about showing finally and hopefully for the last time that we are all the same. It is unbelievable we talk about it but we have to.
"It's about making a clear stance for all of us that there are some idiots but not as many as we think. If they are not that powerful then we can change the world."