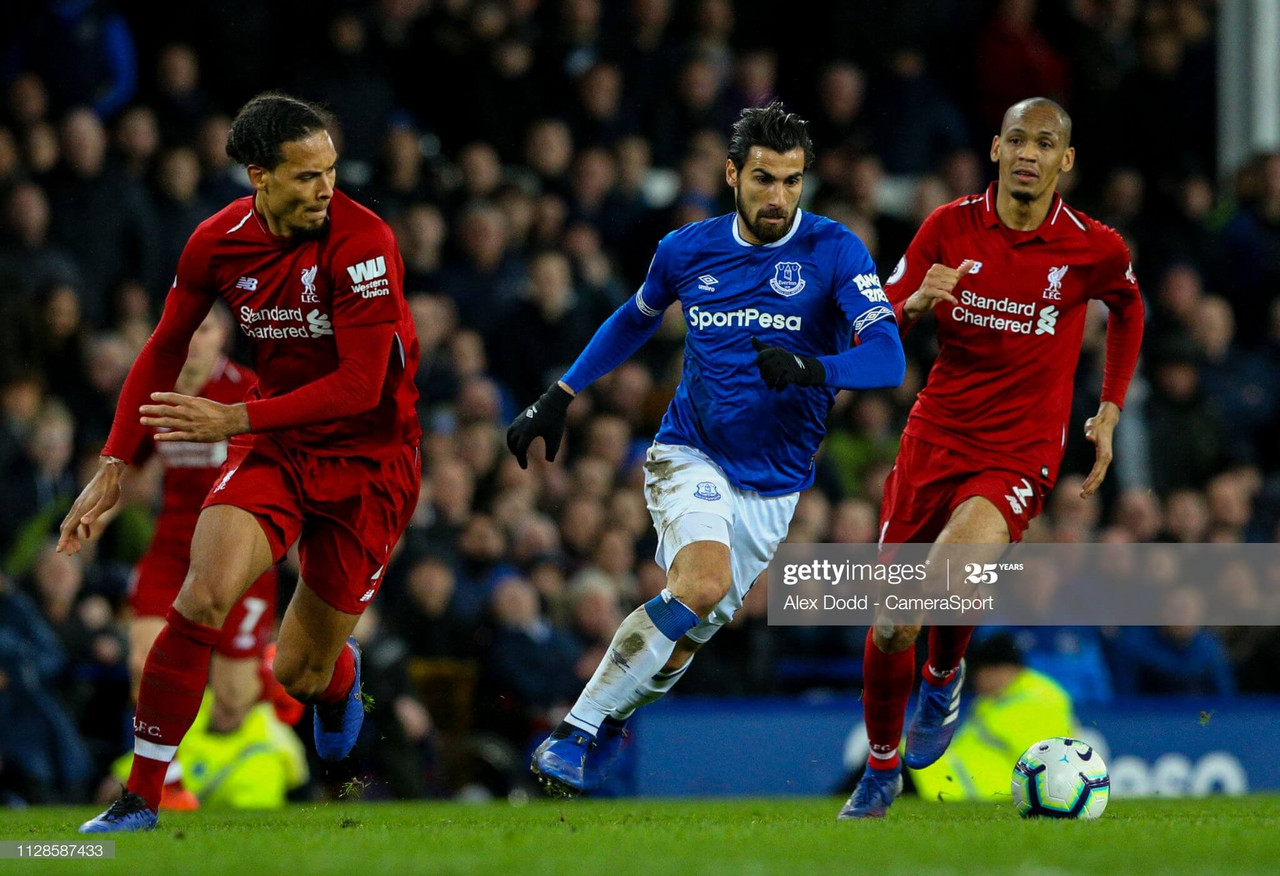 The Merseyside Derby, one of the grittiest, most passionate fixtures in English football, will take place on Sunday without supporters in attendance.
Jurgen Klopp's Liverpool are looking to tee-up a midweek title-clincher with victory against Carlo Ancelotti's Everton.
Yet even as they have soared with the German at the helm, they have managed only one victory at the home of their local rivals.
And even that was fortuitously secured in the 94th of the minutes, Sadio Mane turning in a rebound to settle a game of few chances in December 2016.
This, as will become clear, is part of a little-discussed pattern of Klopp's reign.
Liverpool can harness electric support as effectively as any team, but at times, they appear stifled in the most hostile atmospheres.
The 'edge' that deserts the Reds
In March 2019, as their advantage of the top of the table was whittled away, the Goodison derby took on immense importance for Liverpool.
But Manchester City were handed the initiative as the Reds were held to a goalless draw, much to the delight of the Everton faithful, who had produced an exhilarating racket.
In the game's pivotal moment, Mohamed Salah raced through on goal and seemed certain to punish the Blues' defensive charity, but he could only direct a tame effort at Jordan Pickford.
Consider now Liverpool's similar limpness when they visit the only team they resent more, Manchester United.
They are yet to win there under Klopp, even with the balance of power dramatically shifting in their direction.
Last autumn, an Adam Lallana strike, Liverpool's only opportunity aside from a disallowed goal, rescued their unbeaten streak.
And the previous spring, they had turned in an utterly toothless display (featuring a solitary shot on target) in a costly 0-0 draw.
Liverpool's occasional failure to perform in these environments also extends to European football.
They have beaten in the cauldron that is Stadio San Paolo in back-to-back Champions League campaigns, rarely threatening in 2018 and folding in the last 10 minutes on their next visit.
See also their stunning defeat at the hands of Red Star Belgrade in a stadium engulfed by pyrotechnics and their recent slip-up away to Atletico Madrid as Diego Simeone conducted the Metropolitano orchestra, furiously whipping-up the crowd at every opportunity.
Liverpool fans have in these matches been left waiting, to no avail, for their team's quality to shine through.
The counter might be that, in these gruelling affairs, it is not necessarily about excelling, but about digging in.
But is it not true that Liverpool usually specialise in that department? And yet their victorious edge has a habit of deserting them in raucous arenas.
This team is being held to almighty standards here; deservedly so.
Now Everton are without their leveller
There is disagreement as to the importance of home advantage in the absence of fans. Some would say it is wiped out entirely, others that the value of familiarity is underestimated.
But without 40,000 frenzied spectators behind them, Everton have objectively lost a critical edge.
It remains a derby, and so it will not play out as a top-versus-twelfth clash theoretically should. There will of course be nerves at Liverpool with the title in touching distance, while Everton will seek to channel their despair at their neighbours' success into yet more motivation.
But unlike in the claustrophobic contests recalled above, what Liverpool will have is an opportunity to catch their breath.
And provided they are physically ready - which Jurgen Klopp suggests they are - they should be expected to hit their footballing stride in the imperious manner of Manchester City (on Wednesday) and Borussia Dortmund in May's Revierderby.
If the Goodison support has proven Everton's leveller, maybe now the gulf in class might be somewhat exposed.