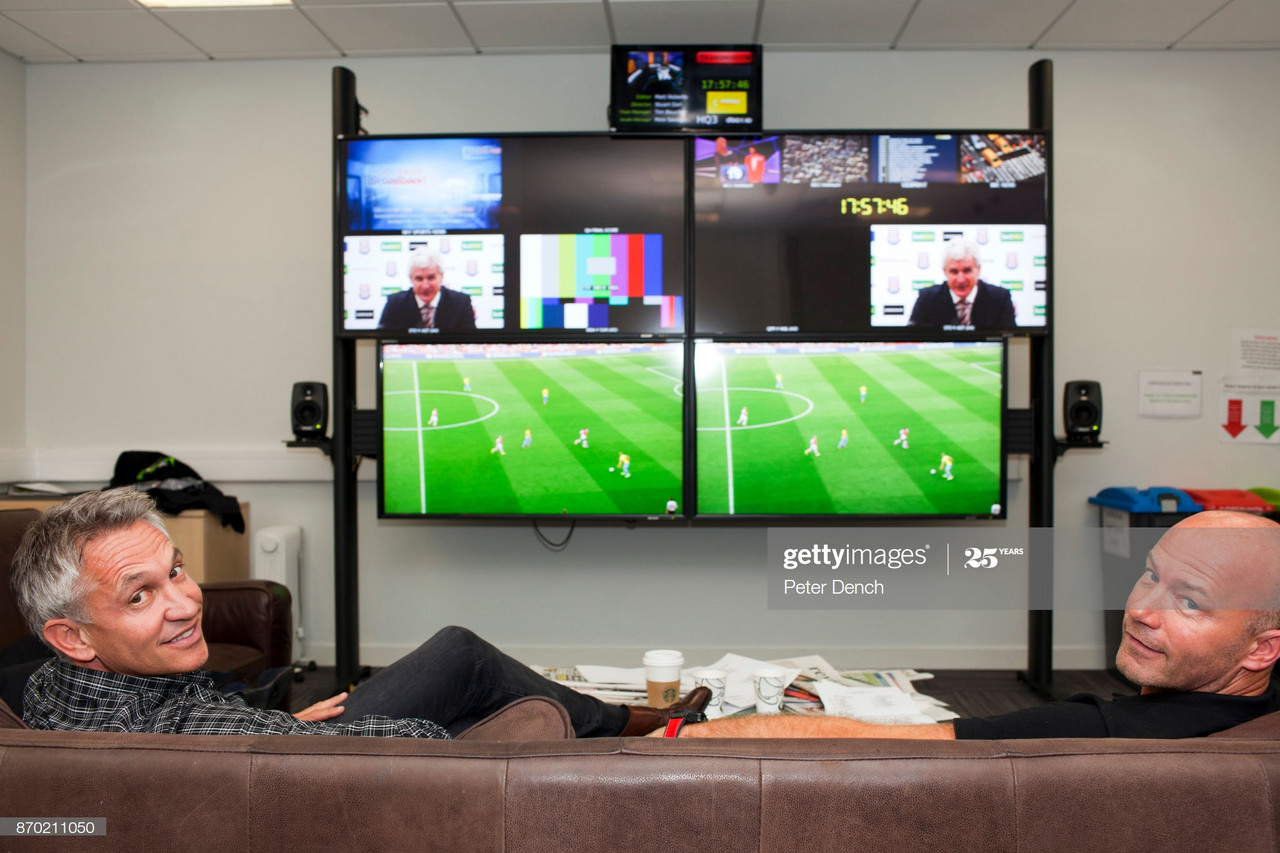 As the Premier League rolls into its' first full weekend of action since resumption during the coronavirus pandemic, Saturday represents something of a watershed moment for English football.
Not only will Brighton & Hove Albion host Arsenal in the first-ever live UK TV broadcast of a 3pm kick-off, but later in the day the BBC will break a 28-year precedent of televising a live top-flight game on a terrestrial platform - the first outing of its' kind in the Premier League's storied history - as AFC Bournemouth entertain Crystal Palace.
So what exactly could this mean for the future of live football away from subscription channels, and will it just be a one-off gesture?
Benchmark for free-to-air TV
After a three-month period that has seen the nation - indeed the globe - united in ways not seen before, the return of live sport has be widely received having been a commodity so often taken for granted.
Though it may come packaged in a very different manner for the immediate future, the 100 days without Premier League competition during the regular season have seen the clamour for it to made available like at no other time in its' era.
As part of Project Restart back in April, early moves were made to give terrestrial audiences unprecedented access to games. Though whispers were nothing more than that, as the directive came down that all remaining games would be shown on television at the resumption of the season - in itself groundbreaking - the BBC was then handed four offerings from the Premier League's salubrious dining table.
Saturday night's presentation from the BBC will be a watershed moment then for not only Auntie, but for UK television in the modern era also.
As the first live top-flight game to be shown on terrestrial TV since the initial breakaway of the Premier League in 1992, the hierarchy at BBC Sport will still be left pinching themselves come 7:45pm this weekend evening.
The offering of live elite league football away from pay TV platforms will be a privilege that few could have realistically expected to occur again and simply put, even though only four games have been dealt to the multimedia conglomerate, that is four more than any individual at BBC HQ's Ivory Towers could have merely dreamt of.
As to whether it could see other sports made available on a more regular basis, that remains unclear. However, as the world continues to combat a threat like no other since global conflict, the hand of favour may again show itself.
Being left somewhat the 'lesser' games - as some consider - however, many fear Saturday night's showpiece occasion could be a damp squib, but history suggests that Bournemouth's clash with Crystal Palace might yet serve up something fitting for its' premiere outing.
History maker may surprise
This fixture is set to become something of the momentous in the annuls of Premier League, with the previous meeting between these two sides back in December serving up another historic moment as Selhurst Park played out the first live game shown by then-new Premier League broadcaster, Amazon Prime.
With a proportion of football fans believing that the BBC drew the 'short straw' as the Premier League game away from pay-TV's riches, on the contrary, these sides have played out a number of fiercely competitive match-ups in their recent encounters.
This fixture usually guarantees goals. The previous nine top-flight meetings between the two have supplied a gargantuan amount of them, with the back of the net being found on an astonishing 27 times. In addition, the 5-3 win for Crystal Palace in last season's finale provided one of the spectacles of the campaign.
Heading into the first fixture for either side since the Premier League's resumption on Wednesday night, both will be fighting for the three points on Saturday evening for different reasons.
Eddie Howe's Bournemouth will be hoping to kick-start their season back into life, with the Cherries - currently sit in the relegation zone on goal difference - anxious for crumbs in their battle for survival.
Caveat of survival
Though the past seasons have seen the Cherries as one of the most aesthetically pleasing sides to watch in the Premier League, the trials of the Dorset outfit - not least an almost infinite treatment room waiting list - have seen Bournemouth plunged into a relegation scrap.
As this weekend's hosts find themselves housed within the clutches of the bottom three as their campaign resumes, caution may still be a virtue required of boss Howe, as the financial implications of a drop down to the second tier loom greater than ever in the grip of an on-going global pandemic.
Bournemouth however, have not kept a clean sheet since their impressive single-goal victory over Chelsea at Stamford Bridge back in December, however they have also netted in all but one of their last six league outings.
Conversely, the Eagles' won their last three games home and away before hiatus 1-0, however Roy Hodgson's men shipped three at Goodison Park, two against Manchester City earlier this season, whilst also conceding at eight further Premier League grounds this term.
As the hosts resume level on points with both Watford and West Ham United in 18th spot, and with five of their remaining nine games against teams inside the eight, points will be precious as ever.
Could that prompt a uneventful attraction this Saturday night? It could; fellow relegation rivals Aston Villa will attest to that after claiming a controversial point against Sheffield United on Wednesday evening.
Bournemouth however, are not a side who can willingly shut up shop even if they wanted to. Palace in tandem are a side who have been better on their travels in recent times, and have preferred to go on the offensive on the road.
Regardless, Saturday's prime-time event on the BBC should be heralded a grand occasion. The game will be one for the books, one way or the other.