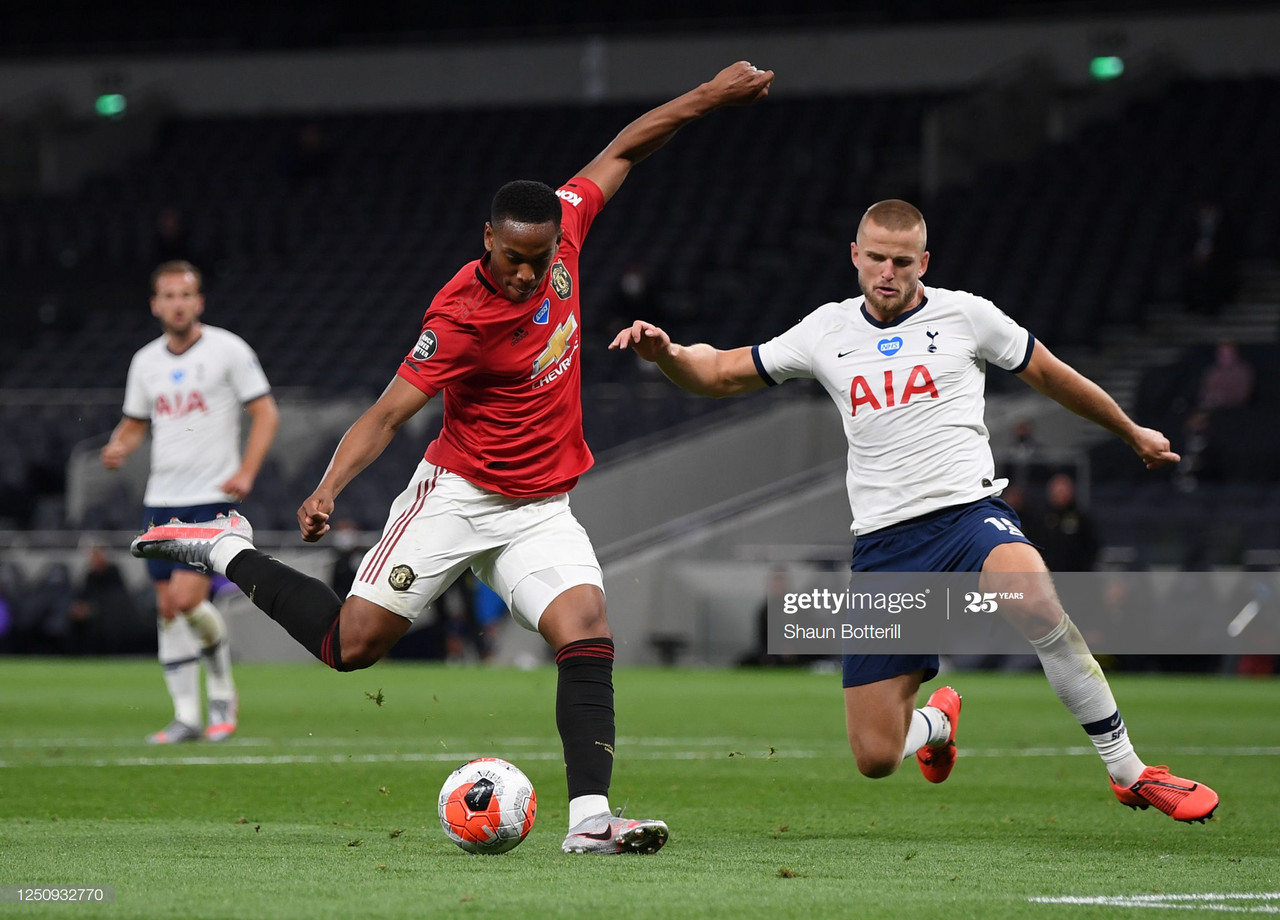 Manchester United and Tottenham Hotspur were forced to share the points on their Premier League return, as the two sides drew 1-1 at the Tottenham Hotspur Stadium.
Spurs opened the scoring near the half hour mark after some truly dreadful defending from United. Steven Bergwijn picked up the ball in midfield before driving forward and flying past a helpless Harry Maguire, who turned at the speed of a shipping container.
Bergwijn then unleashed a shot that snuck past David De Gea and into the back of the net. He hit it with plenty of power, sure, but Dea Gea should have done better and made the save. The goalkeeper did somewhat redeem himself soon later, however, as he somehow stopped a Heung-min Son header that seemed destined for goal.
It wasn't the best save made on the day, though. Anthony Martial found space in the area before taking a touch and getting a shot off with his left foot. It was flying towards the roof of the net, but Hugo Lloris was able to get a hand up and make the save.
The Red Devils would eventually equalize with about ten minutes to go. Substitute Paul Pogba danced past Eric Dier before going down in the penalty area. There was minimal contact, but the referee still pointed to the spot, and Bruno Fernandes cooly converted the resulting spot kick.
United were shockingly given another penalty in added time when Fernandes went to ground, but the call was reversed when a VAR review decided against the original decision. It wasn't a dive, as the Portuguese international stumbled before falling over, but it certainly wasn't a foul either.
Ultimately, the game would end as a draw, and the two sides were forced to settle for one point each.
Shaking off the rust
This game was, for a lack of a better term, ugly.
Both teams struggled to put passes together at times and looked very sloppy going forward. This was to be expected, of course, as it was the first competitive game either had played in several months. It took time for the players out on the field to get back to game speed, and they eventually did late on.
Still, the strange showing from each team was a reminder that it'll take time for the Premier League's best to be playing at their highest level once again.
Standard Mourinho
We were so close to getting yet another Jose Mourinho masterclass.
The Spurs manager had set up his team very well, keeping numbers behind the ball and leaving no space for United to run into. As a result, the Red Devils quickly became frustrated, and started resorting to taking aimless shots from distance.
Mourinho had a plan going forward as well, as his side were brilliant on the break. Making a few passes in the midfield before sending a long ball in deep, Spurs used their pace to great effect. It all came together on Bergwijn's goal, and it seemed they were about to pick up a huge win in the race for Champions League qualification.
However, a combination of individual errors and general misfortune ended up costing Mourinho a chance to get one over on his former employers. Dier got beat way too easily on the wing, and then tried to win the ball back when he was in no position to do so. He gave the referee a chance to call a penalty, and even though it was an admittedly weak call, Dier had little right to complain.
Now, Spurs and Mourinho are four points behind the 5th place spot with eight games to go, and that margin could rise to five points if Sheffield United are victorious this weekend. They've got a lot of work to do, and they'll need to improve quickly if they want to sneak into the Champions League.
United still have issues
Manchester United fans were incredibly excited to see their team back on the field.
The Red Devils were one of the most in-form teams in Europe before the hiatus, and supporters could not wait to see what would happen when a fit Pogba joined up with the side.
After a half hour, the harsh realities of the situation set back in.
Pogba didn't even start, as Ole Gunnar Solskjaer seems to be very cautious when it comes to bringing him back into the team. Without the Frenchman, United lacked creativity going forward, with Fernandes forced to carry the workload. He started doing too much, however, taking shots from distance for no reason.
Then the defensive issues reared its ugly head for the Red Devils. Maguire, who is the world's most expensive centerback, got burned on the opening goal, and looked to have the turning circle of a charging rhinoceros. Victor Lindelof couldn't bail him out, and De Gea was unable to stop the ball from squeezing past him. Luke Shaw looked better than usual, to be fair, but that's not saying much.
United has plenty of talent, but they'll need to start putting things together on the field if they want to ensure Champions League qualification. With Sheffield United and Wolves close behind, the race will be a tight one for the rest of the campaign, so every point matters.