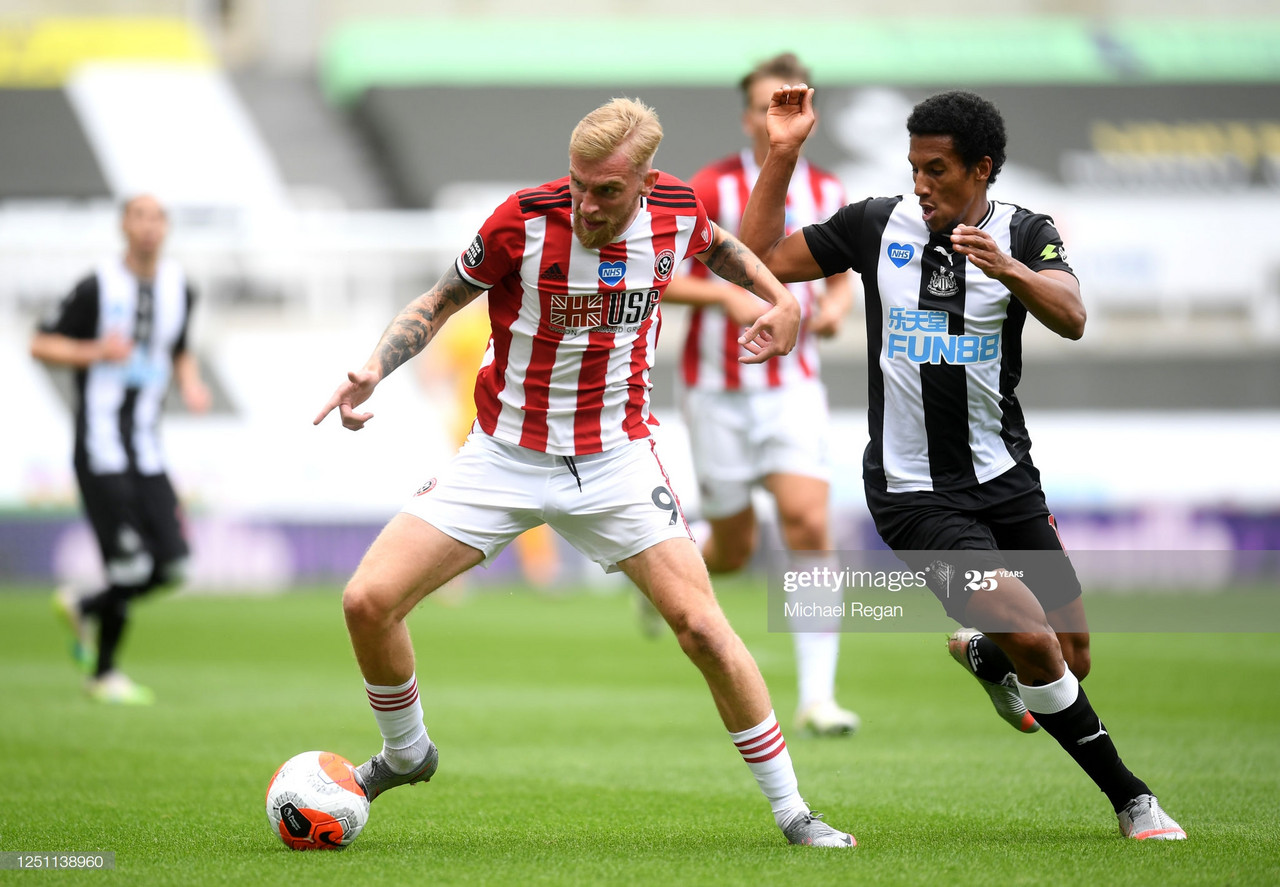 Oli McBurnie has said Sheffield United won't look for excuses following their heaviest defeat of the season at the hands of Newcastle United.
Goals by Allan Saint-Maximin, Matt Ritchie and Joelinton for Newcastle saw them complete the league double over the Blades after John Egan was sent off for a second bookable offence.
The Blades currently sit in seventh place ahead of their trip to Old Trafford to take on fellow European contenders Manchester United.
McBurnie won't look for excuses
The Blades have now only lost three times away from home this season but have not looked like their usual selves in their first two games of the Premier League project restart.
Despite a woeful second half performance against Newcastle from Sheffield United, McBurnie has insisted that they will not look for excuses to defend themselves.
"We didn't start off too bad, it's different circumstamces for everyone but everyone is in the same boat," he told the clubs media.
"Then the sending off happened but even after that we have enough quality and enough character to not crumble like we did, from our point of view that's the disappointing thing from today.
"Indiviual errors, sloppy on the ball, not taking enough care. I think they all added to the reason for why they scored three and we didn't score any. It was a very frustrating afternoon.
"We will analyse it tomorrow and try and point our finger on it but trying to blame it on anything will be looking for excuses which is not what we are about."
Blades looking to bounce back
Sheffield United have had a tendency to bounce back following adversity under Chris Wilder.
They went on to lose only of there remaining thirteen games after capitulating at Villa Park last season, a run of fixtures that saw them gain automatic promotion.
They will be needing a similar type of run if they stand a chance of making history and qualifying for a major European competition for the first time in clubs history.
"We are hopefully looking to bounce back on Wednesday at Old Trafford," McBurnie told the clubs media.
"We want to get back to the levels we were at before the break."
"We need to take step back and look at it, we have done so well to get into the position we are in. Why waste it?
"We have the opportunity to make a great season a unbeliveable season and that's what everyone in that dressing room wants to do.
"As long as we don't play like that, we'll be alright. It's more about the performance for us rather than looking too far ahead. We are not going to get anywhere we want if we play like that.
"If we sort out our performances and get back to levels we can be at, who knows what could happen?"