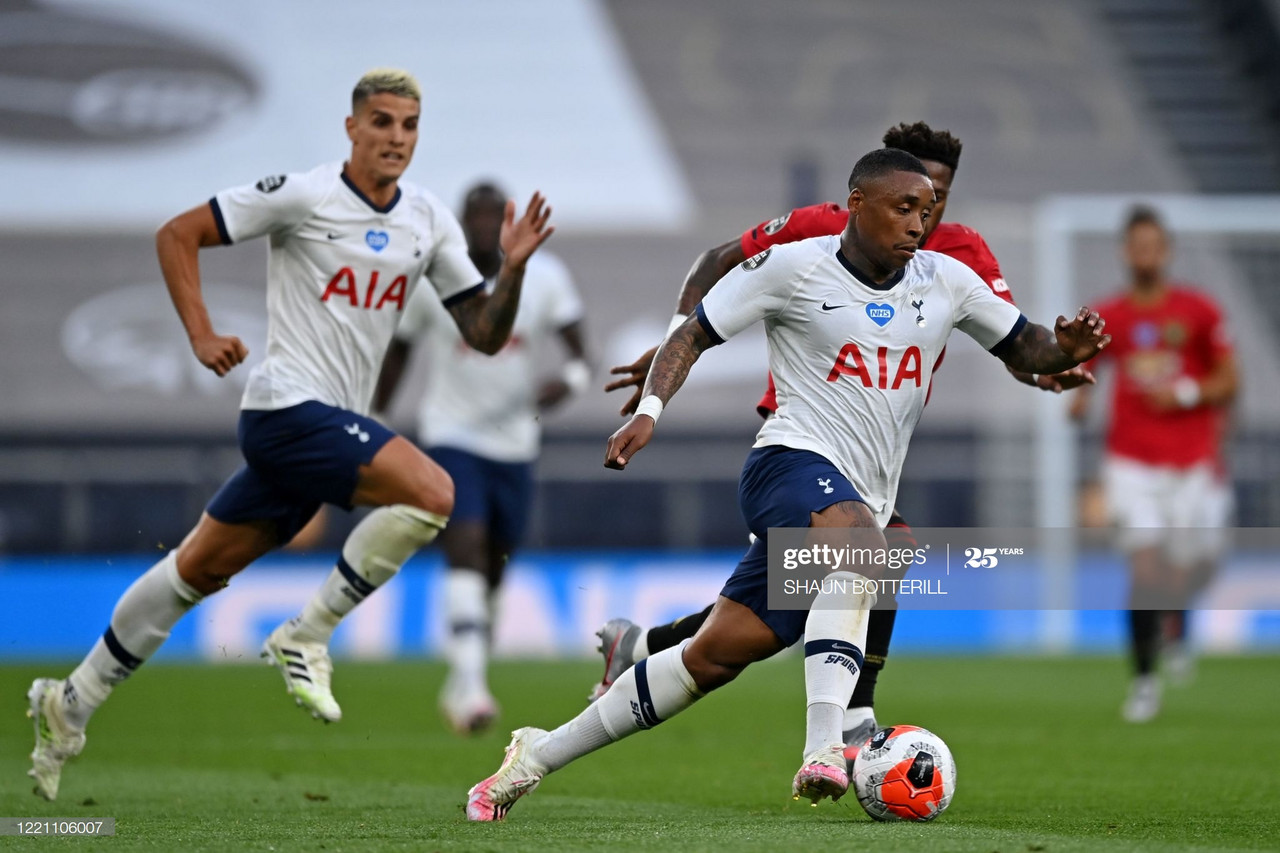 Tottenham threw away a 1-0 lead on Friday night as they succumbed to the pressure put on by Manchester United and had to settle with just the point, leaving there hopes for Champions League Football on a very thin sheet of ice.
Steven Bergwijn put the home side in front after a quick change of pace allowed him to break away from the United defence and unleash a shot at David De Gea.
Bruno Fernandes equalised from the penalty spot after a foul from Eric Dier on Paul Pogba to make it 1-1.
It was a must-win game for Spurs more so than United, and despite on paper United looking like the favourites, the North London side will be disappointed to not have held on for the three points.
Here are five talking points we have picked out from Spurs' performance:
Eric Dier: Jekyll and Hyde
Eric Dier was chosen by Jose Mourinho above Toby Alderweireld and Jan Vertonghen to play centre half.
The decision was met with a few raised eyebrows, but he was on his way to proving them wrong with a tidy performance until his rash mistake.
In the 81st minute, Spurs were 1-0 up against Manchester United. Despite sitting deep and absorbing pressure, they looked like they were going to see out the game and get a precious three points.
Dier, solid all game, had a moment of madness when Paul Pogba cleverly went around him in the box; fast approaching the goal from the right-hand side, the Englishmen made a clumsy challenge and gave away a penalty.
Bruno Fernandes tucked away the resulting spot-kick, subsequently securing a draw for United.
Despite showing signs of becoming a reliable centre-back, it's mistakes like this that have made the 26-year-old's career stall. He may have to accept his position as a backup, with Spurs imminently delving into the market to bolster their defensive options.
Bergwijn class
Steven Bergwijn, back from injury, smashed the ball past David De Gea in the 26th minute following a tricky run where he left Harry Maguire for dead.
It was a marvellous solo goal and capped off an impressive first half where Spurs linked up fairly well in the final third.
The 22-year-old was one of two acquisitions Mourinho made in January and everyone in N17 will be delighted on how quickly he's settled in.
Scoring three goals in six games, he takes the pressure off Kane and Son to always be the constant outlets for goals. He's quick, strong, clever and an excellent dribbler.
His time in North London is heading in the right direction and Mourinho will be hoping he can continue to shine.
Kane needs time
Every Spurs fan was delighted to see Harry Kane back playing in a Spurs shirt.
However, it wasn't exactly a vintage Kane performance as he didn't manage a single touch in the opposition box — compared to two in his own area.
It wasn't all bleak for the Englishman, however, as he was fairly selfless in his performance.
His touch map illustrates that Kane spent much of the game in positions you would associate with an attacking midfielder rather than a centre-forward.
This has been a common theme of Kane in recent years, with his ability on the ball evolving every season. It worked a few times, nearly setting up a goal for Erik Lamela when he drifted out to the left and rolled in an accurate low cross that Luke Shaw came across to deny.
By the time the players stopped for a drink break midway through the second half, Kane looked exhausted.
In an ideal world, he would have been taken off at this point — as clearly playing for more than 60-odd minutes was a big ask after so long out.
The forward clearly needs more time to ease his way back into playing Premier League football. It is only a matter of time before he is scoring or setting up goals again.
Ndombele absent
Tanguy Ndombele, who was very publicly criticised by Mourinho after their 1-1 draw at Burnley in March, didn't even feature as a sub.
After Winks and Sissoko's fitness levels were clearly dropping, Mourinho opted to put on Giovani Lo Celso and Gedson Fernandes for some legs.
That decision was questioned heavily by the Spurs faithful, as the game situation seemingly suited the Frenchman.
There have been rumours of discontent between the French midfielder and Mourinho since day one.
However, Mourinho made big noises about being pleased with Ndombele's application in recent weeks and even went as far as breaching government guidelines to visit him during lockdown.
But his no show against United will raise further questions about his future questions that will no doubt be asked ahead of Spurs' clash against West Ham.
Mourinho's tactics
The first half went against the trend of Mourinho usual tactics against the big sides. Spurs were energetic, on the front foot, and not sitting in a deep block.
Normality prevailed in the second half. There was an immediate dip, with Spurs sitting very deep and trying to hit United on the counter, but very rarely pulling it off.
This could be put down to fitness. Or perhaps this was in Jose Mourinho's wishes, similar to what he pulled off against Manchester City in March where they conceded 69% possession but won 2-0.
Mourinho, known for his defensive tactics, was very close to securing a fantastic result against a top side. If it wasn't for an individual mistake, they were well on their way for a vital three points.
Spurs fans may have to adjust to seeing their team soak up pressure and trying to hit teams on the counter. However, it is widely reported that Harry Kane may want to leave because of this, as the style of play does not suit the courageous forward.
Only time will tell, but Mourinho's style is certainly creeping into this Spurs side.
Hear more from us
Here at Vavel, we are always looking for new ways to engage with our audience and expand the variety of content we produce.
So if you want to hear more of our opinions, make sure you keep an eye out for new podcasts we will be producing in the future, including our very own Tottenham dedicated podcast!
On this weeks episode we will be previewing the West Ham game and analysing the Manchester United game, also analysing this incident in more detail - as well as talking about the latest transfer rumours!
Make sure you follow @VAVELSpurs on twitter as well as our regulars @Dan_H26 and @WillFurnessFJ