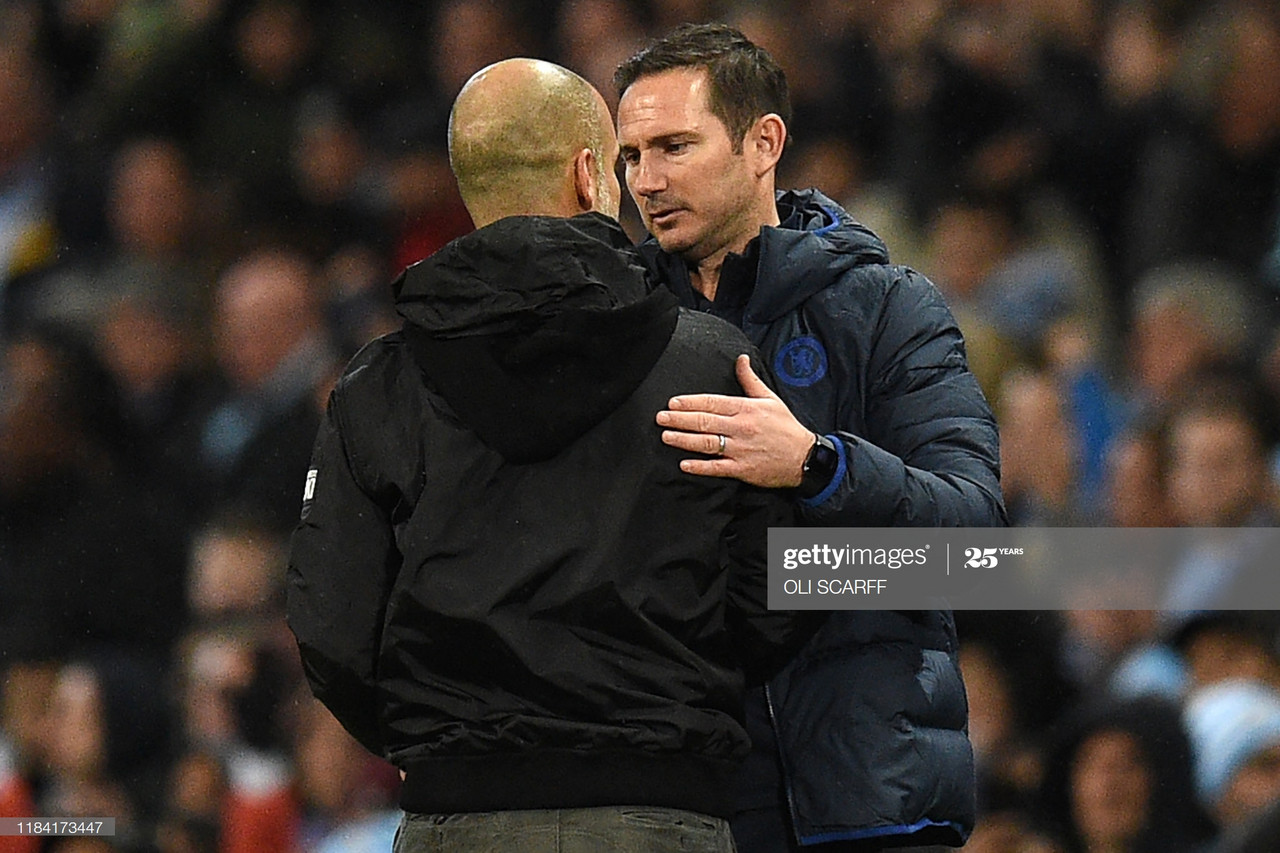 There's no doubt about it, Chelsea versus Manchester City is the fixture of game week 31. It brings together two of the top four and two sides in very different stages of development. Both, however, have won in their opening games since the restart and whilst City have second place all but wrapped up, Chelsea have a top four battle on their hands.
City swooped past Arsenal and Burnley, looking devastating in attack scoring a combined eight goals in two games with none conceded. Whilst Chelsea had to come from behind to beat lowly Aston Villa.
It seems to predict what could happen in the upcoming fixture, that it would be wise to take stock of the previous meeting this season, in an attempt to see what's changed, what players are likely to feature and what are the key battles.
Saturday 23rd November
This date is that of the reverse fixture in the league which City won by two goals to one earlier in the season. A tight, but ultimately exciting game in which Chelsea took the lead and had chances throughout the game - as did the Citiyzens.
But this game was a telling one for how Frank Lampard's Chelsea team would approach big games. Wanting to play on the front foot, be aggressive and ultimately be confident in your abilities.
This showed as City only had 46.74% of the ball. This was their lowest recorded percentage by any Pep Guardiola team in any of his 381 top-flight matches in charge of Barcelona, Bayern Munich or City.
In the post-match interview with Sky Sports, he was quoted saying: "Top game, top sides. Big opponent, big quality. They made it difficult for us" and, "Football is coming more like this - not teams coming and putting men behind the ball, managers having the courage to play."
It certainly impressed Guardiola and it was a lack of conviction and combination of a slice of luck and a bit of quality which separated the two teams that day.
How Will the Teams Differ from the November game?
With both sides having fully fit squads to choose from, it means that both managers have the players at their disposal to play with whatever tactics they desire. The exception is Sergio Aguero, who suffered a knee injury in the 5-0 win against Burnley on Monday night.
For Chelsea fans, it is good news as he enjoys playing against Chelsea; the Argentinian has 12 goals in all competitions. It may turn out to be a key factor.
It is likely we will see a similar midfield from City with Rodrigo, David Silva and Kevin De Bruyne in a three. With the forwards being Raheem Sterling, Riyad Mahrez and Gabriel Jesus deputising for Aguero.
The defence is likely to be Benjamin Mendy and Kyle Walker in the full back roles, with Aymeric Laporte and Fernandinho in the centre back positions. A seemingly strong team, but it could include Phil Foden was dazzling in the win against Burnley.
Chelsea are poised to set up in familiar fashion to the reverse fixture. N'golo Kante, Jorginho and Mateo Kovacic will be the midfield once again. Christian Pulisic is also nailed on for a start. However after that, there is a lot to be decided.
Olivier Giroud has been in good form and may continue up front. It's incredibly hard to leave out Mason Mount so there's a high chance he'll join Pulisic up front. At the back, Lampard won't want Marcos Alonso exposed against City's attack so Cesar Azpilicueta may be brought over to left back for Reece James to start at right back.
At the heart of defence, Andreas Christensen should hold onto his place with Kurt Zouma likely to come in, who also played in November.
Key Aspects
The midfield battle is key and Jorginho coming back in not only helps with City's press but also helps to sure up the midfield. Kante can also be more dynamic to the right of midfield helping to press and close passing lanes.
Azpilicueta can help to sure up the left-hand side of defence with Emerson struggling in November against City and Alonso who is defensively suspect. It means James can come in on the right and Chelsea won't lose the crossing ability from out wide that was utilised so often against Aston Villa.
Pulisic has earned his place after his second half performance and Mount must keep his place following his MOTM performance versus Villa.
The reverse fixture showed Chelsea can go toe to toe with City in terms of passing and pressing but they have to make sure that they aren't caught out leaving space on the counter. Jorginho was caught out for City's first goal in the Community Shield and Premier League game for pressing too high and leaving big gaps in behind.
For this to happen again would be incredibly naive. Being much more clinical would also be vital for Chelsea who missed big chances at the Etihad.
Ultimately, this City team is a better team than the current Chelsea team. If Chelsea had the signings that they have made as well as the signings they are heavily linked with in the starting eleven it would be a completely different game.
It will be a game of who can make the least mistakes and errors and because this City team are in top form attacking wise. Any slight errors and that quality will decide the game; much like Mahrez's goal in the fixture in November.
Lampard must stick to his guns and pick the right team - one that is best suited to coping with their attacking threats and one who is best suited to cope with their midfield quality. Expect a similar affair come Thursday and a game that will be decided by moments of quality.