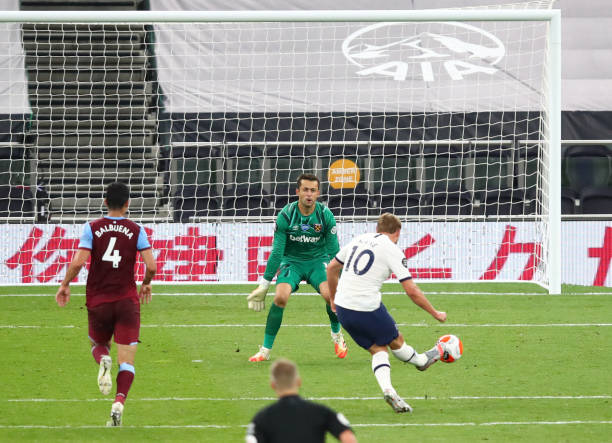 On Tuesday night, star striker Harry Kane marked his 200th Premier League Tottenham Hotspur appearance with a goal against West Ham United which increases his total to an impressive 137 goals.
This tally is the second most amount of goals scored by a single player after having played 200 Premier League games, with it only being bettered by Sergio Aguero who has beat the England captain by only a single goal.
The 82nd minute strike by Kane in his side's 2-0 home victory over the Hammers is also his first goal since the 28th December, when he netted in a 2-2 draw against Norwich City at Carrow Road.
However, tonight was only the third time that the forward had played since that occasion after having suffered a hamstring injury on New Year's Day, meaning that he was unable to feature for Jose Mourinho's team before the campaign was temporarily postponed on the 13th March.
Despite experiencing various spells on the sidelines since Kane made his Premier League debut for Spurs in August 2012, he is still regarded as one of the leagues top strikers and with him being only 26 years old, there is a chance that he could overtake Alan Shearer as the Premier League's all time top scorer.
Although, Tottenham's Tallysman still has a long way to go to overcome this milestone, as he has to net 123 times to even equal Shearers record, but with his ability and talent, this is a very achievable target.
Nevertheless, it will depend on whether the striker can stay away from consistent injury spells and also whether in the future he actually chooses to stay in the Premier League, as offers from elsewhere could attract him to move away from the English top flight.
Consistency is the key
From the 2014/15 season to the 2017/18 campaign, there was no doubt that Kane was one of if not the most deadly forward in the Premier League, and he was further considered to be one of the most potent number nine's in the world.
This is proved by the fact that in each of these season's within this time frame, he was one of the top two goalscorers in the league, with him claiming the golden boot in both the 2015/16 and 2016/17 campaigns.
However, his best goal scoring season came in the 2017/18 campaign as his 30 goals in 37 games helped his team to an impressive third placed finish and it also personally left him only two goals behind Liverpool's Mohamed Salah.
Unfortunately for Kane though, in the last two campaigns he has failed to so far contend for the Golden Boot, but he has suffered injuries in both of these seasons which have left him out of 33 games in all competitions.
Despite this, he has still managed to get in among the goals as last season he netted on 17 occasions even though he failed to feature in 17 games in all contests.
In comparison, this campaign has been his worst form in front of goal since the 2013/14 season as he has only bagged 12 league goals, but there are still seven games left to play in the season and he has of course been out once more with an injury.
Kane's importance to Spurs
It is evident that a goal scorer as threatening and deadly as Kane would be integral to any team and this is certainly the case with Spurs.
He is the player that the team can rely on to get a goal if they are struggling to break down their opposition, as they are fully aware of his ability to get into the right attacking positions and most importantly, they trust his ability to be able to finish, as arguably he is one if not the most lethal finisher right now in the entire world.
Furthermore, his unbelievable goal scoring form over the years has also been helped by the creative forces of Dele Ali and formerly of Christian Eriksen, as they have both clearly know when it is the right time to slip the striker in on goal.
It can also be said that Kane helps to bring winger Heung Min Son into games as through the danger and panic that the 26 year old causes to defenders, it can often allow space on the flank for Son, who then himself through his pace and good finishing can cause problems defensively for any team in the division.
If Spurs fail to achieve a Champions League spot this season and if over the next few seasons they do not at least challenge for the league title, there is always the risk that Kane may want to leave to increase his chance of winning major honours, which he would look back at with fondness when he eventually does retire.