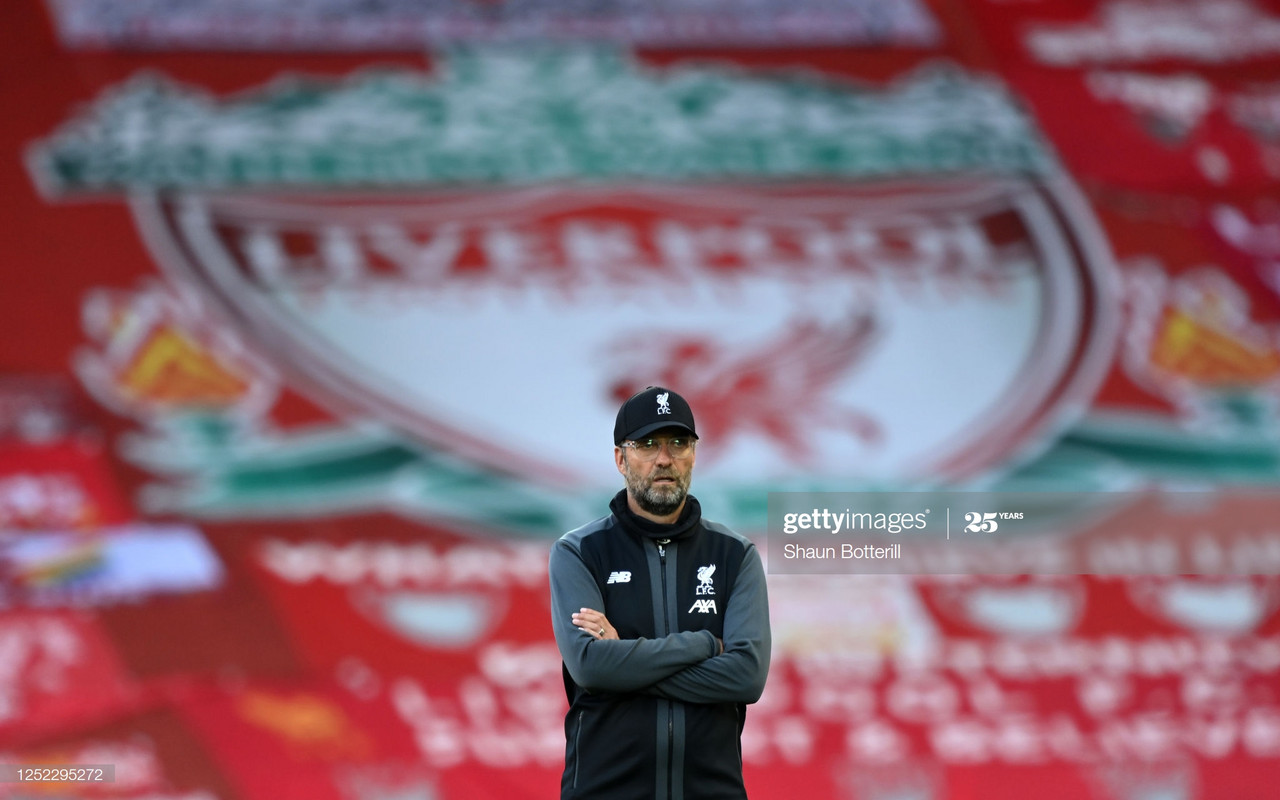 Jurgen Klopp says the emotions inside Anfield would have been 'incredible' during Liverpool's 4-0 win over Crystal Palace if fans were present, but he is nonetheless confident that his players did the supporters proud.
Glory beckons for the Reds after an imperious display against Roy Hodgson's men which saw strikes from Trent Alexander-Arnold, Fabinho, Mohamed Salah and Sadio Mane.
And from their homes, the Liverpool faithful would have been enthralled.
"We showed our supporters the respect they deserve, that we can play like they are here, even when they are not here," Klopp told the press, as quoted by liverpoolfc.com.
"Yes, they can push us to incredible things and without them it's nothing like it is when they are here.
"And I never missed them more than tonight because imagine this game would have had 55,000 people in the stadium and the emotions which would have then been in the stadium – that would've been incredible.
"But we cannot have that in the moment and so it was important that we showed our respect to people and that is what the boys did tonight. I loved it."
'I'm watching Chelsea vs City, but only for preparation'
Wednesday night's victory moved Liverpool to within two points of confirming the inevitable.
But they could become champions before they kick another ball, with Manchester City now required to beat Chelsea at Stamford Bridge on Thursday evening to delay their rivals' coronation.
Liverpool will otherwise have the opportunity to win the title on City's home turf in their next game on 2 July.
And Klopp insists he will only be tuning in to do his pre-game homework, promising that his clash with Pep Guardiola will be 'a must-watch for each football fan on this planet'.
"I watch the game tomorrow night, not to prepare a celebration – I watch the game because we play against City a week later. So I have to watch it, especially against Chelsea, who we play as well.
"This game is a really important game to watch for plenty of reasons.
"Whatever happens tomorrow night, we have no influence on it, so I'm not too interested, to be honest.
"But I am pretty sure anyway that the game next week against Man City is a must-watch for each football fan on this planet because whatever will be decided or not, two really, really good teams face each other and that will be pretty interesting, to be honest."
Eight-day break precedes gruelling run
Having exited the FA Cup in the fifth round, Liverpool have a week's preparation for their trip to the Etihad, which could prove either a blessing (in terms of limiting fatigue) or a curse (in halting their rhythm).
When they return, they could face four games within the space of nine days as the season races toward its conclusion.
The relentless schedule that awaits will force Klopp, who fielded arguably his strongest XI from the start against Palace, to make extensive use of his squad.
The cameo appearances of teenagers Neco Williams and Harvey Elliott may, then, be a sign of what is to come.
"It is like it is, so we need to find solutions and we need all the boys.
"That's why I am so happy at how the boys contributed tonight when they came on – even the boys not on the pitch, exceptional in training so that helps and we will need them all, they will all play and they will all have game time, which is nice.
"We cannot change just like we want with eight, nine, 10 players or whatever, we have to dig in and to get through that – and I hope we will."