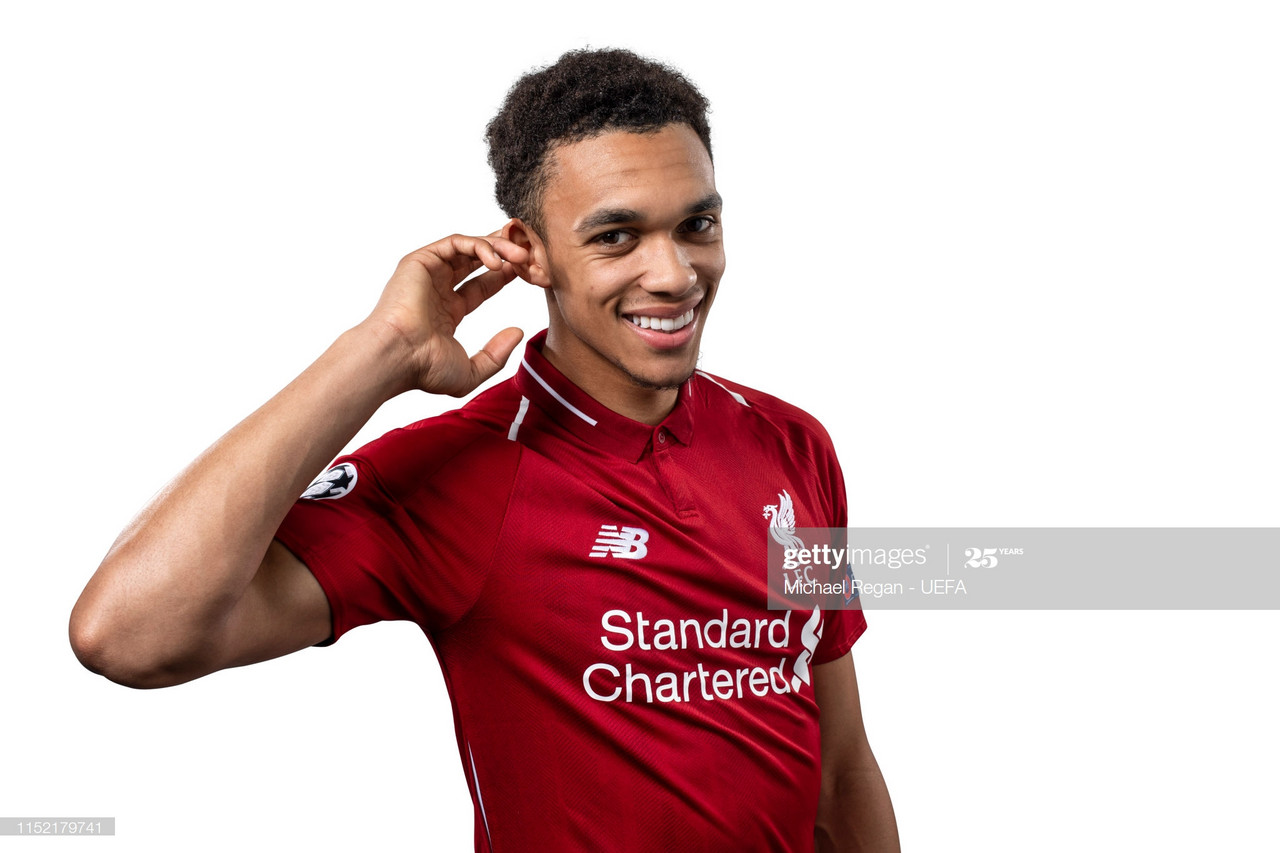 Trent Alexander-Arnold is arguably the best right-back in the world right now.
With Philipp Lahm now retired and Dani Alves earning his trade in the Brasileiro, Alexander-Arnold has been the name on everybody's lips. A man who has been the very definition of the modern-day attacking full-back; he is certainly more in homage to Alves than Lahm in that regard.
The 21-year-old fired home a stunning free-kick in the 4-0 victory against Crystal Palace, once again demonstrating his obvious attacking talents. But the emergence of a 19-year-old understudy could free-up a move further up the pitch for their talismanic figure.
Deja vu
Neco Williams replaced Alexander-Arnold for the final 20 minutes of the match and looked very impressive. The Welshman is confident in possession and demonstrates the makings of an excellent full-back. What do they feed their young right backs at the academy?
Williams is one illustration as to why the club haven't been scouring the transfer market for squad depth. They believe massively in their young superstars and Jurgen Klopp is a man who loves to nurture young talent.
If it isn't broken then you don't fix it but Liverpool may need to evolve their style of play over time. Already, in some matches, the full-back creativity hasn't always hit the jackpot. Then, when people have looked to their midfield for answers, they haven't been able to provide them.
Money saver
Alexander-Arnold could save Liverpool over £100-million. Manchester City have Kevin De Bruyne as the man who can control and win matches in midfield for them. Players of his talent are simply priceless. You could double that £100-million figure and City could still turn it down; he is that good.
Philippe Coutinho, Liverpool's former craftsman, cost Barcelona £140-million. While that move didn't go according to the script, it highlights just how much clubs are willing to pay for somebody who can be the difference maker in the middle of the pitch.
Alexander-Arnold is cut from a similar cloth to the Belgian. His passing range is outstanding, his shooting is excellent and both players are the men who their clubs look to as the difference maker in a tight match. Make no mistake, De Bruyne is a phenomenal player and is better than Liverpool's local hero in every technical aspect. He is more refined and can use either foot with ease.
But Alexander-Arnold is seven years De Bruyne's junior and has time to fine tune his talents. De Bruyne is possibly the world's best midfielder so the fact that comparisons can be made between the two speaks volumes.
This shouldn't take away from the fact that Alexander-Arnold is a tremendous right-back. There should certainly be no rush to push him out of a position that he is excelling in. However, the emergence of young Williams has just started to get the tongues wagging again.
Depth
Soon, the club could have two top draw right-back options at their disposal and that opens the door for some lateral thinking. Well, it's not that lateral given that he played in the middle in his younger years, as he told FourFourTwo, but he has yet to feature there in his professional career. Some fans think it's only a matter of time before he does. Alternatively, though, Liverpool could see it as an opportunity to showcase more positional strength in depth.
At the Etihad, Pep Guardiola has Kyle Walker and Joao Cancelo at right-back but he doesn't compromise to fit both players into the team. Usually, Cancelo is the fall guy but the Spaniard operates with careful rotation across his whole team.
You will see Bernardo Silva or Riyad Mahrez or Gabriel Jesus sitting on the bench. Sometimes all three of them! City fans wouldn't bat an eyelid. They have become accustomed to ridiculous squad depth. That hasn't necessarily been the case at Liverpool with the Reds rarely fielding too many star names on the bench.
Sure, Alex Oxlade-Chamberlain, Naby Keita and Joel Matip signify a good level of depth. But a depth of City's level would be having Roberto Firmino or Mohammed Salah sitting on the bench and not making a big deal out of it.
To be fair, the strategies of City and Liverpool are both valid.
The Citizens have spent a lot of money but it has been spent efficiently across the board. Manchester United and Chelsea can testify to the fact that spending big money doesn't guarantee success. City's strategy never guaranteed success but they have been clever and calculated with their transfer business.
Liverpool operate on a different level, choosing to only spend big money on players who they believe will walk into the first-eleven. The emergence of Williams gives them an incredibly cost-effective way of enhancing their midfield's attacking output whilst maintaining that strength at right-back.
National team
England would massively benefit from his presence in the middle. Their depth of right-back talent is outrageous. Aaron Wan-Bissaka, Reece James and Walker are all very viable alternatives to the Liverpool man.
Manager Gareth Southgate would undoubtedly benefit if Alexander-Arnold could feature in his midfield. Not only would it allow another top performer into the side but it could add genuine world-class creativity to the Three Lions midfield.
For Klopp and Liverpool, it's a win-win situation really and it's a situation they will approach with understandable caution but also giddy enthusiasm. The future is looking bright at Anfield!