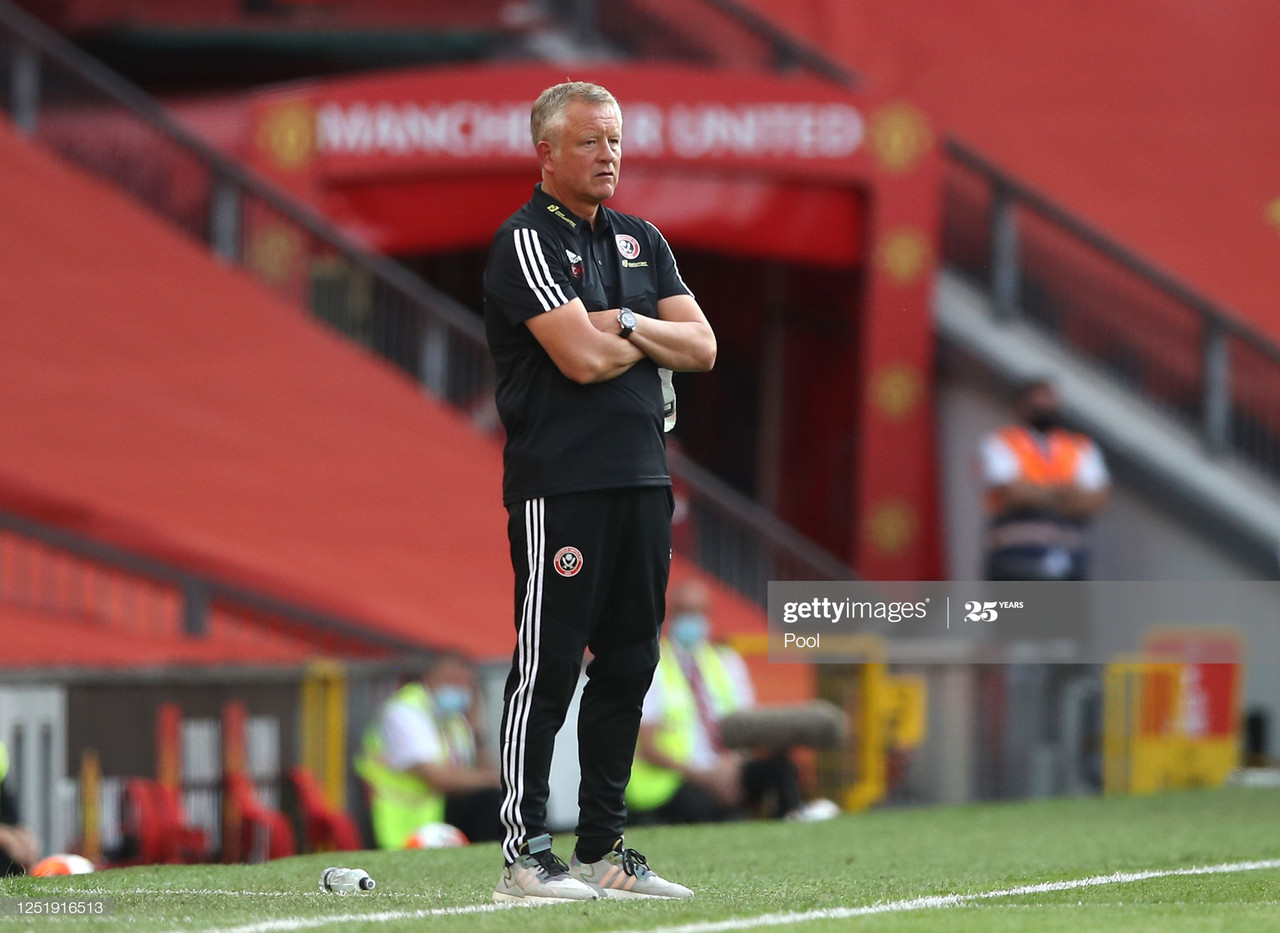 Chris Wilder has said Sheffield United 'have to go to find an answer from somewhere' in order to improve on their last three performances.
Since the Premier League restarted, the Blades have only managed to pick up one point out of a possible nine as well as failing to score a goal.
Manchester United brushed aside Wilder's side at Old Trafford with Antony Martial scoring a hat trick for the home side as the Blades slumped to consecutive 3-0 defeats.
Wilder not wanting to fade away
When the season was suspended in the middle of March the Blades were in pole position to finish the season in a European spot but since the restart Wilder's side have failed to reach their usual high standards.
"We've got to find an answer from somewhere," Wilder told the club's media.
"We look pretty tired. Whether it's back to basics, whatever it is, we need to find an answer quickly. I don't want us to fall off the side of the cliff."
Sheffield United need to be able to put the defeats in the past and look forward due to the quick turnarounds of the season. They go again in their first home game of the restart in the FA Cup quarter-final against Arsenal on Sunday.
"There's no time on the training ground to right the wrongs, and there's certainly a lot of wrongs at the moment, individually and as a team," Wilder told the club's media.
Wilder disappointed with his team's defence
Sheffield United's defence has been one of their best assets all season but without Jack O'Connell due to injury it has not looked as assured as it had been all season. The Blades travelled to Old Trafford without John Egan due to suspension to add to their defensive woes.
Wilder was still very disappointed with how his team defended Manchester United's first two goals.
"The goals are ridiculously cheap," he told the club's media.
"They're basic errors. To defend in the manner that we've done, especially for the first two goals, is extremely disappointing. People will be shaking their head to think we've kept so many clean sheets."
Wilder has also said a lot of thought will have to go into the next few days if the Blades are going to be able to regain their form.
"A lot of thought and a lot of thinking from myself.
"Got to get the team selection right & the right messages to the players. Most importantly, the players have got to up the standard."