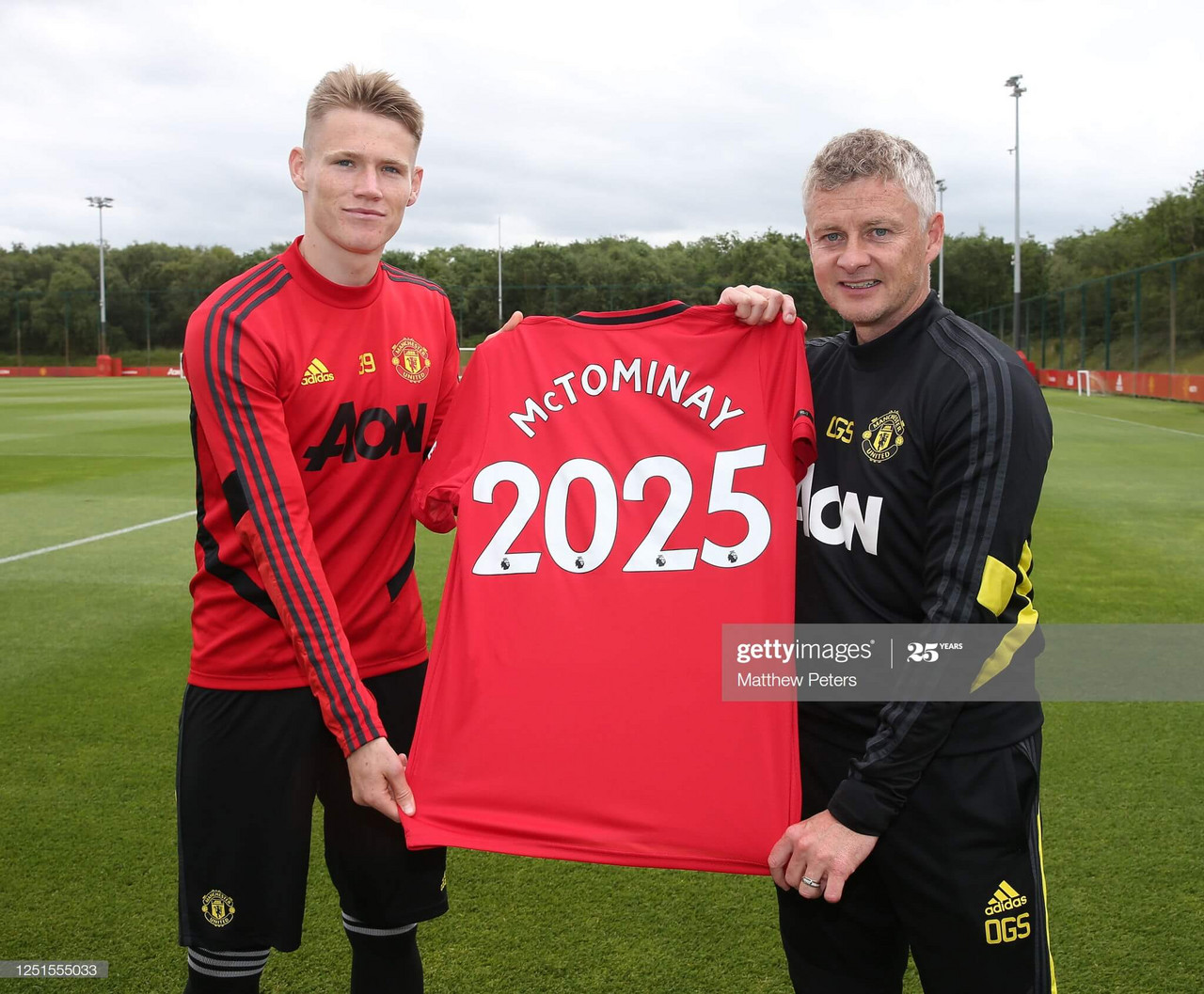 Manchester United's strong Scottish links are set to be sustained for years to come after Scott McTominay extended his contract until 2025 last week. But what will the next five years entail for United's number 39?
McTominay breakthrough restored some belief
The 23-year-old has established himself as a first-team regular and somewhat of a fans favourite since making his debut under José Mourinho back in 2017.
The academy graduate may not be the most naturally gifted footballer to ever progress through Carrington, however, his desire, commitment, work-rate and attitude encapsulate all that it means to be a United player.
When fans were frustrated at performances and results and beginning to question the devotion of certain star names, McTominay emerged to restore some faith.
Hoping for a strong end to the season
Having been rewarded with a new deal for his strong performances, McTominay put in a steady display at Norwich helping his team to an FA Cup semi-final. Whether he plays a starring role at Wembley is up in the air after the resurgence of Paul Pogba and Nemanja Matic look's ever more crucial to the Red Devil's development.
But the midfield man is excited about his team's prospects for the weeks, months, and years ahead, "I'm so happy to sign this contract and play a part in the future ahead for this team.
"All I have ever known is United and I hope that my passion for the club shows every time I go onto the pitch. I'll continue to give everything for this club whenever I pull on the shirt.
"I'm looking forward to finishing this season on a high and hopefully achieving our aims."
A more advanced role awaits
Serbian international, Matic, is currently the preferred ballast for the more advanced pair of Bruno Fernandes and Pogba as the game against Sheffield United demonstrated. But McTominay's strengths lie further up the pitch.
His natural fitness and eye for a goal ensure the Scottish international is best suited to a box-to-box role. While Pogba and Fernandes are the natural options in the 'number eight' position, entering the field with two playmakers could be suicidal in certain situations.
A huge European night where one away goal could kill the tie, a fixture at a title rival where a point will be enough or a cagey affair where United will see little of the ball will all favour the Scot over his more flamboyant teammates.
A natural leader that United need
Although he may not be a player that Ole Gunnar Solskjaer or a future manager will look to build his team around, McTominay is a player they can rely on. A leader. A linchpin for success. A player who won't ever let his standards drop, nor those of the people that surround him.
These are qualities that have not gone unnoticed by the Norwegian in the Old Trafford dugout. "Scott has done tremendously well since I joined and has been a vital part of our midfield."
"He brings determination, tenacity and skill to the game and we know that Scott's attributes will be a major asset to the squad over the coming years.
"As we always say the Academy is the bedrock of the club and having come through the system everyone knows that Scott has shown the exact mentality that you need to succeed at Manchester United."
McTominay set be at the centre of a bright future
Several players have been tipped for greatness at United in recent years from Phil Jones to Alexis Sanchez but far more have failed to live up the expectations that the ones that have met them. That could be about to change.
McTominay may not have been able to establish himself in and around the starting XI if United were in their heyday. His emergence came at a time of need and he answered the call.
Nevertheless, the club now appears to be making strides in the right direction and he could be the glue to hold it all together. Bar captain Harry Maguire and Pogba, whose future is of constant question, United lack the characters of old such as Roy Keane, Nemanja Vidic and Gary Neville for which the club became synonymous with.
United are once again blessed with a player who leads not only on the pitch but off it too.
By the time McTominay's new deal expires he'll be 28-years-old and in his prime. Marcus Rashford will be 27, Mason Greenwood 23, Anthony Martial 29, Aaron Wan-Bissaka 27 and Brandon Williams 24. Not to mention the possibility of a 28-year-old Dean Henderson.
In short, this is a United team that could grow old gracefully together. The foundations are being put in place for a Red Devil resurgence under the man once known as the baby-faced assassin. And McTominay will be at the heart of it.
He won't be centre stage, making the headlines but he'll be there. Keeping order, keeping calm, staying steady as everything else moves frantically around him.