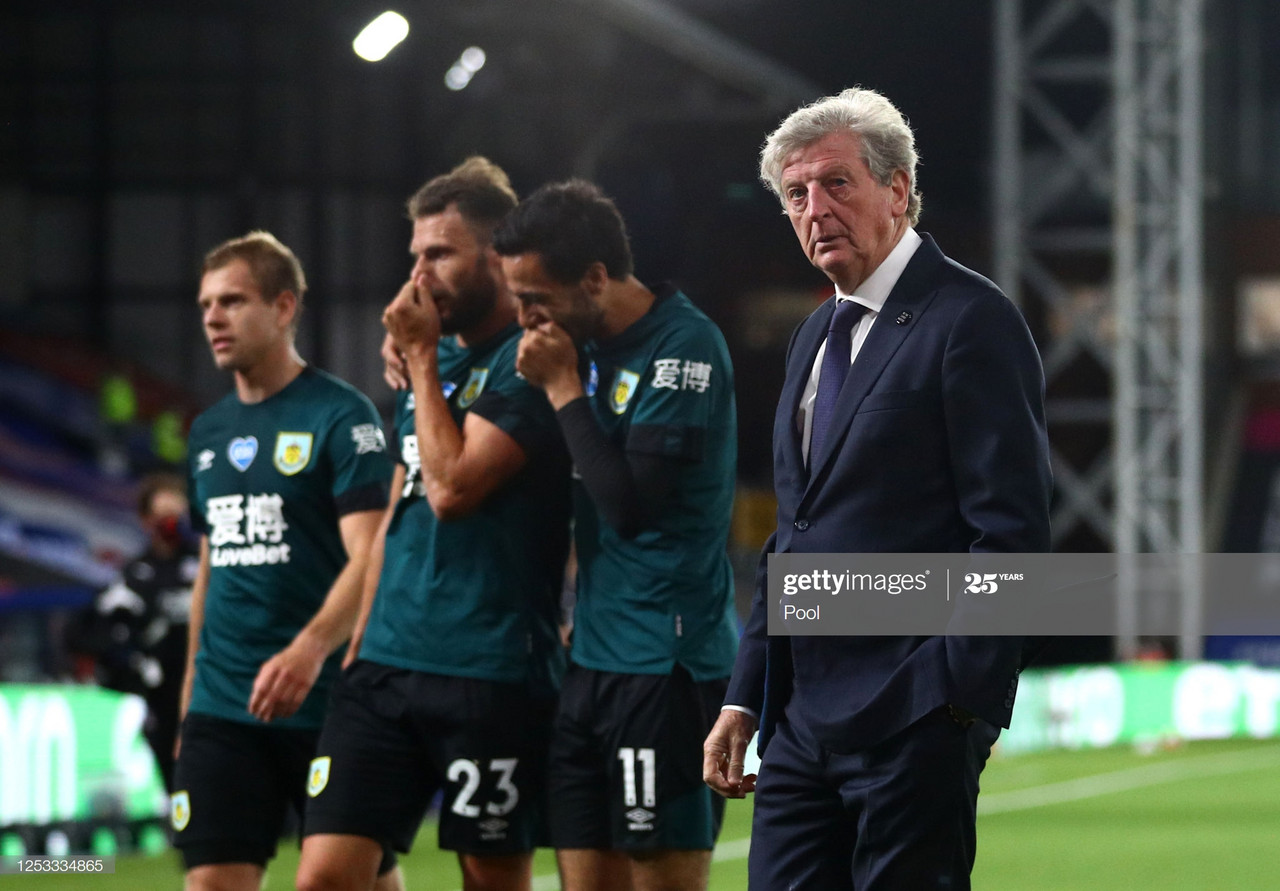 Crystal Palace manager Roy Hodgson says that his side "wasted 45 minutes" in their loss at home to Burnley, with the defeat seeing his side drop into the bottom half of the Premier League table.
Palace returned to Selhurst Park for the first official game in 114 days, with both sides seeking 3 points that would be a mighty boost to their Europa League aspirations for the upcoming season.
Returns for key players:
Hodgson's side welcomed back goalkeeper Vicente Guaita and talisman Wilfred Zaha, with both not being in the side subjected to a thrashing by champions Liverpool last week due to injury.
However, a strengthened Palace played out a very weak game in the first half, with Burnley absolutely dominating play and certainly unlucky to not go into the break without scoring.
Speaking to BBC Sport, Hodgson said: "I thought they played very well in the first half… and had we gone into half time a goal to nil down I don't think we could of had too many complaints"
The Palace manager also acknowledged that his side made a drastic improvement in the second half of the game, saying: "I think we were a little bit unlucky in the second half, we controlled the game much better, we passed the ball better and we asked a lot more questions"
No player to blame:
Burnley took the lead in the 63rd minute, with captain Ben Mee - who was making his 300th appearance for the club - producing a magnificent diving header that Guaita disappointingly couldn't keep out.
Speaking about the goal, Hodgson said "he wasn't expecting them to score from on that occasion".
He continued: "We could have defended it better of course, and under normal circumstances we got a first class goalkeeper, and he normally manages to palm those away, and on this occasion he didn't."
"Certainly one wouldn't want to put down the defeat to one goalkeeper."