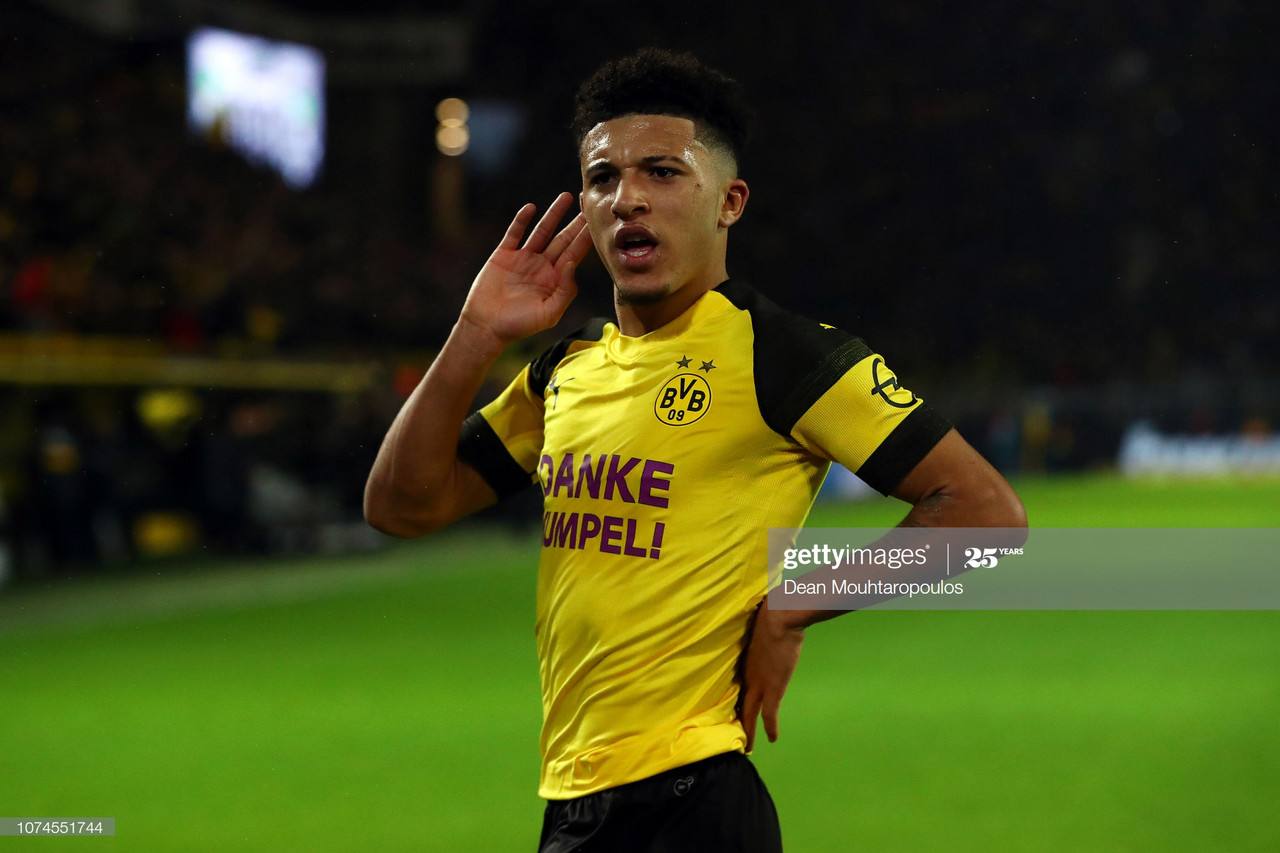 £50-million. That's all Manchester United are willing to pay for Jadon Sancho, according to Sky Sources, and everybody threw their heads back with laughter. But there is a lot of method in the apparent madness.
Negotiations begin with unrealistic starting points. Ed Woodward will say £50-million. Borussia Dortmund will say £150-million. Invariably, the end result will be somewhere in-between.
Leroy Sane, one of Europe's most exciting wingers, is joining Bayern Munich for an initial fee of less than £50-million. United's chief executive will use the German to haggle with Dortmund when negotiations start to progress.
Woodward will be balancing many factors such as the recession, the cost of similar players and the apparent desire of Sancho to move back to Manchester. People may laugh at the low initial valuation but it makes sense to start with that kind of offer before evaluating all of the contextual factors in more detail.
New dawn
Ole Gunnar Solskjaer is leading a revolution at Old Trafford. He has taken abuse from all angles during his time in the managerial hot-seat but he has weathered the storm remarkably well.
Solskjaer resisted so many opportunities to lay into his players during poor performances, choosing instead to take the blame himself, and this approach was golden for the Glazers.
While predecessor Jose Mourinho wasted no time in highlighting shortcomings within his squad, Solskjaer was almost indebted to his employers for giving him the opportunity of a lifetime and he never once complained. Internal political rifts were a thing of the past.
The United board see a project with Solskjaer.
Last summer, they took a short-term step backwards for the greater good. They sold their top goalscorer and released a well-loved midfielder without replacing either of them. They loaned out their highest earner, who had been brought in to bridge the gap between themselves and Man City, and they didn't replace him either!
Specified
Harry Maguire, Daniel James and Aaron Wan-Bissaka came in and all three have made a positive impact on the squad. The trio represented the start of a new chapter in recruitment at the club: hungry British players who are yet to fulfill their full potential. A far cry from their superstar splurges in recent years.
Targets now fit a portfolio. Bruno Fernandes, although not British, embodies the hunger and work-rate of a bulldog. Everyone walking through the door now has a workmanlike attitude and is genuinely humbled at the prospect of playing at the Theatre of Dreams.
A move for Sancho is simply the next bullet point on the list. Nobody at Old Trafford has made any secret of that. United waited until the end of last summer's window before announcing the Maguire deal. Woodward tried to negotiate better terms for the Leicester City defender but, inevitably, he paid the initial asking price!
While that might not say much for Woodword's skills on a poker table, it does indicate that United will now pay what is necessary for specific players instead of blowing obscene amounts on several people. The club would rather bring in a small number of long-term investments than a large quantity of short-term stars.
The world is in a recession and market valuations will be significantly less than they may have been just twelve months ago. That's simply a fact because there is less money going around. It would be foolish of United to jump straight in and show Dortmund the full monty! This saga, like with Maguire, will be drawn out but, when push comes to shove, United will pay whatever the cost.
Solskjaer will be happy to trim his squad once again. Smalling and Sanchez will be on the shop window but they may have to settle for a second Sanchez loan deal. Jesse Lingard, Andreas Pereira, Phil Jones and Diogo Dalot could be used to ease any financial strains.
It is very possible that Sancho will be United's only signing of the summer. As noted, this recession is going to have an effect on businesses all over the world.
Steady progress
United fans might want a defender, a striker, a defensive-midfielder and a left-back but what they need a reality check.
One imagines that Solskjaer and Woodward have a picture of what their ideal team looks like. But that picture will take a while to complete. They will be confident about getting their man but, if they can't, they'll wait. Their current exciting young players can carry the can for another year.
Operation Sancho is afoot but they won't chase a plan B or a plan C. Mason Greenwood will be asked to step up. The plan is very much not to compromise but to be patient; if Sancho doesn't come this summer then United will in pole position to land him next summer.
Calm heads are needed; the future is bright on the red side of Manchester.