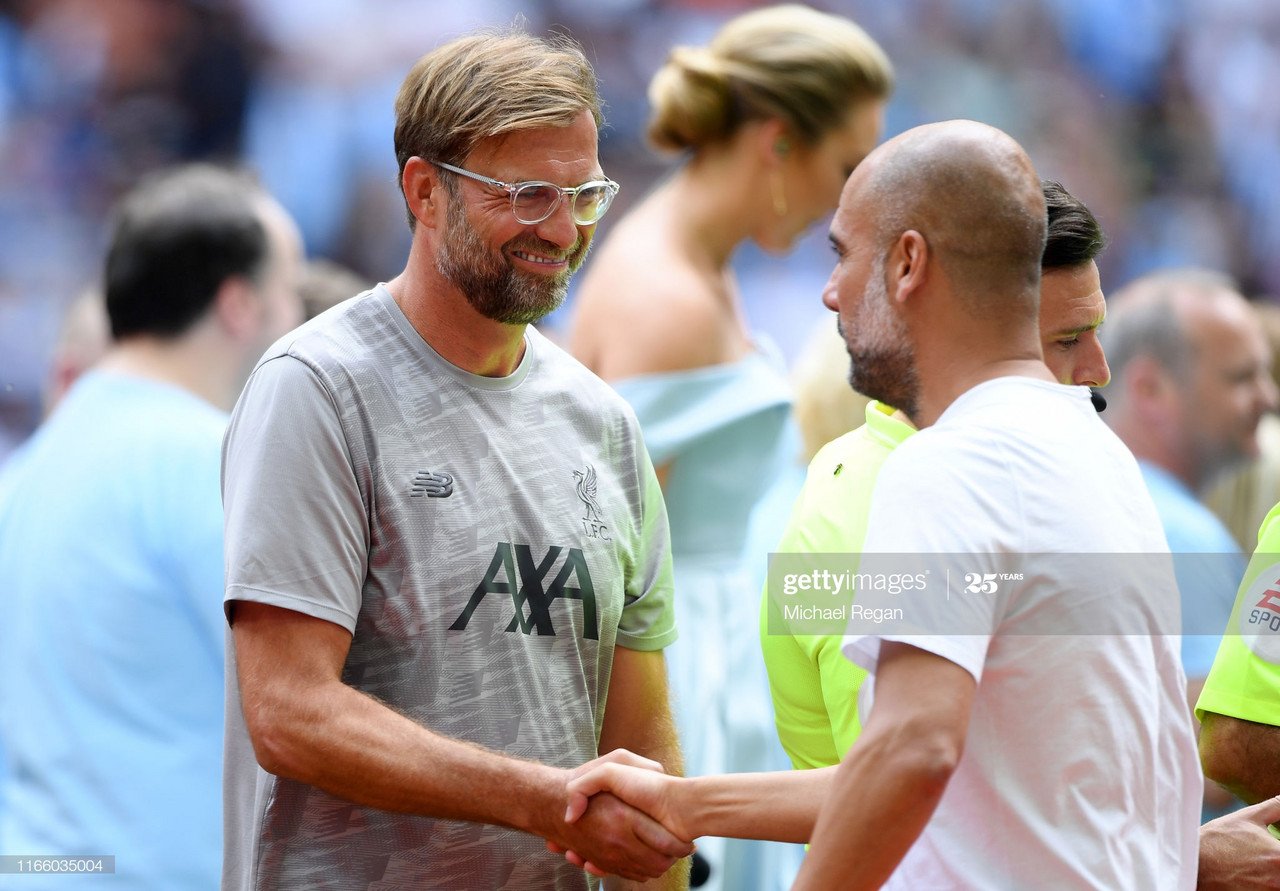 Back in August, Manchester City and Liverpool raised the curtain on 2019/20 in the Community Shield at Wembley.
The then Premier League champions were victorious against the runners-up after edging the penalty shoot-out.
The match had finished 1-1, with Joel Matip cancelling out Raheem Sterling's opener. Liverpool could count themselves unlucky, having dominated the second half and twice hit the woodwork.
But rather than shuffling back into the dressing room after fractionally missing out to the Cityzens once again, Jurgen Klopp assembled his players at the end of the tunnel and insisted that they watch their opponents raise the shield aloft.
On the one hand, it was a mark of respect. On the other, it was a reminder of the bitter taste of defeat.
Liverpool never looked back
11 months on, the tables have turned.
Liverpool travel to the Etihad on Thursday having sealed the Premier League title with seven games to spare.
That means City are expected to line-up for a guard of honour as the Reds take to the field.
This tradition is steeped in sporting respect and grace. Many have scoffed at it, preferring determined defiance to acquiescent applause.
But Pep Guardiola appreciates its importance and recognises the extent of his rivals' achievement.
"They have played an incredible season," he admits, as quoted by the Guardian.
"The fact that they had gone 30 years without winning the Premier League gave them incredible focus and they played every game like it was the last game.
"We will greet Liverpool, when they come to our house, in an incredible way. We are going to do it because they deserve it."
More importantly from a City perspective, the gesture is a needed dose of humility.
"We have to say: 'Not all the time we can win.' And then we must learn what we need to avoid this situation again."
Channel the embarrassment
There is, believe it or not, a competitive value in this gesture for City.
There is no shying away from the air of embarrassment, particularly after they submissively allowed the Reds a serene ride.
After being forced to apologise for angrily confronting Joe Gomez in the England camp in the wake of their Anfield scuffle, Raheem Sterling will now have to roll out the red carpet for his compatriot.
But that embarrassment must be channelled into motivation. Handing over the Premier League trophy is a new experience for Guardiola's two-time champions and it needs to be as painful as possible.
While the agony of defeat has fuelled Liverpool's successful quest for greatness, City's soft underbelly has been exposed.
Their title defence has not merely stuttered this season; it has unravelled.
Last week's trip to Stamford Bridge, which wound up confirming their deposition, was remarkable and yet somehow familiar.
It followed the same pattern as the season-defining defeats which came before at Wolves and at Tottenham, with City controlling the game before implosion. They saw a man sent off in all three fixtures.
They need to rediscover their hunger, the match-winning edge has deserted them far too often. They might well be hardened by defeat.
Guardiola is surprisingly enthusiastic about the prospect of honouring the champions. Perhaps he believes it could stoke a vengeful spirit to drive them next season, when domestic football may prove their sole focus.
City's players will still believe they are better than those they are acclaiming. Now they need to prove it.
And that struggle to reassert themselves begins when Anthony Taylor blows his whistle, getting the country's most anticipated contest underway on Thursday night.