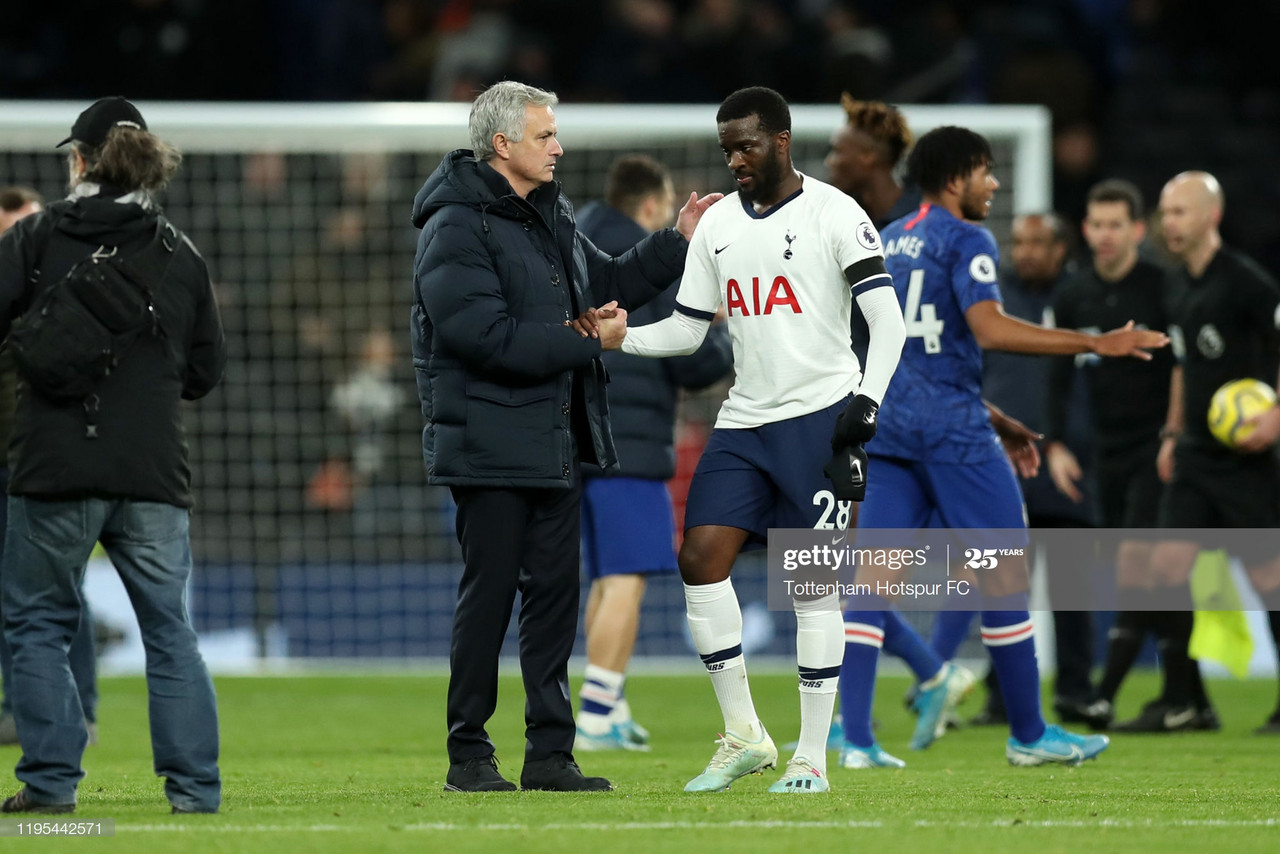 Jose Mourinho yesterday quashed any rumours that him and Tottenham Hotspur record signing Tanguy Ndombele have no issues and that Ndombele's recent omissions from the starting XI are just consequences of having a top squad.
Ndombele, still only 23, has two goals and two assists in 19 Premier League appearances, as well as two assists in the Champions League too - a good return despite the midfielder's struggles this season.
The former Lyon star at times has been grilled by pundits, fans and journalists for his lack of work rate and fitness levels - something former manager Mauricio Pochettino was so incredibly hard on during his time at the club.
Time to improve for next season
The North London side take on Sheffield United this evening in a battle between two sides desperate for European qualification, and while Mourinho refused to rule out or confirm if Ndombele is starting, Spurs fans may feel relieved to hear him rule out any problems between the pair, as well as him giving the record signing his backing to improve.
"I believe Ndombele can turn it around," Mourinho said.
"Football is full of players who have made difficult starts and then ended well. When Modric arrived at Real Madrid, after six months he was labelled the worst signing in their history. So when the talent is there many things can happen with adaptation. Fabinho is another example.
"I know him for six months and six months is not enough to find or describe his psychological profile. One thing is feelings, another is the reality. I am not a genius to within six months get inside a person's brain, to describe 100% his feelings."
Time to gain a top team mentality
Spurs in recent years have struggled to convince rival teams and players that they have shrugged off the 'bottling' mentality and that they are now a top team.
Giorgio Chiellini was probably the most high-profile player to speak out on Spurs' mentality as a team, by describing their defeat to Juventus in the Champions League round of 16 in 2018 as 'the history of the Tottenham'.
But it is clear Mourinho is desperate to change that, and he outlined the importance of having the squad depth at Spurs in contributing to the clubs' rise as a top team.
"In many other clubs it looks like it's normal to have great players on the bench: United, Liverpool, Real Madrid, Barcelona, Bayern Munich," Mourinho said.
"At Tottenham I feel is every time a top player is on the bench, it's a drama. The players and everybody else have to understand it's not a drama.
"I hope next season we have even more top players on the bench because it means we have to be bigger than where we are now. No problem with Tanguy, no story. We are a big club with very talented players."
"The work we do now independent of the result, independent of the table at the end of the season is very important base work for next season."
Sheffield United v Tottenham Hotspur: Where to watch, how to follow the action
The match will kick off tonight at 18:00 BST on Sky Sports Premier League / Sky Sports Main Event / Sky Sports Ultra HD.
However, here on Vavel, we will provide a live text commentary stream so you don't miss any highlights of the game if you cannot watch.