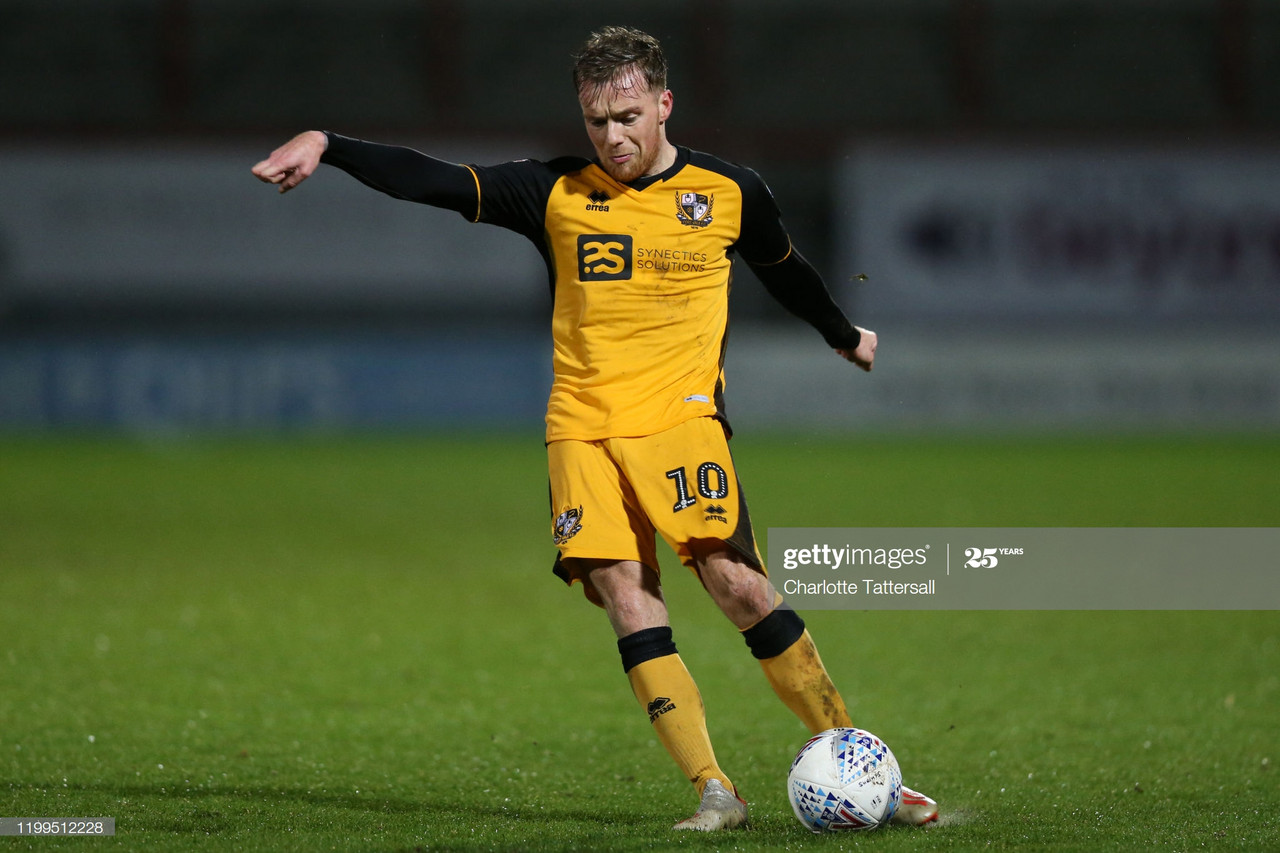 After Tom Conlon signed a two new year deal with Port Vale, it means that the three central midfielders that combined so well together last season, have now committed their futures to the club.
These three players are Conlon himself, defensive midfielder Luke Joyce who put pen to paper in a new one- year deal at the start of June, and 24- year old Scott Burgess who impressed in his first season at the club.
In addition, Emmanuel Oyeleke, who was out for the majority of last season with a hamstring problem, still has another year left on his current contract and when fit is a further good midfield option for John Askey's side.
This has been shown by the midfielder who came to the club in the summer of 2018, displaying a number of decent showings in the middle of the park, with the only problem being that he has spent a considerable amount of time so far at the Vale out injured.
However, with Askey ensuring that these four key players are in contract and consequently then will be playing for the Valiants next season, it no doubt strengthens his team's chances of earning promotion next season.
This is something that they arguably were denied from in the 2019/20 campaign as the unweighted points per game table brought in due to the COVID-19 crisis, left them one point adrift of the play-off spots.
Although, with nine games left to play, and with five of them being at Vale Park, a place in which they have only lost once in the league, if the season had continued, Vale would have undoubtedly had a very good chance of achieving a play-off finish.
Solid Midfield Trio
In the entirety of last campaign, Oyeleke only played the full 90 minutes once, meaning that Conlon, Joyce and Burgess were all required at times to play together in a midfield three.
This was shown to be the case at the turn of the new year, once on loan Nottingham Forest midfielder Jake Taylor picked up a knee injury.
The 21 year old had started in 17 of the 20 League games that had took place from when he joined the club on the 30th August until when he got injured which was on New Years Day, with Conlon being the one that failed to feature.
This was due to him suffering a knee problem that kept the 24 year old out from the middle of September to the middle of November.
Then, in his first start back from injury at home to Walsall, he got sent off with eight minutes remaining, meaning he was suspended for a further three games.
Nevertheless, since the 4th January these three players have consistently made up Askey's midfield and since doing this, results have been positive.
This is indicated by the fact that in the last 12 league games, the trio have only lost twice which came away to Morecambe and on the road to now promoted Swindon Town.
In the other ten games, the Valiants won six and drew four, and the starting midfield three in that time frame showed to combine very well due to them showing clear trust to one another.
In addition, the fact that each of the three players do a different job in midfield, it helps them to all work effectively as one unit.
This is shown through how Joyce fulfils the role of breaking up the play by sitting just in front of the defence, and then when intercepting, he immediately looks forward and searches out for options in attacking areas to try to set up a counter attack.
In comparison, Conlon has evidently formed a good partnership with the Vale's main goal scorer Tom Pope as the former Stevenage player attempts to play the ball into the striker's feet when possible.
Also, when his team venture forward, he tries to find his way into the box in order to provide extra support for Pope and to hope to latch on to a loose ball so he can try to get a shot away.
Finally, Burgess is the one who controls the tempo of games as he tends to look to spray the ball out to the wingers David Amoo and David Worrall.
When in space, the youngster is not afraid to have a shot from range in order to try to work and give the goalkeeper something to think about.
Most importantly, all three midfielders always show to put in 100% work for each other on and off the ball.
This is something which pleases Vale supporters and is consequently an element to Vale's successful 2019/20 campaign in comparison to the 2018/19 campaign, where Askey's team finished 20th, only eight points above the drop zone.
Potential Taylor addition gives competition for places
With Vale alongside a host of other clubs being keen to bring in Taylor for the 2020/21 season, whether that is via a loan or permanent deal, he is a player that with the current Vale central midfielders, would add great depth to the squad.
Therefore, if Taylor did choose to come back to the Vale for his second season at the club, it would allow Vale to have a midfield that would be more than good enough to challenge for a play- off spot come the end of next campaign.
The downside of this would be that the likes of Conlon and Burgess may not get as much regular playing time as they would like, but it would add brilliant competition for positions.
Additionally, for sure this would keep all of the central midfielders on their toes- something which could prove to be vital if the Valiants hope to push for promotion to League One next season.