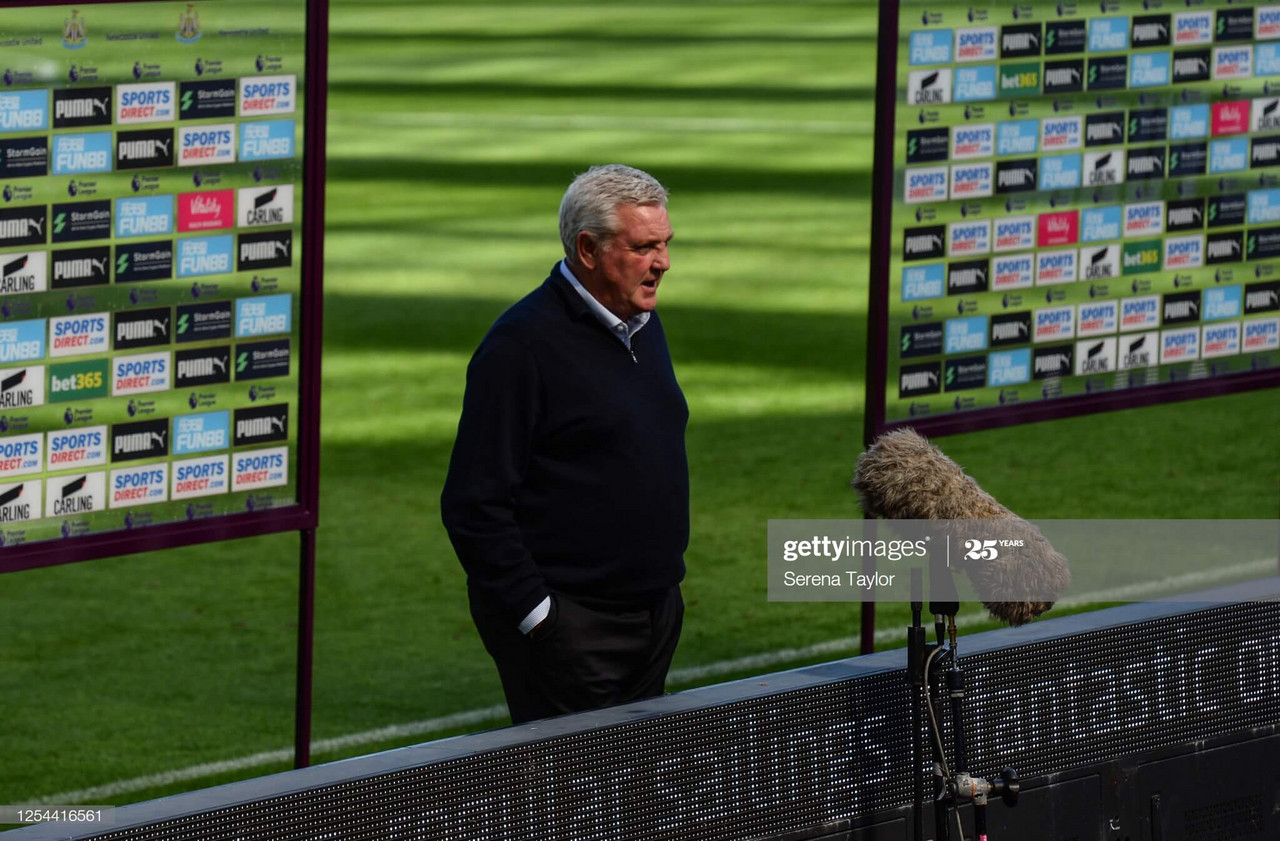 Newcastle boss Steve Bruce revealed in his pre-match media briefing that he is set to be without key players such as Miguel Almiron and Allan Saint-Maximin for tomorrow's game against Manchester City.
The Magpies head coach said: "Unfortunately we've picked up one or two.
"Almiron and Saint-Maximin in particular are struggling.
"Andy Carroll picked up a groin strain.
"Jamaal Lascelles has a sore ankle so we have a few.
"Isaac Hayden and Sean Longstaff are our two fittest players but have picked up soft tissue injuries."
High fives for substitute rule
Steve Bruce endorsed the Premier League's decision to allow up to five substitutes during games until the end of the season, although his side has been plagued with injury: "I've been all for it, because the demand on the players has been difficult with the preparation time but everybody has been in the same boat."
Bruce praised Jonjo Shelvey in the media briefing after the 2-2 draw against West Ham at the weekend, and he was at it again today, when he said: "If there's anybody who has taken on board what we require it's Jonjo.
"He's blessed with a natural ability.
"He can see a pass that others can't and deliver it, he can score a goal.
"Physically and mentally now he's bought into everything so fair play to him."
Hammers draw "the right result"
The Newcastle head coach had this to say after Sunday's home draw against West Ham: "We had an awful start and when you go behind twice, if you look at the statistics, it's very rare you come back from it.
"I was pleased with the way we responded, and I thought some of our football leading up to the first goal was terrific.
"I think a draw was the right result."
"I think there's a certain resilience in the squad to being written off and they enjoy the challenge of proving people wrong.
"That's pretty apparent when you work with the players.
"It's important we don't take our foot off the gas and we try to achieve that top ten finish," said Bruce on his hopes for the remainder of the season.
Without the fans "it's not the same"
Steve Bruce admitted that his side are still not used to playing in empty stadiums: "We're getting used to it, it's not the same without supporters, it is the second best thing."
Bruce hailed Miguel Almiron's hard work on and off the pitch: "He is a manager's dream.
"He is working hard in training.
"He has been carrying a thigh injury but doesn't want to tell anybody. In 18 months he's proved he is a top player."
Steve Bruce will hoping for a better result against Pep Guardiola's side this time around, after the Magpies recently lost 2-0 against City in the FA Cup: "The beauty of the Premier League is the underdogs can put up a fight and put on a performance.
"We didn't do enough against Man City in the cup, admittedly.
"We have to be a bit more aggressive in our approach tomorrow so let's hope we can do it," said Bruce ahead of tomorrow's game.