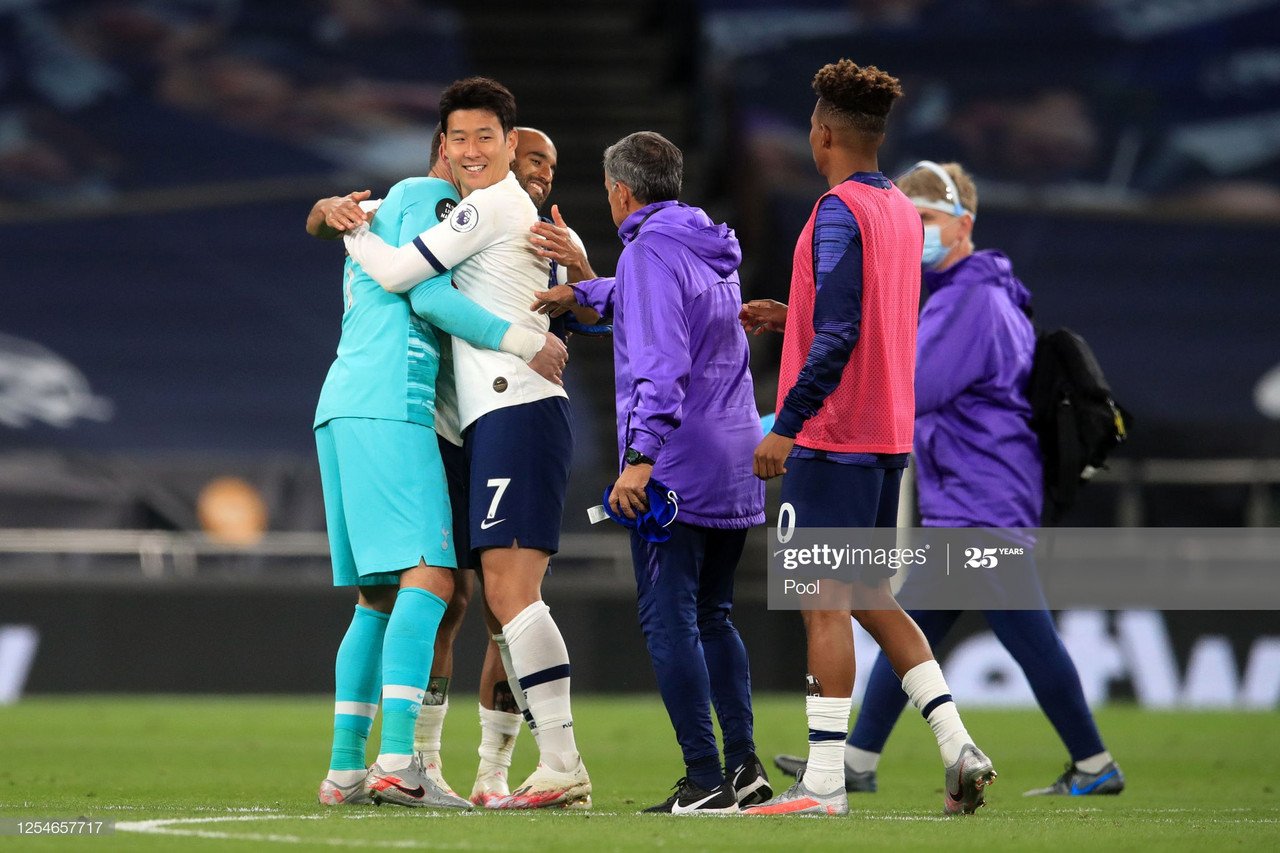 It is no secret that Tottenham Hotspur this season, and last season excluding the remarkable Champions League run, have looked disorganised, out of sorts and lacking leaders.
The 3-1 defeat away to Sheffield United prompted manager Jose Mourinho to put his team's poor performance down to a 'lack of desire', which to be frankly honest is very difficult to disagree with.
Mourinho has been notoriously outspoken and strict on players' attitudes on the pitch, as well as off it, and he mentioned in his post game interview after the 1-0 victory over Everton yesterday that he spoke to his 'leaders' and told them to be tougher on each other on the pitch.
His response was given after star player Heung-Min Son and club captain Hugo Lloris had a heated argument on the pitch, leading to both players being kept apart by teammates.
Why did this scrap happen?
Hugo Lloris for a long time has been viewed as the most vocal player at Tottenham on the pitch and has always led from between the goal posts.
As a goalkeeper, you can see absolutely everything that is happening in front of you, and there is no exception for Lloris, just as there is no excuse for Son.
The Korean forward has been one of the best players in the entire league across the last three years and has never once had his workrate or attitude questioned, until yesterday when his lack of desire to chase a long ball followed by his attitude when tracking back - his head down while at walking pace walking back towards his own goal, just as Richarlison had a strike on the edge of the area where he found himself in plenty of space.
Of course, there are other culprits in the team that did not benefit Lloris in goal as they gave Richarlison all that space to get a shot off, but Spurs have always been a team to try and defend from the front and break away with pace.
You can understand Lloris' frustrations as he is left to endure what has been a dismal season for Spurs and he, a player who has been at the club since 2012 and has been very public of his love for Spurs, cannot physically affect what is happening outfield.
The importance of Lloris' immediate reaction shows the desperation from Spurs' captain to spark a positive reaction from his team to make sure they do not fall further down the league.
His passion in this situation reminds me personally of the great Carles Puyol, one of the greatest leaders in football of the 21st century - a man who would never let any member of his team give less than a hundred percent.
Spurs require more leaders like Lloris on the pitch if they are to improve together and progress as a team, because they only have themselves to blame for their recent poor run of form.
Action needs to take place ON the pitch, as well as off it, because if issues are swept aside and not dealt with immediately by the players, it is impossible to guarantee that they will not reoccur.
Was Son's response positive?
Many people would view Son's immediate response to Lloris' criticism as just negative, but it does show that the winger has a lot of passion as well as frustration from the teams form too.
It is disrespectful to talk back to your captain - you would not talk back to your manager so why talk back to your captain?
But at the same time, you could see the fire within Son was reignited in this moment, he looked passionate, determined as well as frustrated with his team too.
It is important for any player to feel these things in order to help change their teams' fortunes during a season, and not display the same poor body language, attitude and work rate.
And as Son stepped back on the pitch, we saw the cheeky smile that we have seen very little of this season, one which we usually only see when he is in the mood to score goals and terrorise defences.
Throughout the second half before he was substituted, the 27-year-old created chances, ran at the Everton defence and got into the right spaces to take shots at goal - missing a few good chances in the process.

But even these missed chances can be viewed as positives, particularly as Spurs took home the three points, as Son looked a completely different player to the one we have seen since the return of football after lockdown.
Proud Mourinho
After the match, Jose Mourinho spoke of his delight of how the situation between Son and Lloris was handled, and even suggested it was partially due to a meeting between himself and Lloris before the game asking the captain to be tougher on his players.
"It was beautiful. It was probably as a consequence of our meetings. If you want to blame someone for that it's me," said the 57-year-old.
"I was critical of my boys. They were not critical enough with themselves. I asked them to be more demanding of each other.
"Son is an amazing kid. Everybody likes Son, but the captain told him you have to do more and give more to the team.
"It is something needed for the team to grow up. To grow up you need big personalities. When you have that reaction I have no doubts."