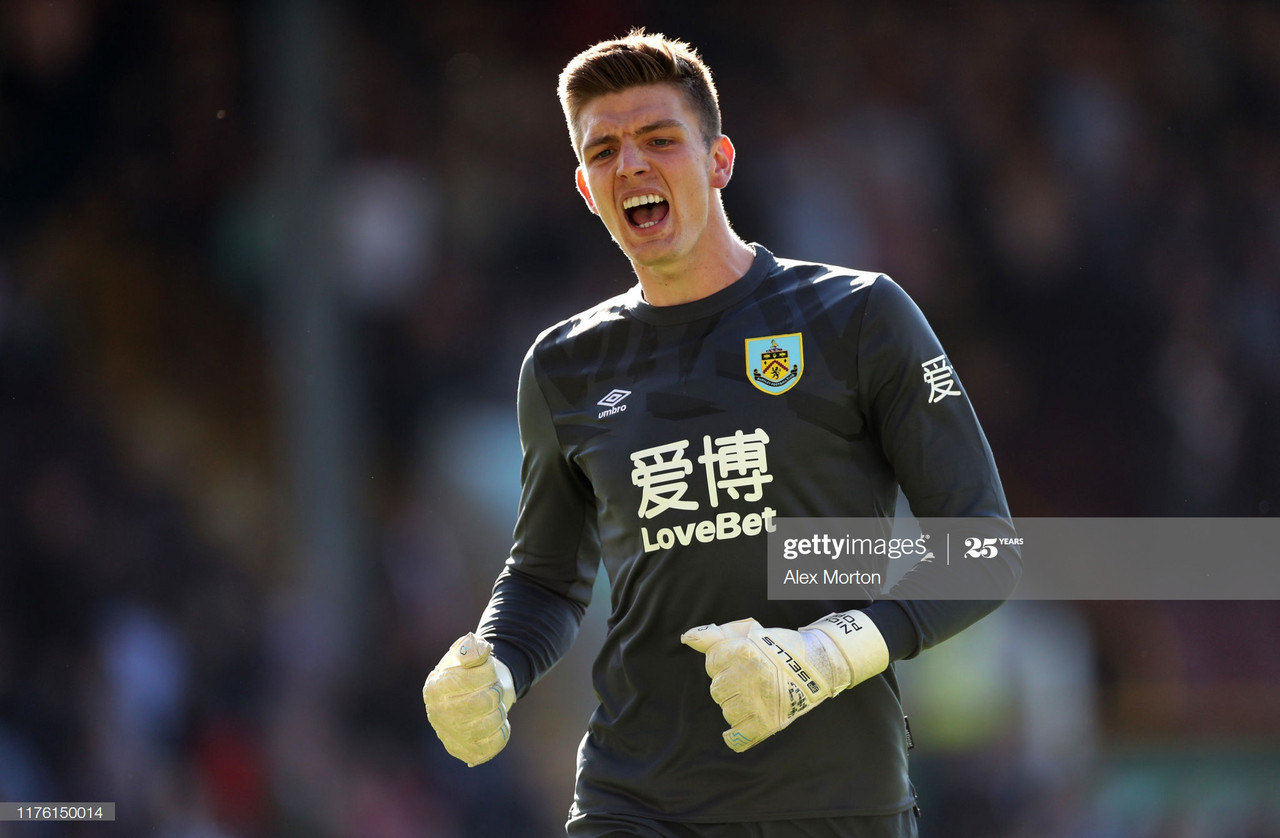 If the year was 2010, with the same players available, Nick Pope would be England number-one without a shadow of a doubt.
The Burnley goalkeeper has put in back-to-back masterclasses against West Ham United and Liverpool to ensure that his team were able to extend their unbeaten run. It was just the latest chapter in what has been a remarkable rise from a player who was 26-years-old when he made his first Premier League start.
Top class
Pope has made 112 saves and kept 14 clean sheets, as per the official Premier League website, and he is incredibly leading the race for the Golden Glove.
Still, there is a big debate as to whether Pope can cut it for the England National Team with the keeper's under-par distribution often brought into the equation. His supporters will lament criticisms of his kicking as some form of prejudice. After all, a goalkeeper's primary aim is surely to keep the ball out of the net.
On the other hand, many teams like England aspire to play football in a certain fashion and that is making certain players inadequate because they don't seamlessly slot into that philosophy.
Pope is a victim of football's progressive shift in the past few years. Pep Guardiola came to England and changed the mindset of a nation with his idea that the goalkeeper should act like an eleventh outfield player. It is a recent attitude shift that had fundamentally changed what people want from their goalkeepers. The rise and decline of a world-class legend is a prime example of this idea in motion.
Cech mate
Petr Cech was dubbed as one of the world's best goalkeepers when he donned to Chelsea uniform. Cech was a phenomenal shot stopper who lead from the back and commanded his box really well. A real warrior.
He moved to Arsenal and was soon hit with the sudden progression of what people now expected from their goalkeepers. It was no longer enough, in the biggest teams, to be good at keeping the ball out of the net. The ability to pass a ball effectively went from being a luxury to a prerequisite.
Arsene Wenger was replaced by Unai Emery and the Spaniard put a firm emphasis on playing out from the back at all costs. Cech looked like an accident waiting to happen. In the past, it probably wasn't something that he gave much thought. Play it short to a defender, throw it out to a team-mate or kick it long to the striker. Simple.
Emery wanted Cech to engage in the play. He wanted his keeper to make himself an option when the Gunners were in possession. Suddenly he had a new set of tasks to fulfill. He was asked to accurately play short passes, mid-range passes, first-time passes and so on; embrace the ideology of an outfield player. It was tough for Cech and he became a weak link in the team.
Competition
Jordan Pickford is England's best distributor. A good example of that was in England's 3-2 victory over Spain in 2018. His range of passing was vital in the build-up play for the Three Lions and Gareth Southgate's England philosophy is heavily
The issue lies in the other side of the game. Pickford is a fine shot stopper but he is much smaller than Pope and makes more mistakes. He doesn't lack in self confidence but he doesn't inspire that same confidence to his defenders. Pope takes control of situations; Pickford sometimes makes them worse.
Pope has made 48 high claims this season, the most of any goalkeeper in the league. Tim Krul is second with 27. Pickford has 21 but that is still the joint-fourth most of any goalkeeper in the top flight. It shows that Pope is very comfortable in taking responsibility of a situation and he does that in every single game. Big players take responsibility.
Talking of responsibility, Pickford's three errors that have lead to goals highlight a key area of concern. Only Martin Dubravka had made more errors leading to goals in the Premier League (5). The Everton goalkeeper is susceptible to lapses in concentration and that cannot be regularly tolerated at the highest level.
Mistakes can help build a stronger character but recurring mistakes illustrate that somebody cannot deal with that responsibility. It means that you are playing games with unnecessary risk because you cannot necessarily trust your last line of defence.
Nonetheless, it's worth remembering that Pickford has wonderful memories in the Three Lions jersey. He helped England win that famous shootout against Columbia and made a number of good saves throughout the 2018 World Cup. However, his reputation has fallen since that remarkable tournament and many will be skeptical if he manages to retain his place in Southgate's starting eleven for the European Championships.
Claudiwoe Bravo
At Manchester City, Guardiola initially had Claudio Bravo, a brilliant passer, as his number-one. The Chilean's general goalkeeping left a lot to be desired, though, and he lost his place in the team to Willy Caballero. City then moved quickly to sign Ederson Moraes, an incredible distributor but, importantly, an outstanding all-round goalkeeper.
Guardiola needed his keeper to be a top-level distributor but he couldn't completely compromise the art of the goalkeeper. Bravo struggled to command his area and was akin to a sieve at times. He was perfect for the Spaniard's style of play but there were too many issues.
Of course, Dean Henderson represents a halfway house option. He is a player that has been more convincing in his performances than Pickford and he shows more composure on the ball than Pope. His lack of top flight experience is the only blotch on his CV.
Ultimately, the real debate is how stringently Southgate wants to follow his possession based blueprint. He does not have an elite distributor who is also a top goalkeeper in his own right. However, many coaches follow philosophies to the letter with little compromise so one imagines that Southgate will always do the same.
Attitude shift
There was a time when a goalkeeper was picked based on what he could do with his hands but the goalposts have massively shifted. The individual now needs to fit a system. Goalkeepers are part of that system.
However, this snobbery might play into Burnley's hands. Many will choose to overlook their excellent keeper, leading him to stay at Turf Moor. For the player, he has simply broken onto the scene at the wrong time.