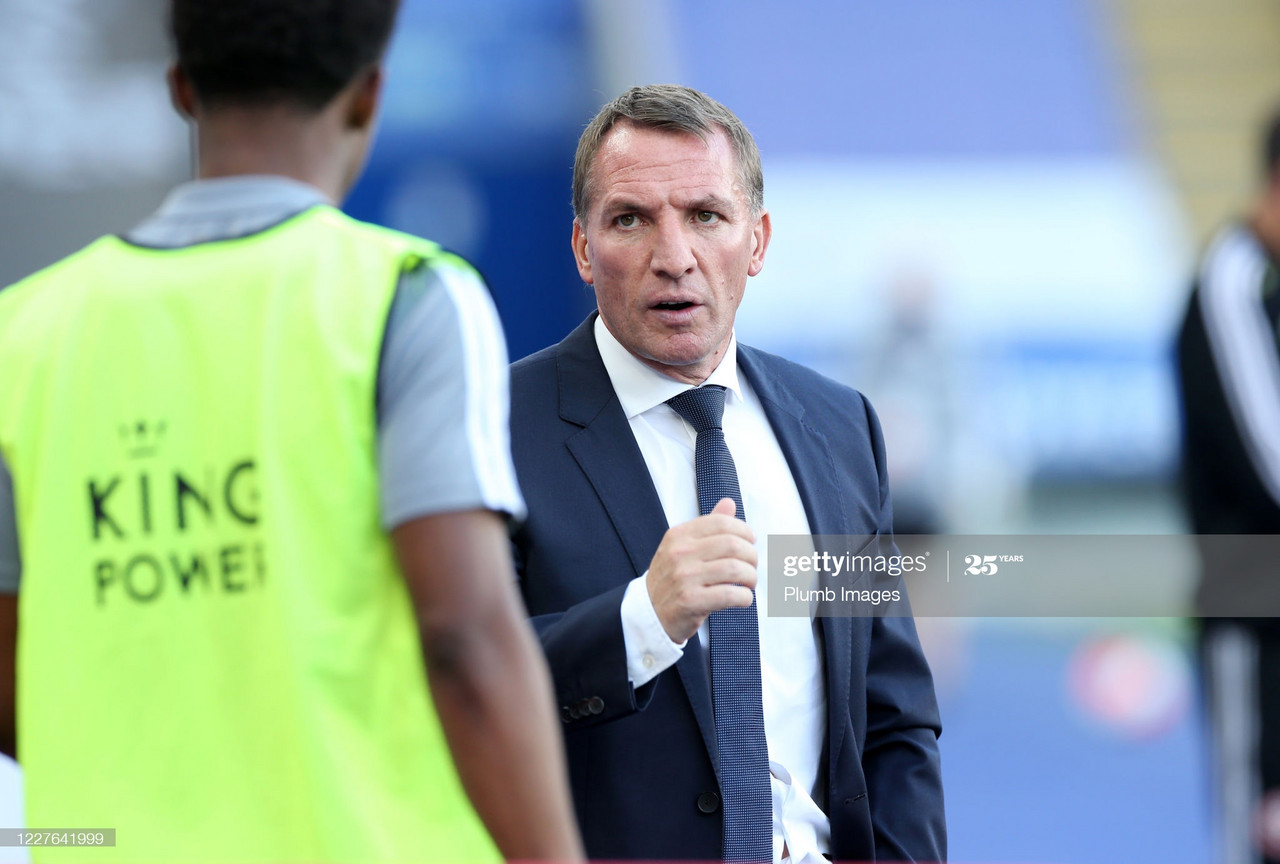 Leicester City boss Brendan Rodgers has urged his side to give everything in their final two games of the season to seal a spot in the UEFA Champions League.
After suffering a shock 4-1 defeat at AFC Bournemouth, the Foxes responded in perfect fashion on Thursday evening with a 2-0 victory over in-form Sheffield United.
With Manchester United earning with victory at Crystal Palace, a top-four finish remains in the East Midlanders' hands ahead of the clashes with Tottenham Hotspur and United.
"We can now give everything"
Following the impressive result against the Blades, the Northern Irishman praised his side for their 'outstanding' performance. With the Foxes back in action only three days later, Rodgers believes his side have got a great chance in sealing a top-four finish.
Speaking to LeicestershireLive Rodgers said: "We can now give everything and play with freedom. Our targets at the beginning of the season was to get Leicester City back into Europe, and for the players to do that with two games to go is superb.
"If we keep the standard, we'll know we've got as good a chance as anybody."
If Leicester qualify for the Champions League, it will be the second time in four years that King Power Stadium will host the European competition.
However, Rodgers has claimed the club do not need the money that the competition brings.
"We're not a club who budget for a guarantee for Champions League football. We're ambition and we want to overcome any financial differences to get in there.
"From a financial perspective, the rewards are huge, so let's see if we can do it."
"We'll have the same squad"
With James Maddison, Ben Chilwell, Christian Fuchs and Marc Albrighton all missing out on Thursday's win, Rodgers was forced to hand a debut to 19-year-old, Luke Thomas.
The Syston-born full-back assisted Ayoze Perez's opening goal and earned the man of the match award for his performance.
Speaking about the academy player, Rodgers said: "I was thrilled for him last night. It's always exciting for me as a coach, it's so great when you have a talent and they do as well as you hope.
"It was a huge challenge for last night, so to cope with that, it was a good start. There will be bumps along the way for him. He's got real quality. There will be many more opportunities for him."
Following the victory over Chris Wilder's side, Rodgers announced that Maddison, Chilwell and Fuchs will miss the remaining two games, with Albrighton "might be available for the last game".
"We'll have the same squad as last night. James and Ben will miss the last couple of games, as will Christian.
"The reports from the medical team, James will just miss out this season. By the time we get back training in August, he will be training. Ben will be a bit longer, and so will Christian Fuchs.
"We'll see how they go over the next four or five weeks."
"He's not for sale"
Chilwell has been out of action since leaving the field in the 3-0 victory over Crystal Palace and has now been confirmed to miss the final two games.
However, with rumours circulating around the England international, the question was asked about his future.
Rodgers said: "No, not at all [bracing for bids]. He's a Leicester player, he'd not a player that I'm worried about at all.
"We've got a fantastic squad and one that we want to keep together. There's no intention for us to sell Ben Chilwell, and we don't need to sell Ben Chilwell. He's not for sale."