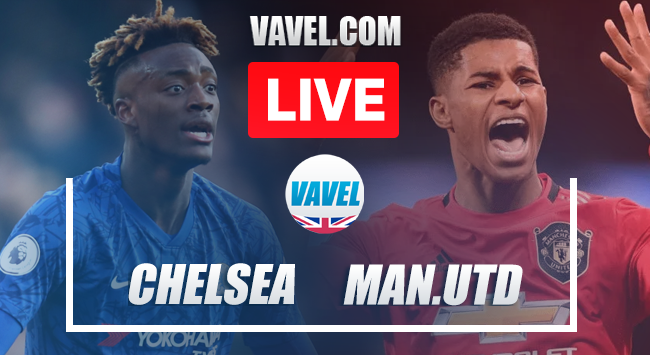 That's all for now
Post-match analysis
Full-time: Manchester United 1-3 Chelsea
90+1' Manchester United 1-3 Chelsea
90' Manchester United 1-3 Chelsea
89' Manchester United 1-3 Chelsea
86' Manchester United 1-3 Chelsea
85' Manchester United 1-3 Chelsea
85' Manchester United 1-3 Chelsea
85' Manchester United 0-3 Chelsea
81' Manchester United 0-3 Chelsea
74' Manchester United 0-3 Chelsea
74' Manchester United 0-3 Chelsea
71' Manchester United 0-2 Chelsea
68' Manchester United 0-2 Chelsea
65' Manchester United 0-2 Chelsea
63' Manchester United 0-2 Chelsea
58' Manchester United 0-2 Chelsea
57' Manchester United 0-2 Chelsea
56' Manchester United 0-2 Chelsea
56' Manchester United 0-2 Chelsea
52' Manchester United 0-2 Chelsea
50' Manchester United 0-2 Chelsea
46' Manchester United 0-2 Chelsea
46' Manchester United 0-2 Chelsea
46' Manchester United 0-1 Chelsea
Half-time: Manchester United 0-1 Chelsea
45+11' Manchester United 0-1Chelsea
45+11' Manchester United 0-1Chelsea
45+9' Manchester United 0-0 Chelsea
45+6' Manchester United 0-0 Chelsea
45+2 Manchester United 0-0 Chelsea
45+2' Manchester United 0-0 Chelsea
42' Manchester United 0-0 Chelsea
39' Manchester United 0-0 Chelsea
36' Manchester United 0-0 Chelsea
33' Manchester United 0-0 Chelsea
33' Manchester United 0-0 Chelsea
32' Manchester United 0-0 Chelsea
27' Manchester United 0-0 Chelsea
24' Manchester United 0-0 Chelsea
23' Manchester United 0-0 Chelsea
20' Manchester United 0-0 Chelsea
16' Manchester United 0-0 Chelsea
15' Manchester United 0-0 Chelsea
14' Manchester United 0-0 Chelsea
10' Manchester United 0-0 Chelsea
07' Manchester United 0-0 Chelsea
04' Manchester United 0-0 Chelsea
01' Kick-off
5-minute warning!
The man with the whistle
The stage is set - Kick-off now just 30 minutes away!
Chelsea boss aware of United's threat after three consecutive defeats to Reds
Lampard on winning FA Cup
Lampard makes 3 changes
David De Gea retains place
5 changes for Reds
Chelsea: Starting XI (3-4-3)
Manchester United: Starting XI (3-4-1-2)
Last time out
Quarter-final recap
Two players out, one back
Possible lineup for Man United
Possible lineup for Chelsea
Video Hightlights of last Chelsea vs Manchester United game
Chelsea's Overall H2H record vs Man Utd
Chelsea's FA Cup H2H Record vs Man Utd
It's Matchday!
Arsenal into final
Final details
Lampard acknowledges United's threats and praises Pulisic
Solskjaer lauds Mason Greenwood Jesse Lingard
How to watch Manchester United vs Chelsea United Live TV and Stream
Chelsea: Predicted Starting XI
Manchester United: Predicted Starting XI
Chelsea: Team News
Manchester United: Team News
Lampard searching for first silverware as manager
United still have a lot to play for
Inspirational substitute sends Chelsea through to semi-final against Leicester
United edge past Norwich in the quarter-final
The FA Cup returns
Stadium and kick-off time
Welcome to Manchester United vs Chelsea in the semi-final of the Emirates FA Cup