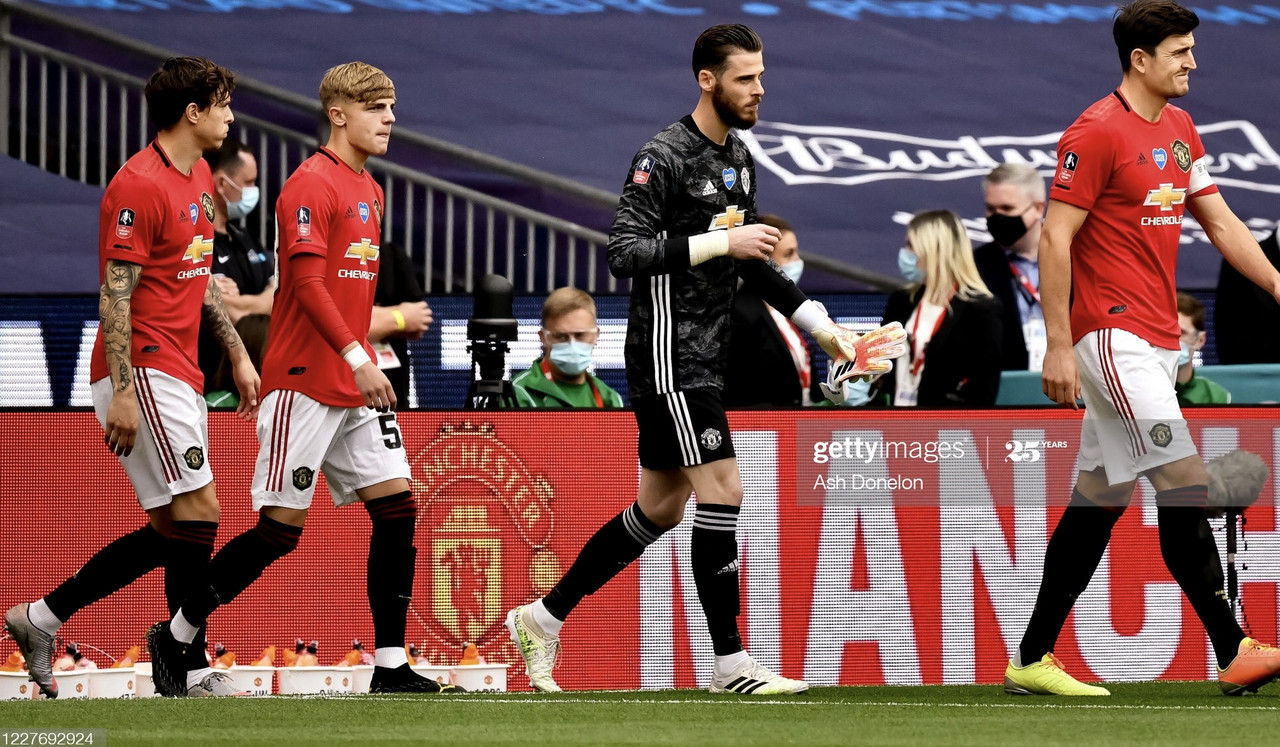 It will be Chelsea who face Arsenal in this season's FA Cup final in just under two weeks, after the west London club easily disposed of Manchester United in this semi-final. This was a poor display from United, so much as it was a tactically astute one by Chelsea, but the performance of David De Gea did not aid United's afternoon.
Should Solskjaer stick or twist?
Ole Gunnar Solskjaer has stood by his No 1 despite a growing list of mishaps. De Gea has committed toe-curling errors against Everton and Watford, and let Steven Bergwijn's weak shop slip past him against Tottenham Hotspur, but it was these mistakes at Wembley that raised further questions as to whether De Gea should keep his place irrespective of his newly-signed four year contract.
Firstly, the United goalkeeper failed to stop a flick by Olivier Giroud that ended up in his goal, and then even worse came when Mason Mount's daisy-cutter of a shot squirmed under him. Although De Gea did make some of the usual athletic stops that remain his forte, this was a display that may well have cost his team a place in the final.
Usually Solskjaer swaps goalkeepers for the cup competitions - as Frank Lampard did here with Willy Caballero - but in this case, Sergio Romero, who has kept 38 clean sheets in 59 appearances and is widely considered the best No 2 around, remained on the bench.
"Everyone has to perform and has a chance to stake a claim every time they play," Solskjaer said.
"David knows he should have saved the second goal."
With two important Premier League games remaining along with the latter stages of the Europa League, Solskjaer's loyalty to De Gea will face its toughest test. If you add in the impressive form of Dean Henderson, who has excelled on loan at Sheffield United, then De Gea's days may be numbered if his form does not return.
Wider defensive problems
Though it is not outlandish to say that United would have lost this semi-final even if De Gea had not been in the United goal. This was a poor defensive display by Solskjaer's side as a whole. It wasn't helped by the tactical switch to a back-three, possibly trying to replicate the victorious system that beat Chelsea earlier in the season, and numerous changes in personnel.
It took two nasty head collisions by Eric Bailly, which forced him off and straight to hospital, for United to revert back to a four-man defence.
In truth, it seemingly just added confusion. Harry Maguire had one of his worst afternoons in United red which culminated in him scoring an own-goal for Chelsea's third. It is not clear why Solskjaer deviated from a system and players which had taken them on an 19-match unbeaten run. What was clear was that United do not have replacements for the likes of Bruno Fernandes, Mason Greenwood, Anthony Martial and Marcus Rashford.
There had been elements of defensive frailties despite United's fine run - usually the effervescent creators and attackers would hide any issues at the back. But not here, where Rashford appeared isolated and United only had one touch in Chelsea's area in the first-half. Fernandes showed glimpses and converted a consolation penalty but the absence of Greenwood and Paul Pogba was apparent.
Giroud continues to show his undervalued worth
For Chelsea, this was further confirmation that Lampard's first season at the helm is developing nicely. A place in the cup final now goes with a likely place in next season's Champions League. Had that been offered to Chelsea fans at the start of the campaign, they would surely have took it with both hands.
Giroud was central to Chelsea's game here. He showed his clinical finishing and intelligence to beat Victor Lindelof to the near post for this goal and his overall work-rate and effective play leading the line was vital to Chelsea's success. His eighth goal of the season sent his current side into a final against his former team.
"I said to the boys I would love to win another one, it would be my fifth FA Cup and we are in another final," Giroud said.
"A big game against Arsenal which will be so special for me personally. We played very well and we want to finish in the top three in the Premier League now. We played three at the back, it's been a while since we did but we started very well.
"We had them under pressure and they didn't create much. We dominated the game."