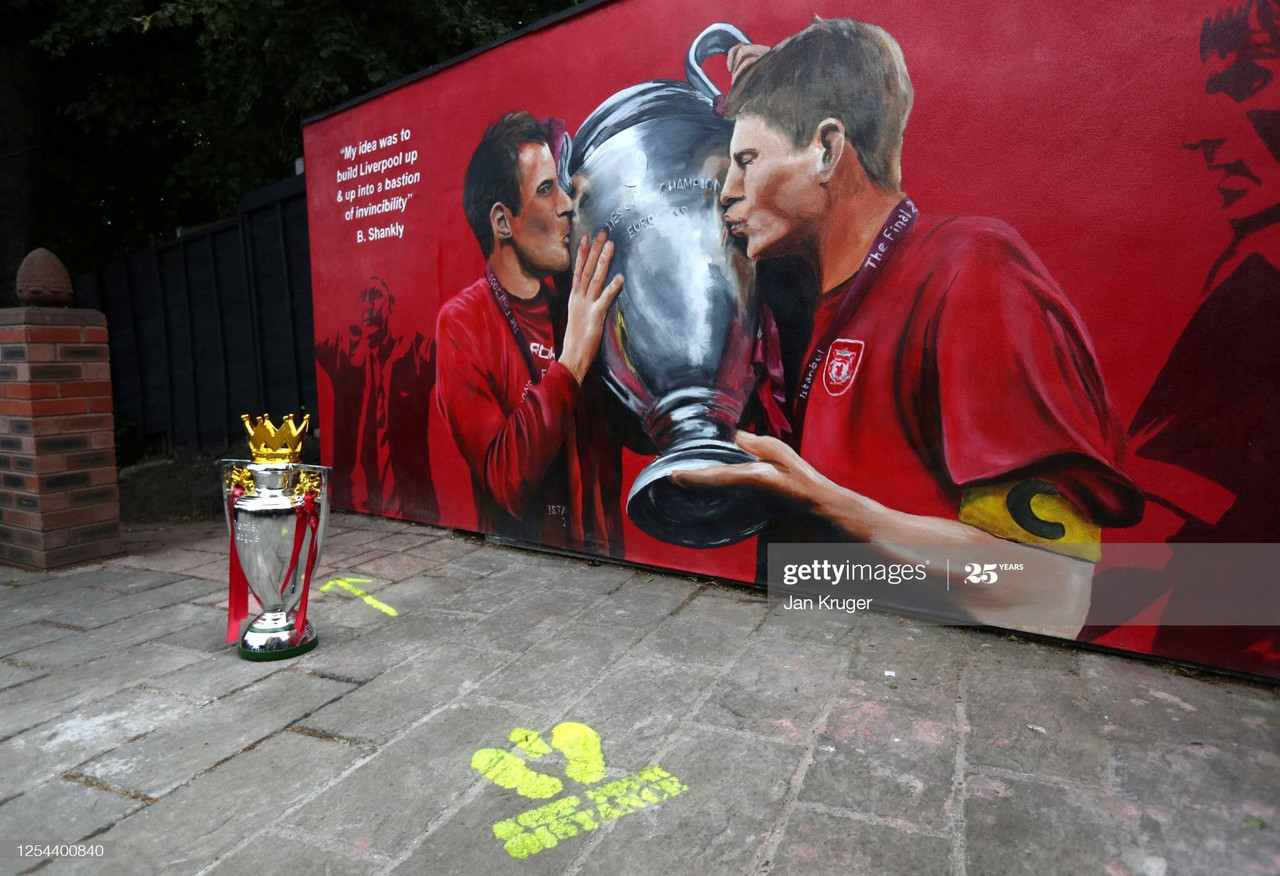 On Wednesday night, Liverpool will at last be presented with the Premier League trophy.
The ceremony will take place after the sixth of seven dead-rubber fixtures for the runaway champions against Chelsea.
It was Frank Lampard's side who sealed the Reds' fate last month by beating Manchester City 3-2 in a Stamford Bridge thriller.
That result was met with jubilant celebrations, but in the period between the confirmation and the coronation, there has emerged an underlying anxiety.
A split fanbase?
All Liverpool fans are desperate for their team to kick-on, for Jurgen Klopp's tenure to fulfil its dynastic potential. Tasting success only makes you more hungry - such is the way.
Over the past few weeks, some have simply basked in the glory, wrapping themselves in a carefree glee.
But other supporters have exhibited a more curious, complex reaction. Of course, they have rejoiced, and yet they have also aired their very real concerns.
But why has the end of a struggle spanning three decades led to feelings of apprehension?
A psychologist might proffer the view that, in the wake of a monumental achievement, our minds are naturally geared to brace themselves for a fall.
Maybe this is part of an uncomfortable transition from hunter to hunted.
And so there is something of a split among Liverpool fans across social media, though many are towing a sensible middle ground.
How firm is Liverpool's grasp?
It's common to scorn at the suggestion that a club's Twitter community represents its wider fanbase, but the insistence upon looking forward rather than relishing the present extends well beyond these corridors.
For example, a number of pundits, led by Anfield icon Jamie Carragher, have sounded warnings.
"The front three are as good as anyone in Europe but whenever one of them is out, there is a massive drop off," he says.
"If Liverpool were to lose one of them, especially the two wide players, for a lengthy amount of time they could have a real problem next season."
The implication is that, without investment, Liverpool are immensely vulnerable to an inevitable Manchester City backlash.
An oil-fuelled outlay well in excess of £100million is predicted, while the noises from Liverpool point to ongoing frugality.
With each press conference, Klopp is forced to play down the need for reinvigorating additions.
Liverpool's post-title form has played its part in fuelling these concerns.
After the Reds' 4-0 drubbing at the hands of the runners-up, the message from the Etihad was that 'next season starts now'.
Is the Reds' slump, then, a sign of what's to come? Is their aura of invincibility being dismantled? Has a malaise set in, traceable to their early Champions League exit?
But first, a moment of bliss...
This article pronounces no judgement. Instead, it stresses that this debate will rage as the ensuing transfer window progresses.
On Wednesday evening, though, all fears will be cast aside for Jordan Henderson's now-trademark shuffle on the makeshift Kop podium.
It will be somewhat surreal, for there were times when it seemed that this trophy would always elude their grasp, that it wasn't meant for Liverpool. Only Photoshop could make it so.
Indeed, to add a sense of perspective, consider that Alan Hansen, now 65 years old, was the last Reds skipper to hold aloft English top-flight silverware.
Kenny Dalglish, who will hand the trophy to Henderson, was young enough to substitute himself on from the dugout back in 1990.
It may not be a picture-book ending to the chapter of Liverpool's history entitled '30 years of hurt', with fans shut out of Anfield, but the hope is that a dazzling light-show and euphoric soundtrack preserves the spectacle.
It has been meticulously planned by the club and by the players, and so should not disappoint.
In the coming weeks and months, there will be those who fretfully insist that the club does not rest on its laurels, and those who snap back that they're showing too little gratitude or too little faith.
But, for this historic occasion, they will be brought together - while apart - in a moment of awe.
Even in these wicked circumstances, we will be left some of the most iconic sporting images of the twenty-first century.