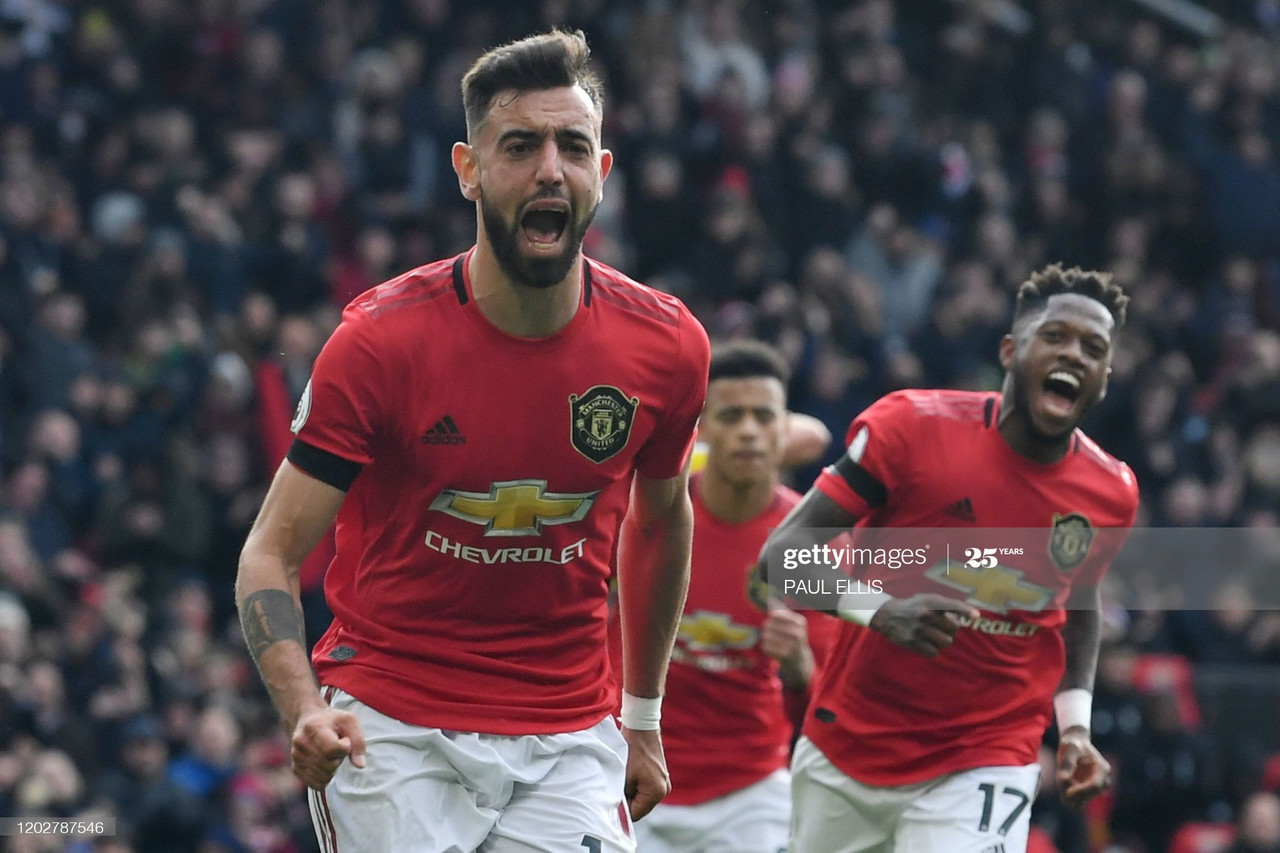 Bruno Fernandes was still in single figures, in terms of age, when he started to turn heads. As a schoolboy growing up in the northern town of Maia in Portugal, he attracted admiring glances like moths to a light. He was a special talent and most knew it.
Maia is 10km to the north of Porto, a city which houses two of Portugal's elite clubs, FC Porto and Boavista. Both were hell-bent on luring Fernandes away from FC Sao Mamede de Infesta. It was Boavista, though, that managed to sign the 10-year-old in the summer of 2004. Rather than opting for the bigger club in Porto, Fernandes, backed by his family, chose Boavista because they offered transport to training and matches - a god-send for his mother and father who both didn't drive.
Prior to his move to Boavista, Fernandes had already shown signs that he was destined to become professional. His skill levels were unique having been honed in endless games of street football in Maia, whilst his willingness to work on the weaker aspects of his game was apparent.
Fernandes' determination, at such an early age, was noticeable and even led to him occasionally overstepping the mark. He would sometimes react badly to adversity and even spark fights with his own team-mates on the training ground. He had too much desire for his own good, joked his former coach at Infesta, Sergio Marques, in an interview with Portuguese newspaper Publico.
There was no plan B for Fernandes
When he joined Boavista he was obsessed with following in the footsteps of his idols: Brazilian ball-artist Ronaldinho and Portugal's midfield general Joao Moutinho. But most importantly he wanted to make a better life for him and his family - football was Plan A, and there was no Plan B.
At Boavista, Fernandes developed nicely at a club which seemed to be the perfect place to develop his craft. The club's academy has a history of churning out Portuguese internationals such as strikers Joao Pinto, Nuno Gomes, full-back Jose Bosingwa, midfielders Raul Meireles and Andre Gomes, and centre-back Ricardo Costa. The guidance that the young Fernandes received there was second to none.
Their academy has been based on the successful Ajax model of nurturing versatility and creating good people as well as good footballers. It helped Bruno in becoming a multi-faceted midfielder - operating out-wide, as a No10 or in a box-to-box role - as well as a brief spell in central defence, which he didn't like so much.
A brief spell out on loan with the Under-15s and 16s at Pasteleira, a nearby Boavista satellite club, set Fernandes up for life away from northern Portugal. It did come as a surprise, though, when he moved to Novara in the Italian second division at the age of 17 in 2012. He had been considered a shoe-in for Boavista's first-team, but Bruno knew that travel and a variety experiences would make him a more rounded player.
Serie A offered the perfect development
Despite a few early bouts of homesickness, Bruno did not take long to make his mark at the club in the Piedmont region of northern Italy. With time came the tricks and flicks; Fernandes The Entertainer started to emerge. He was central to Novara's push from relegation strugglers to play-off participants, contributing four goals and much else. His leadership developed despite not being fluent in the local tongue.
It was only natural for Fernandes to now take the jump up a division into Serie A. He joined Udinese, one of numerous clubs vying for his signature, where he would stay four three fine seasons. Now developing into a strong young footballer, Fernandes regularly caught the eye with his speed, elusiveness on the ball, and strong personality and versatility. His aggregate goal tally of 11 across 95 games could have been better for an attacking midfielder but that didn't prevent another move up the ladder in 2016.
Fernandes joined Sampdoria on a 12-month loan deal and while he did not set the Genoa club alights with his goalscoring, he continued to mature as a footballer at a club with a bigger and more demanding fanbase. He was loved and the supporters at the Luigi Ferraris were bitterly disappointed when news broke that he was heading back to Portugal to join Sporting for €8.5m.
Fernandes became Mr Sporting
That amount paid by one of the top-three clubs in Portugal represented great value for money. During the two-and-a-half years that Fernandes spent at the club, he excelled. Awarded Portugal's Player Of The Year in both the 2017/18 and 2018/19 seasons, he essentially became Mr Sporting.
His range of passing widened so now he harnessed an exceptional mix of dynamism, finishing power, role model captaincy along with fine interchanges. He managed 64 goals in all competitions and provided 52 assists. In the 2018/19 season alone, he racked up no fewer than 33 competitive goals, thus making him the most prolific marksman in a major European league. With it came a handful of trophies, including two Portuguese League Cups and the domestic cup.
Yet for all the positivity, there were moments of pain and despair too. Club president, Bruno de Cavalho, angered by the team's failure to qualify for the Champions League and lack of progress in the Europa League, took to aiming verbal accusations at the team. In May 2018, it got worse when irate fans attacked the players and trashed the training ground. Fernandes was one of the seven players to terminate his own contract. It was a sorry moment for the club and the players.
Fernandes did decide to re-sign for the club when things cooled down, which highlighed his professionalism and dedication to the cause. At the end of the day, he was great for Sporting and Sporting was great for him.
His move back to Portugal also brought international caps. He was on the bench for a number of World Cup 2018 qualifiers but broke into the starting XI in late 2017. He went to the finals tournament in Russia and also won the inaugural Uefa Nations League in 2019 hosted in his native Portugal.
What next? Well there was only one answer. A move to the Premier League seemed destined for such a footballer. Either that or La Liga. His move to Manchester United has started so promisingly, with eight goals in his first 14 league games. His introduction has helped Ole Gunnar Solskjaer's side turn a corner and led them to a third-place finish. For many years to come he will hold the position of central attacking midfielder in what United fans hope will be a return to former glories.
If the next few seasons continue on such a trajectory, then the latest chapter of Fernandes' career may be the most compelling yet.