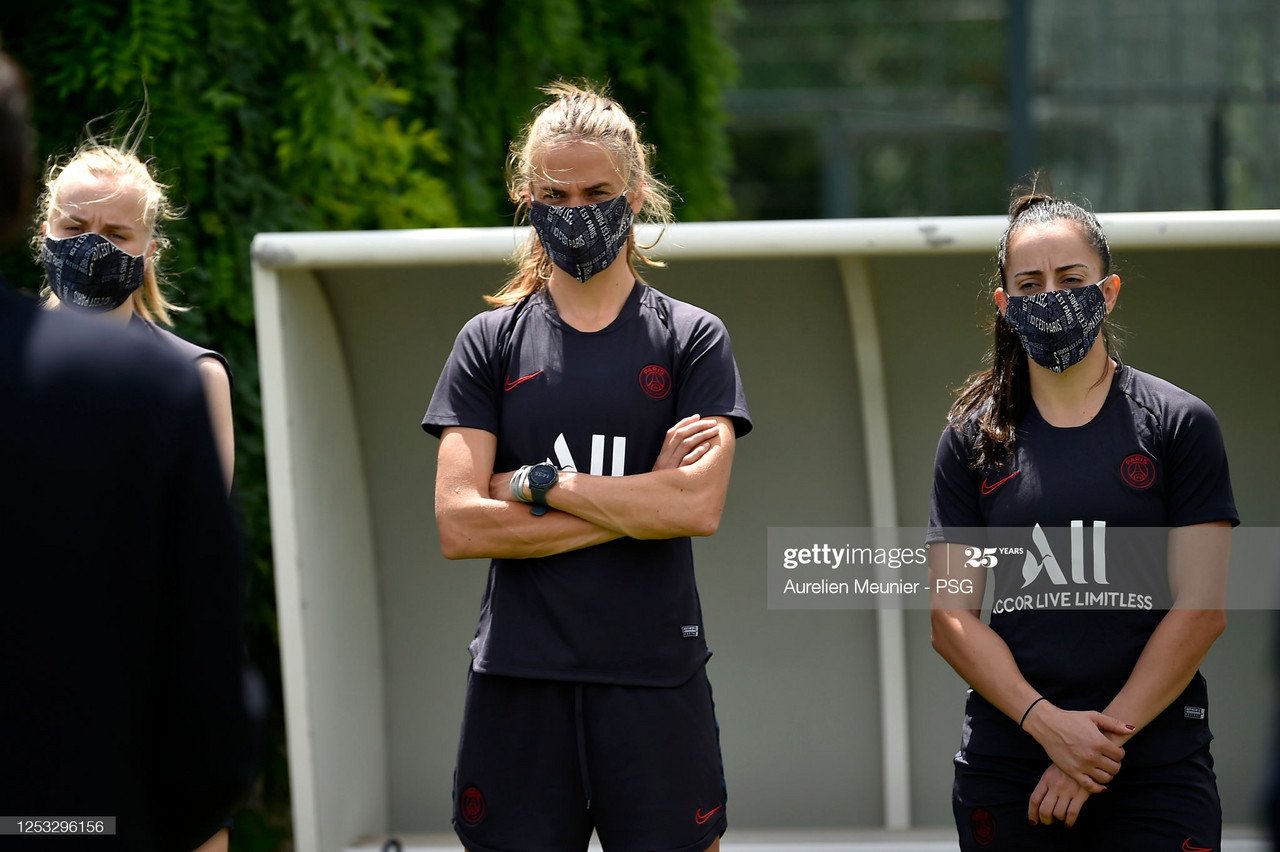 Ahead of the semi-finals of the Coupe de France Feminine in early August and the return of the UEFA Women's Champions League in the second half of the month, Paris Saint Germain and Olympique Lyonnais have both returned to training.
Both sides have also recently featured in friendlies as they await the return of the CdFF.
Paris Saint Germain
PSG were victorious on Saturday as they played Paris FC in a behind-closed-doors friendly at the Georges-Lefèvre Stadium.
Kadidiatou Diani and Marie-Antoinette Katoto were the two scorers as they edged their fellow Parisians 2-0.
It was the second match that they had played against Paris FC in pre-season so far, having already beat them 4-0 midweek. Nadia Nadim, Karina Sævik, Signe Bruun and Irene Paredes were the goalscorers on Tuesday.
In their first game of pre-season, PSG faced Dutch side FC Twente. They were once again victorious, winning 4-2. Katoto netted a brace while Sandy Baltimore and Diani also found themselves on the scoresheet.
Olympique Lyonnais
OL returned to action on the 18th of the month when they hosted Medyk Konin. It was an easy return for the French giants with them scoring five and conceding none.
📹 Les 5 buts de nos joueuses marqués face au Medyk Konin ! #OLKON 5-0 pic.twitter.com/59BzlxQV60

— OL Féminin (@OLfeminin) July 18, 2020
On the 22nd of July, they faced Czarni Sosnowiec away from home. The COVID-19 break did not seem to have phased Lyon and they were comfortable 4-1 victors.
📺 Les images de la victoire (4-1) face à Czarni Sosnowiec lors de notre 2ème match de préparation.#OLSOS pic.twitter.com/MIttxRZOBf

— OL Féminin (@OLfeminin) July 22, 2020
It was even easier just two days later when they played Gornik Leczna in France. They carried on their high-scoring form and netted nine past the Polish opposition
📹 Les 9 buts marqués par nos joueuses face au Gornik Leczna ! pic.twitter.com/5mXiOcBLI9

— OL Féminin (@OLfeminin) July 24, 2020
Coupe de France Feminine
Women's Football returns to France on the 2nd of August when the Coupe de France Feminine semi-finals take place.
EA Guingamp will host Lyon as Girondins Bordeux host Paris Saint Germain.
A socially-distanced crowd will be in attendance at the game, all wearing face coverings.