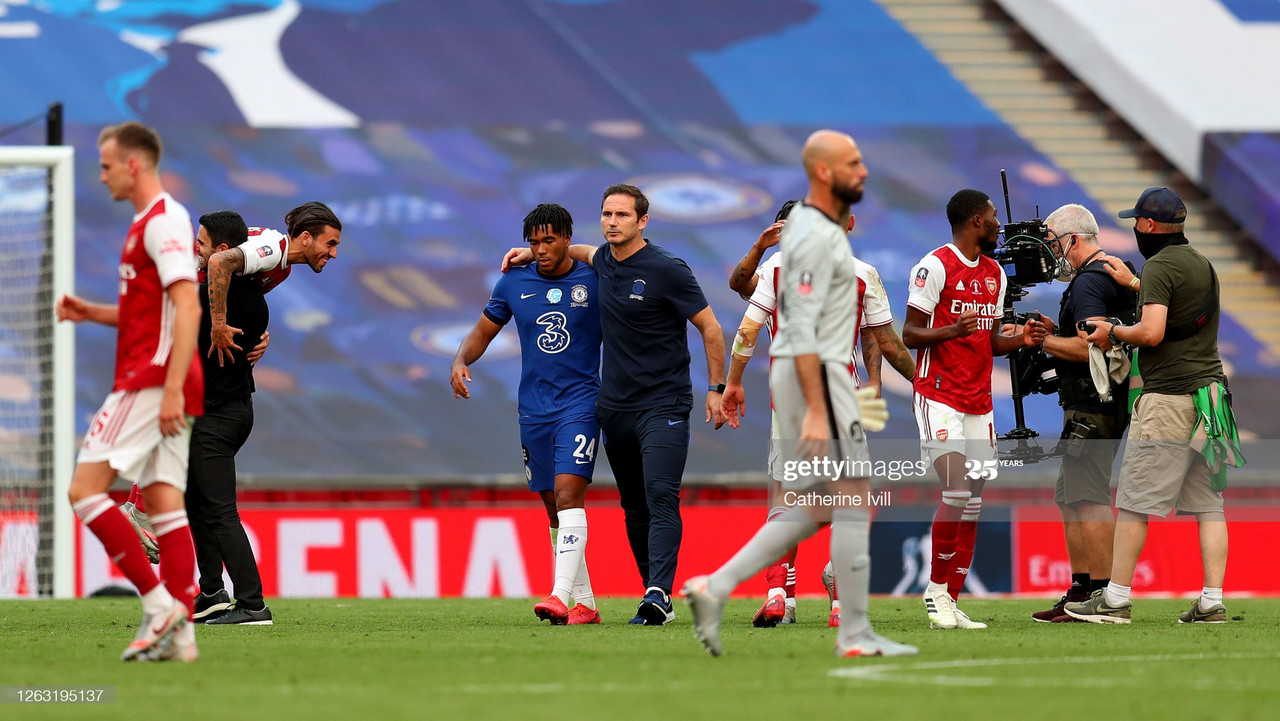 Frank Lampard admits that despite injury problems and a questionable red card decision his side did not do enough to win the FA Cup Final.
Chelsea were beaten by rivals Arsenal to deny Lampard a first trophy as blues head coach, courtesy of a Pierre-Emerick Aubameyang brace following Christian Pulisic's early opener.
Pulisic was one of three Chelsea players to depart the field through injury with captain Cesar Azpilicueta going off in the first half and substitute Pedro being stretchered off seconds before full-time in his final appearance for the club.
"An FA Cup final can never be a stroll"
"We started well for 10 or 15 minutes," Lampard told the Chelsea website. Scored a goal and created a few chances were in control of the game. But after that, we can only blame ourselves from that point in football terms.
"We got complacent.We took too long on the ball, we started playing short passes like it was a stroll. An FA Cup final can never be a stroll.
"We allowed Arsenal back in the game and from that point onwards, it's always going to be difficult. A lot of today was on us.
"In the second half we came out brighter, if Christian goes through and scores as opposed to missing and doing his hamstring - well, the circumstances in the game conspired against us.
"It's been a busy period for us.
"The players have given everything. With 10 men the last 20 minutes was a really difficult challenge for them.
"We shouldn't become too stuck on today.
"Of course we are disappointed tonight, but over the season as a whole what we have managed to do, come where we did in the league, is a huge plus for us.
"Today would have been the icing on the cake but it wasn't to be."
"We just didn't perform well enough to win a final"
Lampard employed the 3-4-3 formation that worked so well in the semi-final victory over Manchester United, a shape he has gone with in every game since.
The threat that was present on that occasion was missing against Arsenal, a fact that isn't lost on the Blues legend.
"There are elements of our game that we've worked hard on all year but there are other bits that are within you that you have to show," he continued.
"A couple of weeks ago here in the semi-final against Manchester United, we were fantastic.
"We controlled the game, we moved the ball, hit the sides and had a threat behind us.
"Then today, we were slow, played back on ourselves and invited pressure and we didn't know where to go from that.
"We just didn't perform well enough to win a final."
"We didn't have the luck with the injuries"
The odds were stacked against the West London side from kick-off with experienced duo N'golo Kante and Willian not deemed fit enough to make the starting eleven and midfielder Ruben Loftus-Cheek ruled out entirely through injury.
Lampard was forced to use two of his three substitution opportunities to replace injured players and the injury to Pedro on his final Chelsea appearance wrapped up a miserable night for the blues.
"It's a really disappointing end for him," said Lampard.
"Because that is probably going to be his last game for Chelsea.
"He's been an incredible servant, and he looked bright when he came on.
"We didn't have the luck with the injuries, and things all came together for us today in a way we wouldn't want.
"Two hamstring injuries for Azpi and Pulisic, a dislocated shoulder for Pedro and Willian getting injured yesterday before the game.
"Kante wasn't really fit for this game, it was only a maybe if we needed him depending on how the game was going and having to make the subs when I did, made it very difficult to risk him.
"Ruben Loftus-Cheek was out too, as we get to the end of a very long season."
"I'm not making excuses, because we didn't perform well enough, but it felt like that was a tipping point with everything coming together at the same time."
Chelsea have at least one more game to play this campaign, as they travel to the Allianz Arena, looking to overturn a three-goal deficit against Bayern Munich in the UEFA Champions League ​​​​​​​round of 16.