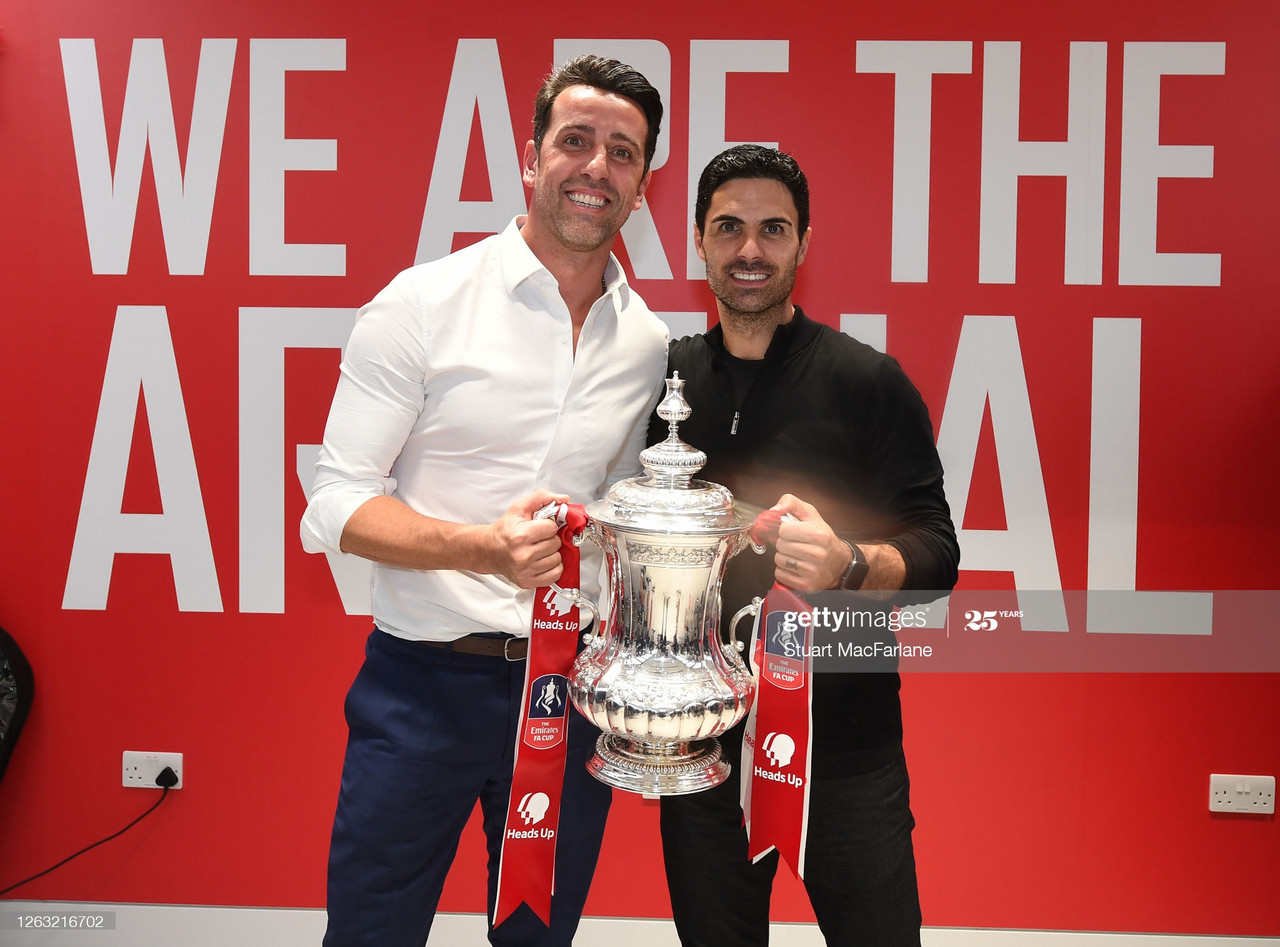 A campaign that began in Newcastle under Unai Emery and ended in an empty Wembley with a record fourteenth FA Cup in hand, it's been another bumpy ride for Arsenal.
While two wins to start off the season fuelled early excitement over a new campaign, two wins from the next eleven brought fans crashing back down to reality, leading to Unai Emery's dismissal after poor game management saw the Gunners fail to close out leads against Watford, Wolves and Crystal Palace.
Caretaker boss Freddie Ljungberg failed to stem the tide, winning just once in five games, before Mikel Arteta's appointment drastically changed the mood in camp.
Languishing down in 8th in the Premier League, it was one of the worst domestic seasons for the club in recent history, with inconsistencies and abject defending inhibiting a top-six finish.
And yet, for all the stuttering and wobbles, the current mood represents a stark contrast to the drab mood in the final months of Emery's tenure. There is a palpable sense of optimism around the Emirates, with Mikel Arteta's revolution quietly taking shape.
Fortunately for Arsenal, one final opportunity to salvage the season came via an FA Cup final, with a 2-1 win over Chelsea putting the gloss on a campaign of transformation. With a renewed sense of hope, belief reinstalled and young players coming through the ranks, Mikel Arteta will be hoping to kick on next season and improve their fortunes in the Premier League.
Transfer business
Fitting to their season, Arsenal's summer involved a catalogue of changes, largely dominated by the high-profile capture of £72million Nicolas Pepe from Lille. Having registered an impressive 22 goals and 11 assists in Ligue 1 last season, the 25-year-old arrived with plenty of expectations on his shoulders – a hype that, aside from sparks of quality, he has largely failed to live up to.
There have been clear moments of individual brilliance along the way, such as his superb finish at the London Stadium and captivating performance at the heart of Arsenal's FA Cup triumph that reflect what he is capable of, but consistency remains key for Pepe going forward with big games often passing him by on the flank.
Other senior arrivals included Dani Ceballos, who was loaned out by Real Madrid for the 2019/20 campaign. The Spaniard made a big impact early on in the campaign but then struggled before developing a new lease of life under Arteta.
Kieran Tierney and David Luiz joined as defensive reinforcements, with the former suffering a string of injuries that meant his Arsenal career got off to a rough start. However, the former-Celtic man is now at the heart of the squad, having been a consistent performer under the new manager.
Elsewhere, Luiz's fortunes have been less straight forward. A shocking performance at Manchester City after the restart was indicative of his error-prone ways, with no defender ever giving away as many penalties in a Premier League campaign than he did in 2019/20. He would follow it up by a strong performance against Liverpool and in the cup fixture against City, with inconsistencies riddling his campaign, embodying Arsenal's fortunes at the back.
Snapped up for a modest £8million, Gabriel Martinelli hit 10 goals in his first 26 appearances in all competitions for the Gunners, operating as a backup to Pierre-Emerick Aubameyang and Alexandre Lacazette. Impressing with his confidence in possession, making mazey runs into the box and showcasing his composure in front of goal, Martinelli was one of several breakout stars for Arsenal this season, before a serious knee injury cut his campaign short.
The turning point of the season
Arteta hasn't had it easy at Arsenal. He inherited a team riddled with problems, lacking in self-belief and no clear tactical philosophy. Coupled with a global pandemic to throw in the mix too, and it could hardly have been a bigger mountain for the Spaniard.
It is by no means conquered yet, but the path has been set and fresh hope instilled. Arteta's appointment was the turning point of the season. Arsenal's new start and rejuvenated dressing room.
Beating two of the best teams in Europe in Liverpool and Manchester City in the space of one week with the same team he inherited from Emery is testament to the hard work he has already done.
From freezing out players who aren't committed to the cause in Mesut Ozil and Matteo Guendouzi to establishing a more regimented back three and putting Granit Xhaka as the hard-hitting, blanket midfielder to getting the very best out of Pierre Emerick-Aubameyang and offering young starlets a chance – most notably Bukayo Saka, whose stock has soared under the Spaniard - he has already overseen a sizeable transformation in attitude and application.
There is a long way to go from here, with an 8th placed finish in the Premier League a reflection of the gap between Arsenal and champions Liverpool, but since his first day as manager, his ability to squeeze more out of the existing group of players, and get them all singing to the same hymn sheet has offered fresh hope after a stuttering start to the season under Unai Emery.
Player of the Season
In a season that raises as many questions as answers, Aubameyang produced a scintillating year, scoring 29 goals in all competitions. The Gabon international ended with 22 strikes in the Premier League in 36 appearances, narrowly missing out on the Golden Boot to Jamie Vardy's 23 goals.
While his teammates have struggled to establish consistency this season, Aubameyang has been Arsenal's standout performer. Indeed, his captivating performance in the FA Cup semi-final win against Manchester City typified his ruthless edge in front of goal, while the club's eventual final win over Chelsea was also orchestrated by their star striker.
His future at the club remains firmly up in the air with his contract set to expire next June, and both Gunners fans and Arteta will be desperate to keep hold of their star man.
Another player who has come on huge strides since Arteta's arrival has been Bakayo Saka. The 18-year-old has impressed whenever he's played, with his versatility to fill in at left-back, left-wing, right-wing and central midfield making him an invaluable asset. Tying him down to a new contract was pivotal, giving an insight into the club's future.
Most Improved Player During 'Project Restart'
Granit Xhaka's current role in Arsenal's set up would have been unthinkable at the midway point of the season. Improving drastically under Arteta's guidance, the sight of him being booed off by his own fans against Crystal Palace in October seems a world ago.
Going back to the basics, Xhaka has offered a sturdy blanket in front of the defensive unit as a hard-hitting tackler and distributor of the ball. The club captain's armband may no longer be with him, but the Swiss midfielder has more than made his point, producing arguably his best form at the club.
Likewise, Emiliano Martinez deserves an honourable mention.
Bernd Leno was a standout performer for Arsenal before his harrowing injury in the defeat at Brighton, sparking fears over how the club could cope without their No.1. It is a true testament to Martinez that Arteta's side haven't missed the German.
At Arsenal since 2010, nothing has come easy for the goalkeeper during his time at the London club, making just 36 first-team appearances, 22 of which came this season. Loaned out more times than you can count in the last ten years, he could easily have cut his losses and opted for a new start.
His desire to stay has been dually rewarded, with an unwavering sense of self-belief and determination to succeed rewarded when the FA Cup was wrapped up in his arms.
It'll be interesting to see what happens in between the sticks next season at the Emirates, with both players making few mistakes whenever they've been given the chance to impress.