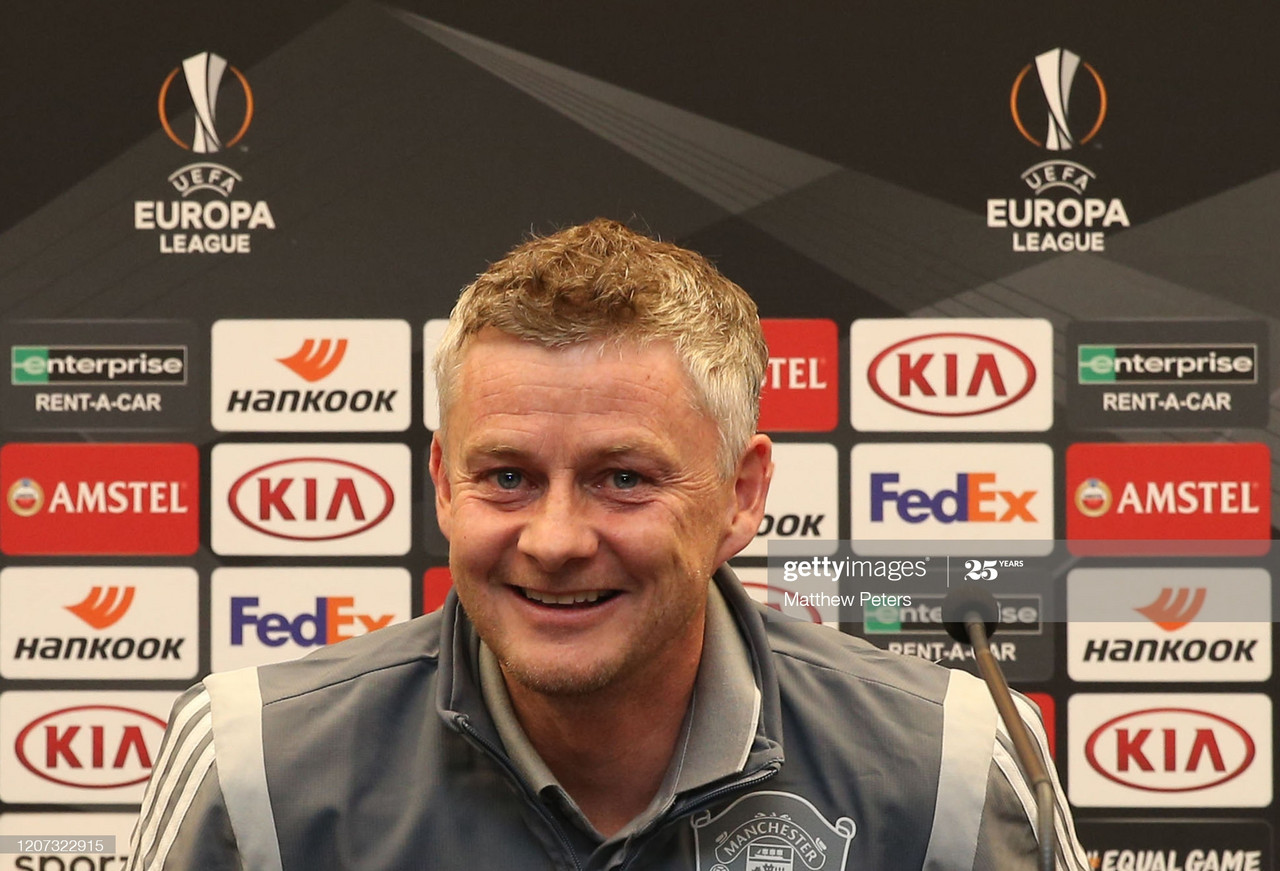 Ole Gunnar Solskjaer wants his team to take the next step and 'win a trophy' following a season of progression. Manchester United resume their Europa League campaign on Wednesday evening and the manager realises the impact that a trophy win would have on his young squad.
"Four games away from winning a trophy," Solskjaer said. "The team has developed all through the season, delighted with finishing third but the next step is winning a trophy." The manager hinted, from his own playing experiences under Sir Alex Ferguson, that once a team wins their first trophy then a thirst develops for more.
United lead LASK 5-0
United face LASK Linz in their round-of-16 second-leg having won the first leg 5-0 in Austria some five months ago. However, given United's third-place finish in the Premier League, Champions League football is already guaranteed for next season so they have little to lose from this Europa League but a trophy to gain, which they last won in 2017.
After the match against LASK, Solskjaer's side will travel to Germany where the remaining games of the competition will be played. United have opted to stay in Germany rather than travel back-and-forth to the UK. "There has been a discussion as to how the tournament pans out," he said, "but at the moment we are staying, so we will be staying in Germany." Wolverhampton Wanderers, who will also be involved in the tournament should they get past Olympiakos on Thursday, are understood to be more likely to travel for each game.
Should United progress to the final, which is to be played on August 21 in Cologne, there will be just three weeks before the Premier League season starts anew in mid-September. Questions have been raised as to whether teams still involved in European competition should have a longer break but Solskjaer is content with the current plans and is not tempted to rest key players over the next fortnight.
"The players want to play, they don't want a break," Solskjaer insisted. "It's not easy to say 'no, you're resting.' I hope the players need to win like I do. For me we go into the tournament with players wanting to win and we won't be giving them a break."
The lineup for the game against LASK will be very similar to that which played the first-leg in March, which could involve Sergio Romero playing in goal. But Solskjaer will be without Axel Tuanzebe and Luke Shaw for the rest of this campaign due to injury. "Axel started getting niggles and had to have an operation in his foot. He'll be back early September. Same with Luke, he should be ready for when the league season starts."
Lingard hoping to impress Solskjaer with run
Jesse Lingard joined his manager for the press conference and it was confirmed that he would start at Old Trafford on Wednesday. "Every game, every minute I play, I have got to try and impress and do as much as I can to help the team and impress the manager," the midfielder said. "It is perfect way now to get a run in the tournament."
Lingard has started 19 of United's games in all competitions this season and managed just three goals, one of which was in the Premier League and arrived in the final minutes of the last game of the season. "I've not had the best of season," he continued. "After lockdown I wanted to impress the manager. The hard work paid off [against Leicester City] and a goal gives you confidence - I'm looking forward to playing in the next game. It is nice to finish in third, but it would be even better to lift a trophy at the end of the season."
United will face either Copenhagen or Istanbul Basaksehir in the quarter finals in Germany and could face Wolves if they progress to the semi finals.