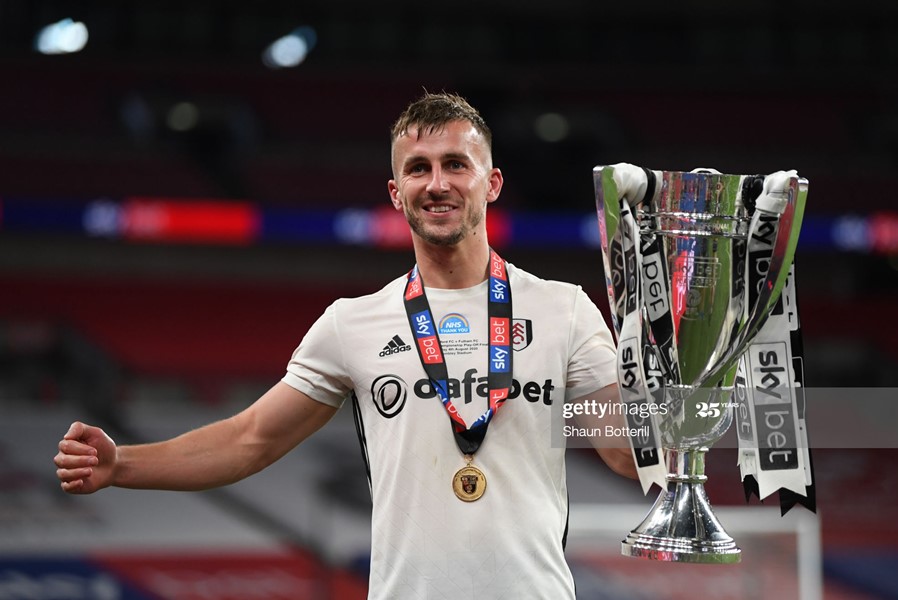 The summer sending spree of 2018 has hung as a humiliating chain over the neck of Fulham for the past two years. More than £100m was spent on players – nobody is forgetting the £50m midfield of Jean Michael Seri and Andre-Frank Zambo Anguissa in a hurry – and three separate managers could not recover the damage done as they walked straight back out of the Premier League party with a hangover and an empty wallet.
Only two of their signings in that ill-fated time of excess could be considered as real value for money. Aleksandar Mitrovic is one, as attested by his 26 Championship goals this season, but this was a night when the most unlikely of heroes emerged, in the bargain buy amongst that lavish splurge.
Left-backs aren't meant to be the heroes, after all. Even in this time when the full-back position is being revolutionised, their contributions should be fearsome runs down the flank and expert assists. Joe Bryan was no stranger to a goal in his years at Bristol City but in his two as a regular at Craven Cottage, he had only one league strike to his name. Until stepping up to take a free-kick in the 105th minute of the Championship play-off final, of course.
Two special goals
Until this moment, it was a match to rival the most lifeless ever produced by the field of tension that passes once a year for 'The Richest Game in Football'. The credit for this can largely go to Fulham, the second-favourites who were happy, at least for the first 80 minutes, to tactically deactivate Brentford and in particular the 'BMW' strikeforce which found itself jammed in second gear.
The best of the miserly collection of chances had gone to Fulham, as several players looked to guarantee their place in video montages for years to come. Josh Onomah was denied by an outstretched hand; Bobby Decordova-Reid's poise deserted him with a half-volley missing the angle of the top corner; Michael Hector's radar let him down with a bullet header. Who would be the man of the hour, then?
Mitrovic was the most likely contender, the giant Serbian figure which had shadowed over this whole game from the sidelines after a week of 'will he, won't he' plotlines regarding his fitness. He contributed, in a way. After a free kick had been awarded for a Christian Norgaard foul, Bryan had an age to stand over the ball as Mitrovic was brandished his customary yellow card for an impromptu body slam.
When all was reset, Bryan had one long look at the targets on the edge of the penalty area. Then another last look as he began his run up. Then he crossed. Only, he didn't. Instead the ball hurtled towards the near post, with goalkeeper David Raya caught badly out-of-position, nailed to his six-yard line and now leaping at thin air with the ball already nestled into the net.
The credit for spotting Raya's deficient positioning goes to Fulham's staff, who had spotted the trend before the game and given clear instructions to the team to be ready to exploit it. But to stand over the ball, close to the left touchline, 40 yards from goal, on legs that had already taken almost two hours of punishment, and execute the shot with such precision is a feat worthy of a place among the very best Wembley goals.
Yet the diminutive Bristolian was not done there. In the 117th minute, he still had the vitality – and the guts – to surge the length of his wing as soon as Ivan Cavaleiro won a header, take a pass from his captain Tom Cairney, and play the most simply delicious one-two with Mitrovic. He was in behind and, with the prod of his weaker foot, he'd scored again.
Two goals, both special in their own way, both largely beyond the realm of reason. Neither would have featured on Brentford coach Thomas Frank's miniature tactics board during the drinks breaks, that's for sure. Both will have a place now in Fulham history and Fulham hearts.
Relief for Parker
As Henrik Dalsgaard's goal after time was immediately reduced to full insignificance by the referee's final whistle, the heroes in white launched into wild celebrations. The win was just as sweet as two years earlier, fans or no fans.
Scott Parker is not a manager who allows passions to get the better of him, and he remained the calmest man inside Wembley as he offered his congratulations and commiserations in gentle hugs. But while his body may not have given much away, his face carried deep emotion, more powerful than any other reaction. It carried joy, it carried pain, and most of all it carried sheer relief.
In his first full year in management, Parker has carried a lot on his slender, inexperienced shoulders. With an expensive squad supplemented with Championship know-how in players like Hector, Decordova-Reid, Cavaleiro and Anthony Knockaert, expectation was intense. But just as he was a model pro as a player, so he is becoming the model manager: smartly-suited, not a hair out of place, and willing to carry a whole club on his shoulders.
It has not been an easy job. Parker has had to learn fast while under excruciating pressure, particularly ahead of this final, where the prize is so great and the financial rewards so lucrative; never more so than for a side who have spent so extortionately, and at a time of turmoil shaking the economic foundations of football.
Parker is right to be relieved, but he has no time to relax. The season begins in five-and-a-half weeks, and the transfer window is already in full swing. He and Fulham will certainly not repeat the mistakes of two years ago, although some more gems like Bryan would do just nicely.