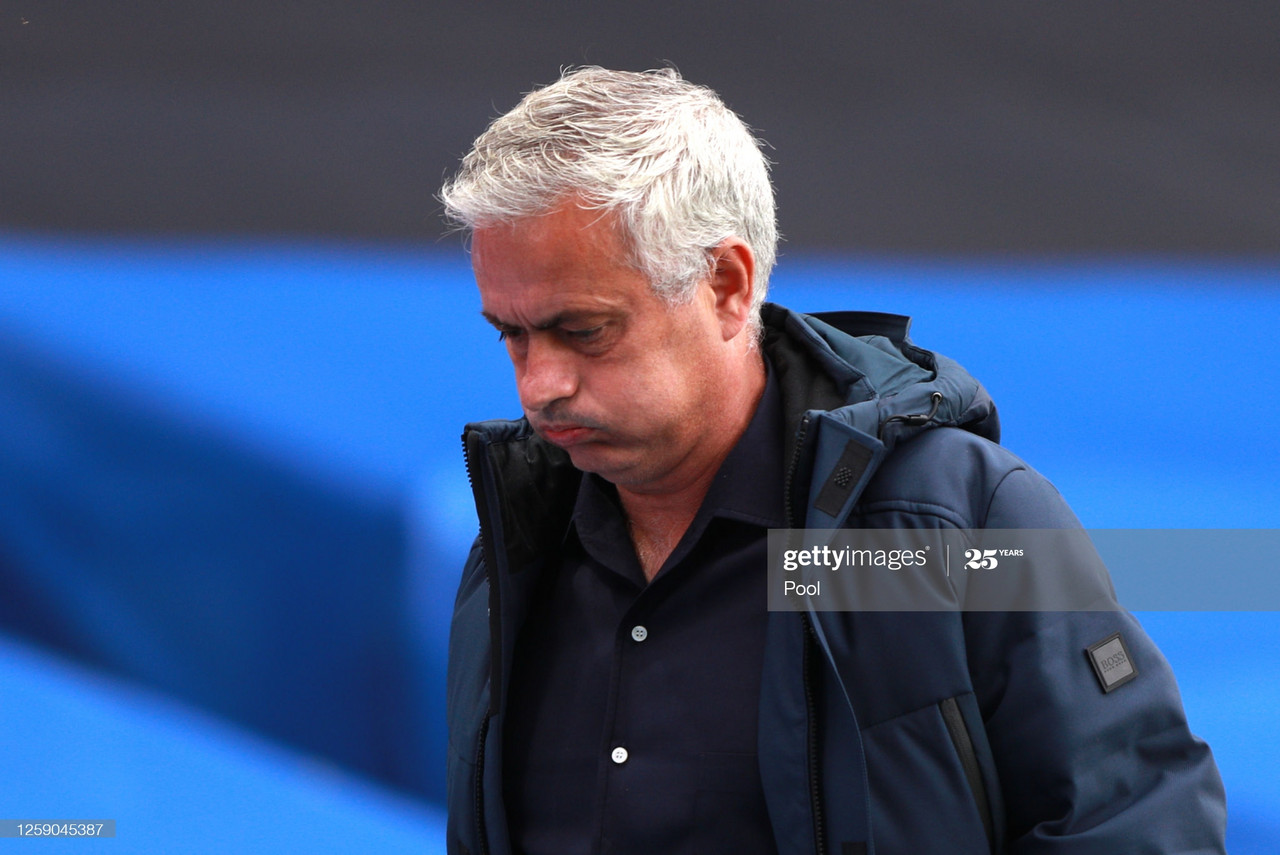 Tottenham Hotspurs' campaign all involves around one day – 19th November 2019.
This was the evening where they decided to sack Mauricio Pochettino after his 5-year-spell at the club, only six months after he had got the Lilywhites to the Champions League final.
The decision was made as a result of a disappointing start to the campaign which saw them 14th in the Premier League at the time.
The next morning, Jose Mourinho was appointed manager, in a move that shocked the whole football world.
Despite an early form bounce, Mourinho's time at the helm has not gone quite as easy going as he would've hoped.
Despite some moments of quality, Spurs' form was way too inconsistent to mount a challenge for a top-four spot, and just before the Covid-19 lockdown, were staring at a mid-table finish alongside crashing out of the Champions League and FA Cup.
Fateful injuries to Heung Min-Son and Harry Kane meant the bad form may be out of Mourinho's control, but the 100-day break from playing was widely viewed as a positive thing.
Despite blips against Sheffield United and Bournemouth, Spurs have turned out much better performances since the restart and look a lot more custom to Mourinho's style.
They even managed to creep into a Europa League spot on the final day, leapfrogging Wolves, meaning they eventually finished in that sixth spot.
TRANSFER BUSINESS
It is amusing to think now, but Spurs' acquisitions in the transfer market were viewed as one of the best in the League, at the time.
Tanguay Ndombele feels like the perfect place to start – his start to life in English football is one of the most interesting subplots of the season.
Spurs' smashed their transfer record for the French midfielder – 50 million for the apparent heir to the Moussa Dembele throne. There was so much hype, the quick flicks, the passing, the close control – the man from Lyon looked the real deal.
Not one Spurs fan would deny the talent that Ndombele possesses, but the move just hasn't worked out and is one of many ingredients to Spurs' disappointing campaign.
A goal on his debut, an assist in the next game – the 23-year-old seemed destined to have a great season. Injuries disrupted and stalled his progression, and then Jose Mourinho's entrance halted everything.
Mourinho publicly called out Ndombele's lack of effort after his performance at Burnley in March, opting to substitute the midfielder at half time. He has played one full 90 minutes in the Premier League under Mourinho – which was Norwich away in December.
Ndombele's future in North London is unclear, rumours about his departure hotting up. Time will tell whether this will end a happy story or a sorry one.
It's not all doom and gloom – Giovani Lo Celso and Steven Bergwijn being two successful acquisitions.
Both singings less than £35 million, and also 24 and 22 respectively – both have turned out good performances and put Spurs in good stead for the future.
Lo Celso was a loan that has now been made permanent – after making 28 starts in the league and being a consistent performer in a season where not many were.
Despite not scoring a goal and only recording two assists, he has worked hard in other areas, connecting defence and attack and proving useful with his versatility.
He can work hard in defence areas – likewise silky and slick in attack with an eye for a pass.
He was in the voting for Spurs' player of the season, alongside Harry Kane and Heung Min-Son.
Steven Bergjiwn was captured in January and has also seen success. The Dutch international has shown signs of being a tricky winger, while also having an eye for goal.
An impressive volley on his debut against Man City was one of the moments of the season, and his deadly solo goal against Manchester United after the restart are one of many reasons that the Spurs' faithful will be looking at him with keen eyes.
Ryan Sessegnon, still only 20 years of age, has never got firing mainly due to multiple injuries stalling his progression. When played, he featured as a left-back and also a left-winger – there is still plenty of time for Sessegnon's career to go onto great things.
Gedson Fernandes was Mourinho's first signing, and albeit on loan, it has not worked out. He has failed to make an impact off the bench when called upon and also missed a penalty against Norwich which meant Spurs' crashed out the FA Cup.
The turning point of the season
The turning point of the season is obviously the sacking of Pochettino, but the game's leading up to this decision were incredibly decisive.
It is near impossible to choose the one single game that decided his fate, but if forced, it is the 7-2 to loss to Bayern Munich in the group stage of the Champions League which sticks out in the mind.
6 months before this fixture, Spurs were gearing up to compete in the most glorious game a club can take part in – the Champions League final. The elite of the elites. And Spurs were there.
This night it was broadcasted to the world the rapid decline of Spurs – getting torn apart, beaten, and battered apart by one of the true elites of world football.
Although losing to Bayern shouldn't be the fate of a manger, this game felt like a massive turning point in Pochettino's future.
Conceding seven goals, in the fashion they were, was an embarrassing moment from everyone at the club. This is a perfect entrance for rival fans to poke fun – especially as an Ex-Arsenal player Serge Gnabry grabbed four goals.
The 'Poch Out' brigade inevitably came in abundance, and this caused a massive split in the fanbase.
This game was a catalyst for the poor run of form that continued, losing to Brighton and then only drawing to Watford, Everton and Sheffield United meant that he got the axe.
This proved that football is one of the most unforgiving business' out there.
Project Restart
Football took a forced 100-day break and returned in June with all games being played behind closed doors.
This bizarre turn of events was going to change the fortunes of some teams and that definitely feels the case at Tottenham.
Firstly, it meant that Kane, Son, and Sissoko all returned from injuries meaning that Mourinho had a lot more quality to work with.
Life was still bleak – top-four hopes were all but dead and Europa League was going to a tough battle with Wolves, Sheffield United, Arsenal, and one of Leicester, United and Chelsea slipping into it.
Despite disappointing results against Bournemouth and Sheffield United, which were key reminders that the squad does have flaws, Spurs have looked a far better outfit.
They picked up impressive wins against Arsenal and Leicester, but what sticks from this period is the style they are playing is starting to get results and it is a brand of football that has been tailored to Mourinho's name for over a decade now.
Soak up the pressure. Keep tight. Hit them on the counter. It's simple and can be very effective, especially when Son and Kane are firing together.
The pairing look to be developing a fantastic partnership, together scoring seven goals between them in the final four games.
Those two in particular need to keep on form for Spurs to have any success under Mourinho, as it's clear he is happy to give teams the ball with the knowledge of his side's capabilities on the counter.
The final day draw at Palace saw Mourinho and his staff all share a hug with massive smiles at full time, because Wolves' 2-0 loss at Stamford Bridge meant Spurs had secured Europa League football – a competition which Jose Mourinho has won twice in his illustrious career.
In a season where positives are hard to come by, the form since the restart provides a glimpse of optimism for the future of Mourinho's Tottenham.